No matter what bathroom or laundry project you have in mind, the chances are that when you see countless variations and options available you may become a tad confused. There's a myriad of different configurations and styles to choose from, from centerset to widespread and high arc to low arc, and then there are different finishes to consider too.
First of all, you'll need to find a faucet that fits with your design both practically and aesthetically, and you'll pretty soon discover that not every tap can be used in every bathroom or laundry setup, so the choice isn't as straightforward as you might think.
If you're keen to ensure that the product you buy meets current US standards for your peace of mind, look for certification by NSF, the public health and safety organization.
To save you time and effort, we've put together an informative guide to help you to understand all the options and to choose the right faucet, taking all the variables into account - this guide will save you hours of trawling the web. We've researched what's out there and narrowed down the choices for you to just 5 of the best bathroom faucets and 5 of the best laundry faucets.
Page Contents (Click Icon To Open/Close)
Bathroom & Laundry Faucets Compared
| | | | | |
| --- | --- | --- | --- | --- |
| | | | | |
| | Moen Eva One-Handle High Arc | | | |
| | KOHLER Devonshire 2-Handle Widespread | | | |
| | | | | |
| | | | | |
| | Moen Chateau Two-Handle Low-Arc | | | |
| | | | | |
| | Delta Faucet Classic Two Handle | | | |
| | KOHLER K-15271-4-CP Coralais | | | |
| | American Standard Colony Soft Double-Handle | | | |
---
Bathroom Faucet Installation Types
Centerset
Centerset is the most common type of faucet, especially in the bathroom and there's no shortage of choice in terms of style and finish. They're made for basins with three holes – one for the spout and the two others for the handles.
Although the fixture comes in a single unit, it comprises three elements – the two handles and the spout. Centerset faucets are the ideal choice for smaller bathrooms as they tend to be more compact than widespread faucets (the clue is in the name).
When choosing this type of fixture, be sure to measure the distance between the handles of the faucet which is already in place. You should note that centerset faucets look better on a drop-in style sink but don't work so well on under-mounted sinks.
Widespread or Spread-fit
On a widespread faucet, the handles are separated from the spout and require a sink with three pre-drilled holes. Each part is individually mounted onto the sink or countertop without the need for a deck plate. It gives more flexibility on installation as the two outer holes can be between 8 and 16 inches apart. Generally speaking, widespread faucets are better suited to larger sinks.
Wall-mounted
Installation of wall-mounted faucets is not a DIY project and needs to be undertaken by a professional. The plumbing lines need to extend above the level of the sink, and the wall needs to be made right afterward which may include tiling as well as the plasterwork, adding significantly to the cost of the installation.
However, once it's done, the look can be more 'luxe,' and you have a handy space on the sink top for soaps, shampoo, etc. Another benefit is that they're easier to clean as there's nowhere for deposits of soap scum and dirt to accumulate.
Single hole
The up-side of single-hole faucets is that they're super easy to install without any professional input, so are ideal for DIYers. They also tend to be a little cheaper than other faucet types and yet their minimalist styling can look very chic and modern. Better yet, they can be installed virtually anywhere, including in 3-hole setups, with a decking plate – usually available separately - to cover the 'spare' holes.

---
Faucet Valves
Cartridge Valves
Faucets with cartridge valves contain a hollow metal or plastic cartridge insert which seals against the faucet body or spout. A series of holes in the cartridge aligned with the stem to mix and control water flow.
Cartridge faucets are referred to as "washerless" because they control flow using methods other than a washer and valve seat (though they do have O-rings and seals to prevent leaking). If they start dripping, it usually means that the cartridge needs replacing. The replacement cost will be between around $9 to $20, and it's an easy job which doesn't often require professional help.
Cartridge faucets may be more expensive, but if you have the budget available, then it's worth considering this type for its durability and hassle-free service.
Compression Valves
These are the standard type of valves, which have been around for a long time. Faucets with compression valves are simple in design and are less expensive. The seal is created by rubber, or plastic washers which are compressed as the faucet is tightened. Unfortunately, they do eventually degrade with wear, but the replacement washers are inexpensive to buy and easy to replace, generally without any professional help.
Ball Valves
Single lever faucets use ball valves with slots to control the amount of cold and hot water delivered through the spout. As the lever moves up and down, the position of the slots changes which regulates the flow. There are no washers, but they are more involved in design as they have more parts.
---
Buyer Guide to Choosing Bathroom and Laundry Faucets
Spout Height & Reach - Faucet Size
When choosing your bathroom faucet, you need to consider the space you have available and the size of the room as well as the style you want to achieve. Smaller areas aren't designed to accommodate tall and heavier-style faucets, either from a practical point of view or esthetically.
You also need to think about the height of the spout above the sink, the ease of getting your hands underneath for ease of washing.
Another factor to bear in mind is how far the spout reaches over the sink. If it's too short, the water splashing around the sink will be tiresome and mopping it up will be another job to add to your to-do list – and nobody wants that!
Operation/Function
Depending on the style you have in mind, you may like to consider the three different operation types now available: single, dual or hands-free.
Finish
There are finishes available to suit every bathroom style, from traditional chrome to sleek modern and warmer brushed finishes. When selecting the finish which will suit you best, it's a good idea to consider how easy it will be to maintain its great look. The traditional option of chrome or stainless steel is still popular, but there are alternative finishes now available to suit a range of bathroom styles and design choices.
For example, oil-rubbed bronze has become very fashionable among people who want to achieve a more traditional olde-worlde style. Another option to consider is polished brass. While this finish isn't suited to every bathroom, in the right setting, and especially in larger bathrooms, it can lend an impressive classical, elegant touch. Alternatively, brushed nickel can look fabulous in a country-style environment.
For more inspiration and some other finish options, why not take a look at this resource.
Style and Design
Without a doubt, the style and design of your new faucet are crucial to the overall look of your bathroom and, since you're going to be living with it for quite a while, it's essential to get it right, bearing in mind the size and layout of the space. You'll find more ideas on style and design here.
Classical Design
This type of faucet, based on the designs used way back in a bygone era, is best suited for traditionally styled bathrooms. They are often the centerpiece of the room and can add a touch of retro glamour to your bathroom. The only thing to bear in mind when you decide on buying a classical faucet is that your sink also needs to have a tradtional look to get the right overall conventional feel.
Modern Design
Naturally, these are the perfect fit for sleek modern bathrooms. They usually have straight or curved lines, and they can have one or two handles. These faucets can be a centerpiece of the bathroom, but they can also augment another critical piece, such as a sink or a mirror. The sink needs to have straight lines and a modern look to complement a modern-style faucet.
Hybrid Design
As the name suggests, a hybrid design can look great in either traditional or modern bathrooms. They often look similar to classical style faucets, but they tend to have harsher edges and straighter lines. A benefit of hybrid taps is that they can look great with almost any type of sink.
Number of Holes Required
Since the number of holes in sinks varies, most faucets offer a choice of single-hole or three-hole products. On the whole, single-hole sinks are designed for single-handle faucets, and three-hole sinks are for dual-handle setups. Some faucets are designed to fit either hole configuration, usually with a matching deck plate or escutcheon to cover the additional holes.
Plumbing Hook-up
Although the most significant element when choosing a new faucet will be its style and finish, it's essential not to forget to consider how your existing plumbing will accept the new faucet. You need to be sure that the new unit is compatible with the type of incoming supply lines that are already in place. Most lines do have some adaptability options, but it's not something you want to have to attend to unless you have to.
Compatibility with other fixtures (aesthetic)
Whatever finish, style and design you choose, always double check that it complements all your other bathroom and laundry fixtures. If you prefer a faucet with a polished brass finish, for example, and your shower, towel rail, etc., are all chrome, then the style won't be consistent, and the overall look will suffer.
If you're building a new bathroom, make sure the finish you choose for the faucet is available for the other fixtures as well, so that you can achieve a consistent style. You'll find that some finishes are more natural to find and match than others, so always make sure you check their availability for the other fixtures before you buy to avoid making a costly mistake.
Installation Ease & Maintenance
Our advice is to look for a faucet that is designed to hook up quickly to the existing water lines. Keep it simple is the rule. Another reason for choosing a faucet of a simple design is that there are fewer parts to fail, so it's more likely to be less trouble and last longer. We suggest you read the manufacturer's product information and some honest reviews to get an idea of how straightforward the faucet is to install.
It's a good idea to bear in mind that some finishes, though they look great when they're newly fitted, don't stand the test of time so well and aren't easy to keep in optimum condition - checking that the finish is tarnished and corrosion resistant makes sense.
Spending Budget & Warranty
Whether or not there's a warranty should be something you consider with any product you buy. Bathroom faucets are no exception because they're not always easy to replace if they develop a fault, so you want to be sure you're buying a product that's built to last. The length of the warranty the manufacturer offers is also an excellent indication of how much faith the manufacturer places in their product.
When it comes to the budget, the whole range of options is there, from $20 to over $300. The well-known rule that you get what you pay for is no exception when it comes to faucets.
If you buy at the lower end of the price spectrum, don't expect the faucet to last a long time or to keep its good looks as the finish may corrode, or it may contain plastic elements which crack and degrade over time. Faucets take quite a bashing over their lifetime, and our advice is to buy the best you can realistically afford to save disappointment, expense, and hassle in the future.
---
Special Features
Spout Arc Height
Just a quick look at the myriad options out there in the world of faucets will show you that faucet spouts vary a lot in height. Mostly, it's just fine to choose the faucet which suits the look you want to achieve.
There is a BUT, though… if you have a shelf above the sink, a tall spout may not fit, so be sure to measure and make sure there's proper clearance above the spout. Another thing to bear in mind is proportion since a small sink is never going to look right when graced with a very tall spout, no matter how funky or smart its design.
High Arc vs. Low Arc
You'll need to consider a few factors before concluding which is the right setup for you.
As you can imagine, a high arc faucet over a deep sink means that the water has to fall a long distance before reaching the bottom. This could result in splashes around the countertop and on the floor. Splashes you'll have to wipe up, giving you another unwanted job to do. If you happen to have a deep sink, therefore, you might be better to choose a faucet with a low arc to minimize the chance of any splashing.
Contrastingly, if your sink is shallow and you have a low arc faucet, there may not be enough space to fit your hands easily into the flow of water. Also, the low arc faucet could direct water towards the sloping outer edge of the sink, with resulting splashes all over the user. A high arc faucet might, therefore, be a better choice if you have a shallow sink.
High arc faucets tend to get in the way when you bend over to wash your face or brush your teeth. Another potential issue with high arcs is that you tend to hold your hands higher and therefore above the rim of the sink which can cause more splashing.
That said, high arc faucets are more 'on trend' than low arc models. It may be that you're more than willing to wipe up a few splashes that have escaped the sink for the sake of achieving the look you want.
Number of Handles (Single vs. Dual)
Single handle faucets are very popular with homeowners because they're easy to use, to care for and they're very affordable. Added to these benefits is the fact that you only need one hole cut in the countertop. The final big plus of single handle faucets is that their simplistic design is well suited to contemporary bathrooms.
Double handle faucets offer more precise control of water flow and temperature than is possible with single handle models. On the negative side, however, they tend to be more expensive, and installation can be a little more complicated.
---
10 Best Bathroom & Laundry Faucets Reviewed
For The Bathroom
1. PARLOS 2-Handle
Best Rated Bathroom Faucet
| | |
| --- | --- |
| | |
| Flow Rate/Water Consumption | |
| | |
| | |
| | |
This is a rare example of a great faucet available at an affordable price. If you're on a tight budget but are looking to upgrade your bathroom décor, it could be just the thing you've been searching for. We think it's one of the best inexpensive bathroom faucets on the market.
The brushed nickel finish looks elegant, but it's also resistant to tarnishing and corrosion. If brushed nickel doesn't match your existing bathroom fittings, this product is available in five other finishes, so there's something for everyone.
From the warmth of the finish to the two-handled styling which crosses over between the traditional and the modern, it has so much to offer.
It's designed to be easy to install and is supplied with a pop-up drain and supply lines.
---
2. Moen Eva One-Handle High Arc
Best Single-Handle Bathroom Faucet
| | |
| --- | --- |
| | |
| Flow Rate/Water Consumption | |
| | |
| | |
| | Brushed nickel, rubbed brass, chrome |
If you have the budget available for a faucet which scores well on 'wow' factor and elegance, then the best single-handle bathroom faucet in our opinion is this product from Moen. With its curved, swooping design and warm brushed nickel finish its hard to match it for class!
Yes, it's at the pricier end of the spectrum, but its heavy build quality, elegant design, and graceful high arc spout is worth the additional spend if it suits the look you're trying to achieve.
"With flowing curves, the Eva collection's transitional design is pure and organic. Petal-like handles and swan-like spout bring a relaxed feeling to the bath." - Moen
This model is designed for a single-hole setup, but if you already have three holes in your countertop, there's an optional escutcheon which neatly covers the additional holes. The high arc means that it's very user-friendly, making it easy to wash your hands and clean your dishes. The single-handle operation is effortless, with ADA compliant certification.
If you're conscious of water usage, this product ticks environmental boxes with its 1.5 GPM flow rate backed by an in-built aerator and the fact that WaterSense and CalGreen certify it.
The 'Lifeshine' brushed nickel finish won't flake or peel or scratch as the finish is embedded in the metal, not applied to the surface. And if brushed nickel isn't the look for you, the product is also available with a rubbed brass and chrome finishes.
All in all, this high-quality product is built to last and is backed by Moen's limited lifetime warranty for peace of mind.
---
3. KOHLER Devonshire
Best Widespread Bathroom Faucet
| | |
| --- | --- |
| | |
| Flow Rate/Water Consumption | |
| | |
| | |
| | Polished Chrome, Oil-rubbed bronze, brushed nickel, brushed bronze, polished brass, polished nickel |
Available in 6 different finishes, we think this supremely elegant, traditionally-styled widespread faucet from Kohler is pretty much the bee's knees. Yes, you're paying premium prices, but you're getting a premium durable product which will give long service and is backed by Kohler's lifetime warranty so that you can buy with confidence.
The knowledge that plumbers consistently recommend Kohler products for quality and durability will give further reassurance that the higher price tag is justified.
As soon as you remove the product from its packaging, you'll be able to feel the difference in its weight, due to its solid brass construction, and see its quality. All Kohler's finishes are resistant to corrosion and tarnishing, so you can be sure that the faucet will continue to look as good as new for a long time to come.
It's designed to be easy to install, with high-quality metal drain and pre-installed supply lines, and the ceramic disc valves are guaranteed leak-free.
DIYer Jon says, "After completely remodeling my bathroom and returning the original faucet that I had issues with I decided to buy this one to match the faucet in my bathtub/shower. Let me tell you this, you get what you pay for. This faucet is an absolute beast. Solid brass from top to bottom, including the drain. The complete set must weigh in at 10 LBS, no lie. After installing, I can say that now I am happy with the faucet in my remodeled bathroom. You wont be disappointed in this Kohler purchase."
---
4. BWE Chrome Waterfall
Best Single Handle Waterfall Bathroom Faucet

| | |
| --- | --- |
| | |
| Flow Rate/Water Consumption | |
| | |
| | |
| | Polished Chrome, bronze, brushed nickel, gold |
If you like the idea of water cascading from your faucet like a waterfall, then look no further than this single-handle waterfall faucet from BWE. Its ultra-modern, angular design will grace any contemporary bathroom styling and add a touch of 21st-century class. There are four different finishes to choose from, so whether your preference is vibrant gold, shiny chrome, warm bronze or chic brushed nickel, you won't be disappointed.
When you unbox this product, you'll be able to feel the quality in the weight of its solid brass construction. It's designed with durability and longevity in mind, and yet its price is very reasonable, so you can get an updated look in your bathroom without spending a fortune.
---
5. STIGES Matte Black
Best Wall Mount Bathroom Faucet
| | |
| --- | --- |
| | |
| Flow Rate/Water Consumption | |
| | |
| | |
| | |
If your current bathroom setup has a wall-mounted faucet or if your bathroom designer has suggested this for your new-build or makeover, then we recommend you take a look at this sleek matte black wall-mounted faucet from STIGES. Its contemporary design and the unique color are bound to get noticed in a world where chrome bathroom fittings are the norm.
"Give your bathroom a vintage look with this concealed faucet, which features two classic cross handles and 360-degress angled spouts." Stiges
It's manufactured from solid brass, so it's designed to last, and the finish is corrosion and tarnishes resistant. It's mid-priced, so it's neither particularly expensive nor too cheap and is backed by STIGES' gold-standard customer service with a hassle-free refund or exchange policy.
This faucet is easy to install and designed to fit standard supply lines. The manufacturer has tested the ceramic disc cartridge valve and found it to be drip free after 600,000 uses, so you're unlikely to have a problem with drips any time soon.
This product is very highly rated on Amazon, gaining 4.8 stars out of 5 from verified purchases.
---
For The Laundry
6. Moen Chateau Two-Handle Low-Arc
Best Overall Laundry Sink Faucet
| | |
| --- | --- |
| | |
| Flow Rate/Water Consumption | |
| | |
| | |
| | |
Designed with modern rounded styling, low arc spout, and clean curves, this Moen laundry sink faucet is a smart and practical design perfect for performing everyday laundry room cleaning tasks.
We're confident when we say that you're unlikely to find such a good quality USA-made faucet for such a low price, which is why this is our top pick for laundry room faucets.
When it's fitted, you'll be delighted with its versatile looks that will match with any decorating style. It may only be for your laundry room, but looks are still relevant and this product combines excellent looks with practicality. This model also has two ADA compliant mini blade-style handles for controlling water temperature and flow precisely.
Even at this low price, the product is backed by Moen's lifetime warranty which shows the level of confidence the manufacturer has in its quality and dependability. The limited warranty covers leaks, drips and finish defects. To quote Moen's branding: 'Buy it for looks. Buy it for life.'
"I bought this Moen Faucet for our bathroom in replacement for a 30 year old faucet. I like the features on this faucet plus its appearance adds sparkle to the room." - A 5-Star review from the Moen website
---
7. Belanger Dual-Handle
Best Laundry Tub Faucet
| | |
| --- | --- |
| | |
| Flow Rate/Water Consumption | |
| | |
| | |
| | |
The simple, classic design of this faucet is just what's needed in the laundry room, and its excellent value for money. In spite of the low price, it's constructed from durable solid brass, so there's no plastic to crack or split, and the smart shiny chrome finish is resistant to corrosion and tarnishing. The knobs are easy to use when controlling flow and water temperature, and they're metal, not plastic. The long-lasting ceramic disc cartridge valve means no drips.
The 6" swivel spout is convenient for all sorts of uses and includes a ¾" garden hose adapter as an additional useful feature.
Backed by the manufacturer's limited lifetime warranty, this faucet is designed with durability and practicality in mind.
---
8. Delta Faucet Classic
Best Budget Laundry Sink Faucet
| | |
| --- | --- |
| | |
| Flow Rate/Water Consumption | |
| | |
| | |
| | |
This merely designed faucet is just what's needed in any laundry room. It's nothing fancy – but then who needs superior styling in the laundry? It just looks smart and practical. Its solid brass construction ensures durability and reliability and the dual blade handles are easy to operate when controlling water flow and temperature.
The spout swings through 360 degrees, so it won't get in the way if you need to put something substantial in the sink. There's a thread on the spout for attaching a garden hose, which is an advantageous additional feature in the laundry.
There are some great reviews about this high quality yet low-cost faucet on Amazon. More of our favorite Delta faucets for the bathroom and kitchen can be found here.
"Designed for performance, the Classic Bath Collection provides smart technology that will stand the test of time." - Delta
---
9. KOHLER K-15271-4-CP Coralais
Best Classic Style Laundry Room Sink Faucet
| | |
| --- | --- |
| | |
| Flow Rate/Water Consumption | |
| | |
| | |
| | |
Kohler faucets are always popular with professionals due to their reliability, and high-quality construction and this laundry room faucet is no exception. The all-metal construction of this faucet means it's durable and the ceramic valves will ensure there are no drips for a long time to come. The sleek modern styling of this faucet will fit in anywhere.
It may not be the cheapest laundry room faucet on the market, but the quality is worth the additional cost because of the durability and reliability of Kohler products.
The sculptured lever handles are particularly useful for laundry room use. Not only do they look great, but they're also easily adjustable to ensure the right flow and temperature. The 6" high arc spout is ideal for laundry room use, and the end is threaded for attaching a garden hose which is a handy additional feature.
---
10. American Standard Colony Soft
Best Laundry Faucet With Hose End
| | |
| --- | --- |
| | |
| Flow Rate/Water Consumption | |
| | |
| | |
| | |
Laundry room faucets have to put up with some rough treatment during their lifetime so investing in high quality; all metal faucet makes sense. This product from the ever-dependable American Standard is specially designed for laundry room use yet it doesn't sacrifice style for practicality.
It has smooth, sleek modern lines which will fit in pretty much anywhere. Better yet, it's backed by the American Standard limited lifetime warranty, giving you peace of mind that back-up is there should you need it.
"Value never looked so good. With the Colony Soft Collection of bathroom faucets, you'll save money while adding perfect style and flawless performance to your bathroom." - American Standard
The super-shiny chrome finish is guaranteed not to tarnish or scratch. The ceramic disc valves ensure Drip-free performance. The smooth lever handles are ADA compliant and are designed with functionality in mind, so controlling the temperature and water flow is continuous. The sturdy brass spout swivels through 180 degrees and offers a choice of either a hose connection or aerator.
---
Installing Bathroom & Laundry Faucets
If you need to replace a bathroom faucet, a little practical guidance goes a long way, and we figure it's better to show than to tell, so we suggest you take a look at this clip to find out how easy it is to fit modern faucets in your bathroom or laundry.
---
Cleaning Bathroom & Laundry Faucets
What You Need:
What to Do:
---
How to Fix a Leaky Bathroom and Laundry Faucet
Turn off the water supply

Plug the drain- if you don't have a plug, use a rag or some towels.

Remove the handles – take off the decorative cap that's covering the handles and unscrew them.

Remove the handle nuts – use an Allen wrench to remove the bolt.

Replace the rubber O-rings – after you take out the nut, you will find the stem sitting on top of a rubber ring (washer). This ring is usually the cause of the dripping because it can wear out in time.

Reassemble the handles – now repeat the process, but in the reverse order.

If you'd like to see how it's done, check out this clip below from Home Depot.
---
People also Ask (FAQs)
What type & size bathroom faucet is best?
This will always depend on the particular configuration of the bathroom you want or that you already have, and the style you have in mind. Our advice is to read the article above which outlines some points to consider on type/size and what might suit your setup best.
How long will a bathroom faucet last?
If you invest in a good quality faucet – the best quality you can afford – it's a fair bet that it will give you an excellent few years' services.
Depending on the valve/washer arrangements, there's a chance that a faucet may develop leaks over time but these can usually be resolved easily, and a leak doesn't mean you need to replace the faucet itself – until it's clear that the faucet is beyond serviceable use and economical repair, at which time it will be clear that replacement is necessary.
Many faucets are backed by a manufacturer's lifetime warranty, which should give you confidence in the longevity of the faucet.
How far should a faucet be from a vessel sink?
This will depend on the size of the vessel. You need to place the faucet so that the spout goes directly over the drain of the vessel sink to minimize any splashes. You will need to check the length of the spout which will indicate where the hole needs to be.
Are faucet holes a standard size?
1 3/8" or 35mm is the worldwide standard faucet hole size for most bathroom counter-tops.
What size are faucet supply lines?
The supply lines for faucets are ½". Take a look at this clip which summarizes the difference between supply lines for a valve and a toilet to make sure you don't get these mixed up.
What does a 'washerless' faucet mean?
This means that there are no rubber or plastic rings (washers) present. In most washerless faucets, the control of the water flow is done by a cartridge or arrangement of seals that allow water to flow when the holes or ports are aligned.
There are many different designs of washerless cartridges. Bear in mind that some replacement cartridges can be costly, especially for the premium brands.
Why do some faucets cost so much more than others?
This ultimately comes down to the quality of construction, the materials used and therefore durability. Although you may well pay more for some of the best high-quality faucets, you are also likely to get better value for money at the end of the day in terms of a more extended, trouble-free, reliable service.
---
Conclusion
No matter what style of décor you currently have or are planning to create in your bathroom or laundry, one of our selections is sure to match perfectly. These high-quality faucets not only look great but they also offer functionality, durability, and practicality.
Several provide excellent value for money, too, so if you have a tight budget yet don't want to scrimp on style, you'll find some great options to choose from.
If time is short and you don't want to spend any more time trawling through the options and ultimately you're just looking for a no-nonsense yet great looking, functional faucet which is durable and reasonably priced, then we recommend the PARLOS 2-handle bathroom sink faucet and the Moen Chateau Two-Handle Low-Arc laundry sink faucet.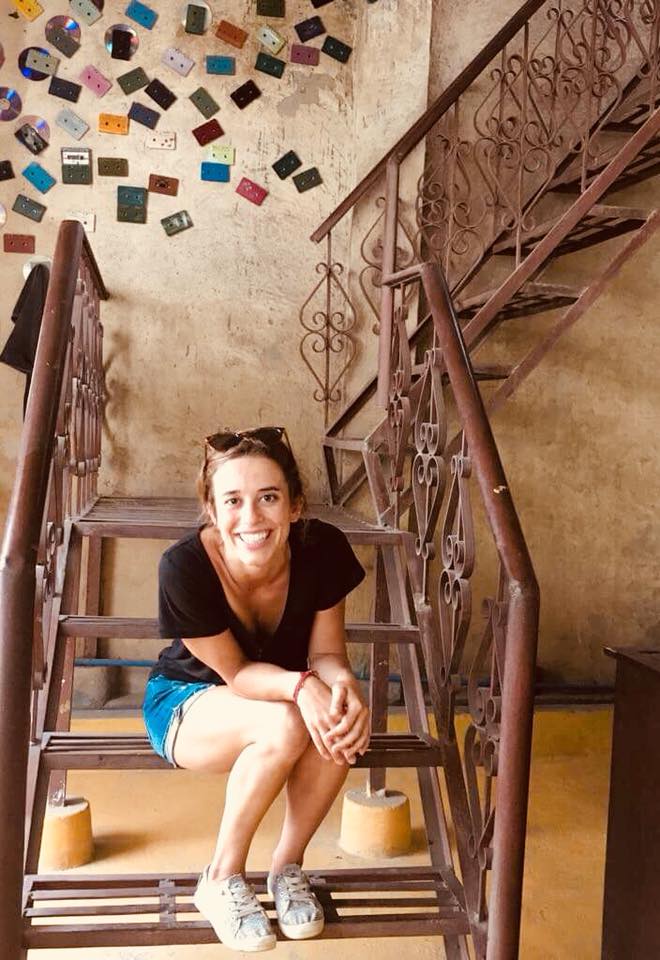 Caitlin Shaffer has been traveling & working as a content writer & SCUBA dive instructor since 2014. Having lived in Central & South America, Southeast Asia, India, & Australia, Caitlin has had many years of experience with a variety of kitchen, bathroom, plumbing systems & common household products. Other than writing about her plumbing experiences & knowledge, her main passions are yoga, ocean conservation, & sustainable development.