Faucet water filtration systems offer an inexpensive way of drinking healthy water. Faucet water filtration systems have easy installation, effective filtration, and the added advantage of being space-efficient and cost-effective as opposed to bottled water alternatives.
We reviewed the leading faucet water filters available in the market and put them through rigorous tests to analyze their performance under varying situations. Do you have a headache deciding which faucet water filter to pick?
Well, you've come just to the right faucet water filter review. We don't just review the best faucet water filter systems but also explain the types, how they work, and give various other valuable details that can help you make the right decision, such as the best faucets to pair them with.
Page Contents (Click Icon To Open/Close)
Faucet Water Filters Compared
Carbon Filters Made From Heat-Treated Coconut Shells


New Wave

Enviro

10 Stage Plus

Reverse Osmosis, Activated Carbon, Etc.

3 Stage Filtration System
The Benefits of Faucet Water Filters
Among the various benefits of water filters, here are a few that stand out.
---
How To Choose a Quality Faucet Water Filter
Here are a few aspects to consider when selecting the best faucet water filter system for your home or office.
Water Quality
The quality of your water supply is the single most significant influential factor when buying a water filter system.
For example, well water is rich in minerals and may contain heavy metal elements which is why you should opt for a faucet filter optimized for hard water.
Filtered water will be purer for you to drink and cook with, and many consumers believe that filtered water tastes better, too.
Filter Porousness
The porousness of the filter decides what type and size of water polluting particle can pass through the filter. The tinier the holes, the harder it is for water and pollutants to pass through and the faster the filter is clogged. The ideal faucet water filter would offer the perfect balance to ensure that your supply doesn't get clogged.
Filter Capacity & Compatibility
There are various filter capacities and compatibilities available in the market. Before opting for what looks like the best faucet water filter system, make sure it has the required capacity of the water that you require it to last for, and that the system is compatible with your faucet size.
Construction Material & Finish
The faucet water filter market is replete with new designs and finishes. While some people like to go with standard materials, some opt for different designs and colors that complement the look and feel of their space.
Features
Filter Cartridges
Filter cartridges are responsible for the grunt work of filtering the water that passes through your filtration system. Therefore, they are the single most crucial element of the entire system.
Over a while, the cartridges can become too saturated with contaminants and therefore need periodic replacement.
Check the user guide of your filter product. Most filter cartridges are labeled by the number of gallons of water they can filter. For example, the PUR Advanced LED suggests that you change the filter every 100 gallons.
Installation Types
Innovations in faucet filter technology have led to the development of several different types of installations, which cater to consumers' diverse needs and different faucet setups.
Costs
When considering to buy a new faucet filter, it is important to remember that most filtration systems require you to replace their filters periodically, and so their cost should also be accounted for. Some brands might offer filter systems with low upfront cost but charge high prices for filter replacements.
Warranty
If you are particular about warranties, you might want to check the manufacturer's website. In our reviews, we found that the industry standard remains a limited 12-month guarantee that covers any manufacturing defect. However, some manufacturers do provide extended warranty periods, but that differs from product to product.
---
6 Best Faucet Water Filters Reviewed
Here are our top picks – the best faucet water filters that are available in the market:
1. PUR Advanced LED
Our Top Pick
| | |
| --- | --- |
| | |
| | |
| | Carbon filters made from heat-treated coconut shells |
| Filter Lifespan/ Life Indicator | Three months/ LED light indicator |
| | Lead, mercury, and pesticides + 70 more |
| | Plastic with chrome finish |
| | |
PUR continues its tradition of manufacturing some of the best filters, with their Advanced Faucet Water Filter that packs in the capability to filter 100 gallons in its life cycle.
The filter is designed with a stylish chrome coat that sits over a sturdy plastic build, making it durable, and easily cleanable. Additionally, its space-saving size also makes it ideal for small faucets and sinks.
While it doesn't accommodate pull-down faucets, it is compatible with all standard taps and carries the advantage of not requiring additional plumbing with a simple 1-click operation.
However, the differentiating factor that makes PUR Advanced Filter the best faucet water filter system is its amazing performance at such an affordable price point. The filter manages to tackle 70 different contaminants and is certified to remove up to 99% lead, 96% mercury, and 92% of pesticides that pollute the water.
With a built-in life indicator, sleek design, and dominant performance, the cons are almost negligible for the PUR Advanced faucet water filter.
One Target shopper writes, "I have had several of these over the years, we drink a lot of filtered tap water. This really helps make the tap water taste better and is cheaper than buying bottled water."
---
2. Culligan FM-25
Best Faucet Mount Water Filter
| | |
| --- | --- |
| | |
| | |
| | |
| Filter Lifespan/ Life Indicator | |
| | Chlorine, lead, atrazine, lindane, etc. |
| | Plastic with chrome finish |
| | |
If you want a pocket-friendly, durable faucet water filter, you've come to the right place — the best faucet mount water filter in our review: the highly rated Culligan FM-25.
The standout feature of the Culligan FM-25 is its replacement filter cartridge that provides approximately 200 gallons of filtered water – almost double the industry standard. The design features a sleek chrome finish that complements the plastic body nicely.
The Culligan FM-25 is very easy to install, with two connectors included in the package that enables it to be mounted on any standard faucet, excluding pull-down, pull-out, or spraying ones.
The filter is built to eliminate leading causes of water pollution and is certified against ANSI Standard 42 and 53 for removing chlorine, VOCs, and lead by NSF International. Users have the added advantage of having the option to choose between tap water and filtered water for extending the filter's life.
"This was one of the water filters that Consumer Reports recommended. I chose this Culligan faucet mount filter because of its reasonable price & ease of use. The filtered water is very clear and sparkly. I'm very happy with this filter." - a 5 Star review from Walmart.com
---
3. Brita On Tap
Best Faucet Filter For Lead Reduction
| | |
| --- | --- |
| | |
| | |
| | |
| Filter Lifespan/ Life Indicator | Four months/ LED light indicator |
| | Lead, chlorine, benzene + 60 more |
| | |
| | |
The Brita On Tap water filter is everything you'd like in a faucet filtration system. It's compact, stylish, and highly effective at filtering out contaminants – all while coming at an economical price.
Don't let the size deceive you. This filter can clean at least 100 gallons of water and treat it for over 60 impurities such as odor, chlorine, benzene, and asbestos contaminants.
However, it is most efficient at cleaning out one of the leading causes of water purification: lead. The Brita On Tap system is effective at cleaning 99% of the lead, making it the best faucet filter for lead reduction.
Another innovative feature in this faucet water filter is the water flow versatility function. In addition to a 'filtering switch' that allows users to consume filtered or unfiltered water for varying purposes, the Brita On Tap faucet water filter system comes with a spray option for unfiltered water.
Additionally, the system is equipped with a LED filter life indicator that makes sure you remember when it's time to change the filter. The Brita On Tap water filter works on all standard faucets, except for pull-out and spray faucets.
Brita user Dean says, "I was spending lots of money on bottled water and was drinking eight or more bottles of water a day to maintain hydration and realized that's a lot of plastic (and money when compared to a filter)!! So I decided to try the Brita filter for home use that would not only reduce plastic waste but would also keep me from spending so much money on bottles of water."
---
4. New Wave Enviro 10 Stage Plus
Best Counter Top Faucet Water Filter
| | |
| --- | --- |
| | |
| | |
| | Reverse Osmosis, Activated Carbon, etc. |
| Filter Lifespan/ Life Indicator | |
| | Chlorine, pesticides, heavy metals, etc. |
| | Plastic housing body and stainless steel faucet |
| | |
If you're looking for a long-lasting solution that enables you to enjoy filtered water without worrying about replacing filters now and then – we present the best countertop faucet water filter that we came across in our review: the New Wave Enviro 10 Stage Plus water filter system.
The standout feature of this product remains its filter life. The New Enviro is capable of filtering 1500 gallons of water which is enough for a family of four to last for a year. Additionally, the filtration process is enhanced with a 10 stage process that effectively cleans the water supply of chlorine, chloramines, herbicides, pesticides, trihalomethanes, micro-organisms, heavy metal infiltration, arsenic, asbestos, and PCBs to name a few.
The filter recognizes the importance of beneficial water minerals and makes sure it doesn't filter out magnesium, potassium, and fluoride.
The New Enviro 10 Stage faucet water filter fits perfectly on your countertop, but there is an additional kit that can be purchased to have it fixed under the sink if you're running low on space.
"Our concern for our customer's safety in terms of inorganic arsenic found in water throughout the United States and the likely understating of minimum levels for consumer safety have resulted in the first major change in our 10 Stage resin make up. We have worked closely with BWT Barrier, a private company led by chemical engineers to have a cartridge designed that would address these problems and still address other major water issues. The uniquely designed and manufactured encapsulated resins give us the opportunity to forcibly address current water issues. " - Enviro, on their commitment to their customers
---
5. CuZn UC-200 High capacity
Best Under Counter Water Filter For Sink Faucet
| | |
| --- | --- |
| | |
| | |
| | 3 stage filtration system |
| Filter Lifespan/ Life Indicator | |
| | Chlorine, heavy metals, pesticides, etc. |
| | |
| | |
With a large filter life that provides up to 50,000 gallons of filtered, clean water and a manufacturer warranty that can be claimed for half a decade – the CuZn UC-200 is undoubtedly the best under counter faucet water filter that we've come across.
Despite such a remarkable capacity, the installation process of this unit is a breeze. It connects directly with your sink's cold line water and comes packed with all the components required for installation.
Its exceptional filtration system features three different stages; starting with the micro sediment membrane that is tasked with removing all carbon elements in the water. Up next is the UC-200 filtration system that preserves the necessary minerals in the water. Lastly, it's the water testing stage which monitors the filtration accuracy.
Not only does it help get rid of the majority of harmful water contaminants – such as chlorine, water soluble cation heavy metals (lead and mercury to name a few), herbicides, pesticides and sediment – It also prevents algae and mold from growing inside the system.
---
6. Waterdrop 320-Gallon
Best Kitchen Faucet Water Filter For Fluoride & Chlorine Removal
| | |
| --- | --- |
| | |
| | |
| | |
| Filter Lifespan/ Life Indicator | |
| | Chlorine, lead, fluoride, suspended solids, etc. |
| | Seamless white plastic housing |
| | |
The Waterdrop is quite appealing on the eye with a sleek and seamless plastic body placed vertically on the faucet for added space in the kitchen.
Despite its compact size, this faucet filter is manufactured to last up to 320 gallons. The manufacturer proudly claims the amount to be thrice of what similar-sized faucet water filters have to offer, further mandating that it's enough to last up to 6 months of typical use.
While it may sound a stretch, but coupled with a simple lever that allows you to switch to tap water, it may enhance the filter's life if used adequately.
The Waterdrop 320 gallon faucet filter system comprises of a 5-step filtration. For sediments, there are stainless steel meshes pre and post-filter, and for small particles, PP cotton layers pre and post-filter.
In the middle of the process, there is the activated carbon filter that removes up to 93% of chlorine, lead, and fluoride, alongside eliminating odor and improving taste. Such enhanced filtration process renders it the best kitchen faucet water filter for fluoride & chlorine removal that we came across in our reviews.
However, it works on all standard faucets except pull-out and spray variants.
---
Types of Faucet Water Filters Explained
Faucet-mount
These are installed on the faucet and are characterized by their space-efficient and compact style. They generally feature single stage filtration with an average filter life.
Countertop
These are installed on the countertops and are generally easy to set up. Not only do they accommodate higher capacity, but countertop filters may be compatible with different filters.
Undersink
Installed under sinks or on countertops, these filters generally cost more than countertops and faucet mounts. While installing them is harder than the two, they feature extended filter capacity and multi-staged filtration for maximum cleanliness.
Pitcher/Carafe
Pitchers are a cost-effective form of water filters that don't require any installation and are generally used for cooking and drinking water. The best water pitchers are compact, lightweight, and very easily portable. However, they have limited filtration capacity and capability.
Refrigerator Water Filter
These are fitted inside modern refrigerators that have a built-in water dispenser. As part of the entire fridge, they are expensive and not that easy to install but feature enhanced filtration capacity. Kitchens Perth has featured this trend in a latest article as they gain popularity in modern homes.
---
Understanding Faucet Water Filters
Faucet water filters, as the name implies, are installed on faucet points to provide users with filtered, clean water. Typically, faucet water filters rely on a cartridge filter, which includes various materials that are tasked with treating the water to ensure purity.
More often than not, these materials or filters are lined up in succession – based on their ability to detect and prevent fine particles of impurity from passing through with the water. The primary reason behind this is that large particles need to be stopped first so that they don't pass on to filters that trap fine particles and lead to filter clogging.
---
Filtering System Types Explained
There are various types of faucet water filter systems. Let's discuss each type:
Activated Alumina
Activated Alumina filters are made of Aluminum Oxide that acts as the purifying agent. These activated aluminum filters are not only cost-effective but equally adept at removing various levels of contaminants such as selenium compounds, arsenic compounds, and fluoride to name a few.
Activated Carbon
These filters are also known as activated charcoal. Activated carbon filters use processed carbon compounds that are further treated by applying heat to enhance their filtration capability.
Activated Carbon filters feature minute, microscopic holes that filter out VOCs (volatile organic compounds) among larger particles, such as sediment, to improve the water quality for human consumption.
Ceramic
Ceramic filters are treated with silver to enhance them for water filtration. Ceramic filters are adept at killing finer water pollutant particles, such as bacteria, that can be fatal for humans. Additionally, the inherent qualities of the filter also prevent algae and mold from forming and causing the water quality to deteriorate.
Reverse Osmosis
As one of the most excellent water filters, reverse osmosis filters make use of a membrane that is marked by microscopic pores. The water is forced to pass through the minute pores which enables reverse osmosis filters to trap water pollutants including chemicals, heavy metals, and even parasites.
Ultra-Violet
Ultraviolet filters utilize cutting edge technology to rid the water of pollutants. These filters operate through specially designed glass elements through which the water passes. The flowing water is targeted with UV rays to kill off any bacteria, viruses, parasites or other micro-organisms that might be polluting the water.
---
Why Filter Tap Water
The journey of water from the source to your tap undergoes several stages that affect its quality. From different channels, water is infected with bacteria, germs, pesticides, and herbicides coming from several commercial sources.
In addition to this, it is further 'disinfected' by chlorine, ammonia, chloramines, and fluoride. Radon, arsenic, and nitrates are common pollutants in drinking water, and drugs including antibiotics and hormones have also been traced to have a presence in our water supplies.
A study describes that approximately 9-45 million Americans are exposed to unsafe tap water every year!
While extremely low-quality water supply can be detected using sight, smell or taste – most contaminating particles are invisible to the naked eye, and you will need to invest in a water quality kit to accurately asses the water quality.
Water filters not only filter sediment, rust and dirt particles, but advanced technology has allowed filters to remove harmful toxins, VOCs, heavy metals and kill microorganisms – allowing clean, safe-to-consume water for people.
---
Installation Guide on Tap Faucet Water Filters
Faucet water filter systems are typically easy-to-install, and there are many tutorials on how to install faucet with water filters correctly. Here's a quick guide on the installation process:
Shut off the water supply to the tap

Remove the faucet aerator: Most sinks feature a threader aerator on the faucet end. It may contain a rubber gasket to control water flow

Remove the aerator and clean the faucet thread residue

Screw the new aerator on the faucet as it should be aligned. Installation kits have adapters in case there is a need for one to be applied

Mount the water filter on the newly inserted aerator

If the filter is not assembled, assemble and insert the filter cartridge

Turn on the water supply and turn the faucet on. Check for any leaks

If you face minor leaks which are commonplace, try reinstalling the filter or apply Teflon tape adequately
---
Cleaning and Replacing Faucet Water Filters
The maintenance and repairing of faucet water filters depend entirely on the model and the manufacturer of the filter. However, modern designs have made the task very easy and time-efficient.
Replacing faucet water filter cartridges is not a big deal, and you can check this tutorial online. Most faucet filters feature the same replacement technique.
If you own one of the latest filters, they are equipped with LED light indicators that will notify you when it's time to change the filter. However, we recommend replacing the filter in the time frame mentioned by the manufacturer.
New filters can be replaced quite quickly, but the older ones can't be cleaned and re-used. Once the filtration capacity or life is met, they have to be changed.
---
People also Ask (FAQs)
How often do I have to change the filters?
The filter cartridge's life is dependent upon the model and manufacturer instructions. Either an LED indicator identifies when the filter needs replacement, or you have to maintain a check for the time limit.
What should I do with the used filters?
While some manufacturers do offer a recycling initiative for the used filters of the faucet water filter systems, not many do. The user may either discard them or recycle them as water filters are not made to be reused, despite people using different ways to clean used filters.
Does my water filter remove limescale?
Limescale is prevalent, especially in hard water supplies such as well water. Typically, limescale particles are large enough for every filter to trap them and prevent them from flowing further. However, constant exposure to limescale can cause the filter to form a residue and affect the water flow rate.
What happens if I do not replace my water filter?
Filters are manufactured to effectively clean water of harmful contaminants, however constant exposure to such particles can form residue inside the filter. This highly decreases its cleaning efficiency and ultimately renders it useless, while also reducing water flow. This is why it is advised to replace the water filters regularly.
Is tap water chlorinated?
In the United States, the Environmental Protection Agency (EPA) requires tap water to be treated with a detectable level of chlorine to help prevent contamination. According to the organization, only chlorine-based disinfectants can provide lasting protection against waterborne diseases.
---
Conclusion
In our review of the best faucet water filter systems, we reviewed a plethora of faucet water filter systems and checked them for their filtration capacity, cleaning ability, filter life span, space efficiency and a lot more.
However, the easy installation, stylish design, and comfortable maintenance makes the PUR Advanced Faucet Water Filter the best faucet water filter in our opinion. The advanced filtration technology allows it to clean up to 70 water contaminants with unbelievable precision, making it the best bet to filter out clean water for your consumption.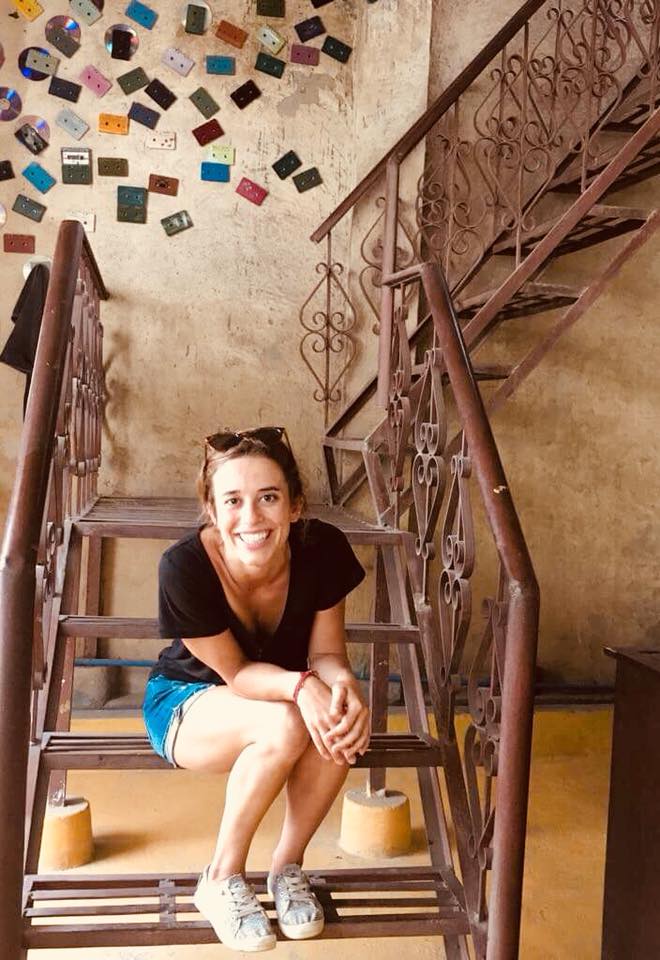 Caitlin Shaffer has been traveling & working as a content writer & SCUBA dive instructor since 2014. Having lived in Central & South America, Southeast Asia, India, & Australia, Caitlin has had many years of experience with a variety of kitchen, bathroom, plumbing systems & common household products. Other than writing about her plumbing experiences & knowledge, her main passions are yoga, ocean conservation, & sustainable development.