Utilizing every space in your home is essential if you have a growing family or are looking to renovate a space to add a bathroom or bedroom.
Working with a room larger than a closet is easy, but don't shy away from adding that powder room or half bath in the closet under the stairs. Corner toilets have made this possible.
Page Contents (Click Icon To Open/Close)
Corner Style Toilets Compared
| | | | | | | |
| --- | --- | --- | --- | --- | --- | --- |
| | | | | | | |
| | | | | | | |
| | | | | | | |
| | | | | | | |
| | | | | | | |
| | | | | | | |
Why Buy a Corner Toilet?
If you're transforming a closet beneath the stairs into a small half bath or if you're renovating an existing bathroom but desire more space, corner toilets are perfect solutions to your problems.
With a triangle prism tank shape, corner toilets are designed to utilize the 90-degree spaces of a small room. You can easily tuck one of these into the corner and use the rest of the area for your sink, vanity, and décor.
Some of the pros of installing a corner toilet include:
However, there are still some drawbacks, including:
---
How To Find the Right Corner Toilet
Sizing
When shopping for the best corner toilet for your home remodel, consider the dimensions of the tank and the measurements of the wall. Make sure these numbers match so you can have a toilet tank the sits flush against the wall. Make sure you have roughly 15 inches of space between the corner and the bottom of the base and that the bowl sits more than 24 inches away from any sanitary spaces such as sinks and showers.
Design Features
Corner toilets come in a variety of colors, shapes, designs, and flushing mechanisms. Find out what suits your needs, both aesthetically and functionally, in order to get the toilet that's right for your space. Some toilets come in a one or two pieces, so you should take this into consideration when trying to install one by yourself.
Seat Height
Is your toilet going in a child's bathroom, or the attached apartment for your elderly parents? Take their needs into consideration and stick to toilet models that are ADA compliant or are comfortable to sit on for the youngsters. Some models even make it easier for seniors to sit down and get up.
Bowl Type
Elongated toilet bowls are more comfortable to sit on, but round bowls don't extend into the room as far. When you consider the space of your small bathroom, consider the bowl type. Round bowls tend to be fit into these smaller bathrooms more easily, but if you're looking for a bowl that's easier to clean, go with an elongated unit.
Water Saving Features
Saving water is essential when shopping for a corner toilet. When looking at water consumption, stick to models that lie in the range of 0.9 to 1.6 gallons per flush. If the GPF is within this range, you're likely to save money and water. Some models even come with dual flushing options, dedicated to saving water based on the waste that's flushed.
Flushing Mechanism
Dual flush mechanisms give you a flushing option for urine or pure liquids, with the other option being designated to help flush down solid waste. This allows you to save money on water when each flush used efficiently. With single flush toilets, one handle or button is used for all types of waste.
Ease of Use, Installation & Maintenance
Corner toilets are rather easy to use but could require more guidance for installation. Consult with the owner's manual or your local plumber when putting one of these models into a new bathroom. Cleaning and maintenance should also be considered when comparing models.
Price & Warranty
Corner toilets meet a variety of price points with different warranties. Consider your budget needs and what kind of warranty you're after when shopping for the right unit. Always consult the manufacturers' guides and the benefits that come with each warranty to understand which options are right for you.
---
6 Best Corner Toilets Reviewed
1. American Standard 270BD0001.020 Cadet 3
Best American Standard Corner Toilet
The American Standard Cadet 3 Triangle is the best corner toilet on our list. It's compact, round-bowl design sits snuggly against the wall in the tiniest bathroom in your home. With a Right Height toilet seat, the bowl sits up higher than the standard toilet, making it the best option for seniors living in your home.
This ADA-compliant unit comes with antimicrobial additives that help prevent the growth of water and rust stains and help kill odor-causing bacteria in the bowl.
With a round bowl, the Cadet 3 will sit comfortably in the corner of your staircase bathroom, giving your or your guests more room to maneuver. The 2-piece design makes the Cadet 3 more affordable than other corner toilet models, and it comes in a sleek and stylish white.
This corner toilet comes with an oversized flushing handle that engages the powerful siphon-action jetted system that clears any amount of waste with just 1.6 gallons of water per flush. You can rest assured that you'll be able to avoid any clogs with this toilet's 3-inch flushing valve and 2 1/8-inch trap-way. With every flush, the EverClean antimicrobial surface is activated, keeping your toilet bowl clean and rust or stain free.
---
2. Signature Hardware 443130 Braeburn
Best Rated Back to Wall Corner Toilet
Are you searching for a non-intrusive solution to your small bathroom struggle? Then consider the sleek and round compact design of the Signature Hardware Braeburn corner toilet.
As the best rated back to wall corner toilet, the tank of this unit is designed to sit sharply into any right angle, giving you ultimate placement flexibility. The unit comes in two pieces and consists of soft closing hinges, which can help prevent smashed children's fingers. A chrome-finish button on the side makes it easy to flush away waste quickly.
Signature Hardware has created a stylish porcelain corner toilet that is sure to look great in any bathroom. The quiet, soft-close hinges keep the lid from slamming down, and the two-piece configuration allows for optimal and easier access around the toilet base.
At its total height, the Braeburn corner toilet stands at 29 ½ inches and is 30 ½ inches deep. You can easily swap out that standard toilet that sits too close to the wall with this unit. The round bowl won't protrude into the small space of your bathroom, and it can be hooked up to your existing plumbing with a 12-inch rough-in.
---
3. Renovators Supply Manufacturing 10688
Updating a small bathroom is easier when you start thinking outside the box and consider installing a corner toilet. If you like an elongated toilet seat but are still wanting to save space, take a look at the Renovators Supply Manufacturing Corner Toilet. With a sleek and compact design, this unit comes in two pieces, has a soft-close lid, and a dual-flush mechanism that saves water and energy depending on your needs.
Renovators Supply Manufacturing also makes a corner sink to match this bright white porcelain tank and bowl, giving you more flexibility and assurance that you don't have to mix-and-match when redoing a bathroom. That's just one of the reasons we love this popular corner toilet with an elongated seat.
As a durable unit that's perfect for any home, the corner toilet by RSM comes in a Pantone color that will match any of your bathroom fixtures and has the proprietary Reno-Gloss finish that makes the bowl rust and stain-resistant. The contemporary design is a perfect match for your newly installed light fixtures or bathroom vanity in your larger bathrooms as well.
When redesigning a bathroom for you aging folks or family member, this popular corner toilet with an elongated seat makes the perfect bathroom companion. The seat height is higher than others, measuring at just over 16 inches. The elongated seat is also a little more comfortable for seniors who have to take a bit more time going to the bathroom.
---
4. American Standard 270AD001.021 Cadet 3
If you're looking for the American Standard brand, but don't like their round seat corner toilet, then the elongated version of the Cadet 3 may be the best choice for you.
As one of the models that's at the top of the range, this corner toilet design is likely to appeal to anyone, regardless of the space you have or the remodel you're doing. Even if you're just looking to upgrade your current toilet with this corner model, you won't be disappointed.
This toilet is designed to handle the toughest flushes and comes with an American Standard five-year warranty, giving you peace of mind that this manufacturer takes their product seriously. The entire unit is made from the durable vitreous china and comes with the PowerWash rim scrubs that keep the bowl looking clean and free from stains.
Many homeowners are opting for this unit (and any American Standard unit) because of the flushing mechanism. While it may not have a dual-flush option, it does come with a mechanism that's efficient and effective at removing messes in less than three seconds. The large valve ensures that you won't be dealing with clogs regularly.
What more can you expect from the top of the range model in corner toilets than an easy installation? The Cadet 3 elongated unit comes in two-pieces that are easy to put over your existing 12-inch rough-in and snaps together with ease. You may need help lifting and installing the tank, setting it flush against the wall, but it does not require an extensive manual read for installation and use.
---
5. Renovators Supply Manufacturing 13762
Overall, we love the Renovators Supply Manufacturing elongated seat corner toilet, but in order to save space and get the most out of your bathroom, we recommend going with the RSM round seat corner toilet.
Constructed from vitreous china, the round toilet seat is ADA compliant, which puts less strain on the bodies of the elderly and is safer to use with children in the house. The no-slam lid is the perfect accessory to ensuring that little ones can't smash their fingers.
Labeled as our pick as the best dual flush corner toilet, the tank on this round version of 10688 is equipped with a G-force high-efficiency flushing technology that sucks down any waste in a matter of seconds. This technology eliminates the need for double-flushing, and using just 1.6 GPF max, saving more than 25,000 gallons of water every year.
Round bowl toilets fit the more traditional style and décor in your bathroom. They're also more cost-effective if you're on a budget. However, round bowls can be a little more challenging to clean than an elongated seat, but that doesn't mean you should sacrifice space for ease of maintenance.
---
6. Renovators Supply Manufacturing 17668
If your bathroom renovation is on a budget and you find yourself looking for the best cheap corner toilet, then look no further than the Renovators Supply Manufacturing model 17668. As the third RSM model on our list, you'll get all of the standard features that come with a toilet made from this brand.
This toilet is also constructed from heavy-duty porcelain and is coated with a scratch and stain resistant China finish.
The 17668 model also comes with a dual flushing mechanism that will save you energy and water costs with each flush. You'll get a precise flush every time and won't have to worry about wasted fluids.
Picking out the right corner toilet for your new bathroom is essential when it comes to dealing with a small space. But it's also important to consider who will be likely to use the toilet the most.
With a shorter toilet seat height than most other corner toilets on our list, this model may not be suitable for seniors or people with knee troubles. However, it's perfect for the little ones who are just learning to use the potty on their own or any younger children who will need access to this toilet frequently.
Similar to all of the other RSM models on our guide, this particular model is just as sleek, elegant, and stylish as the others. It's sturdy and reliable, and the clean white finish means it will go perfectly with any bathroom décor ideas you have. Switch out the toilet seat for something with a little more cushion or leave it as is, it's up to you!
---
Corner Toilet vs Regular Toilet Comparison
Both corner toilets and regular toilets have their perks, but nothing can beat the space you save when you install a corner toilet. Not only do they look different and add a modern twist to your bathroom, but they also save you plenty of water and energy with every flush.
On the other side, there are plenty of standard toilets on the market that save you water and energy as well, and many come in a variety of different styles and colors.
If you have the room for a standard unit and want something more custom, find a way to get a standard toilet, but if you need the space and want a bathroom that looks and feels open, go with a corner toilet.
---
How to Install a Corner Toilet
Installing a corner toilet depends on the state of your current bathroom and how much remodeling you're doing in order to install a corner toilet.
Often, the location of the current rough-in for a traditional toilet may not be near the corner of the room, and you'll need to extend the plumbing and to create a new rough-in. In this case, it's always best to consult with your local plumber to help get the plumbing moved and the new toilet installed.
However, if you're simply replacing a current corner toilet, you just need to make sure the dimensions of the corner and the rough-in are the same and pick out your new toilet. If you need additional help, check out these online tutorials for installing a corner toilet.
Corner Toilet Cleaning & Maintenance
Cleaning a corner toilet is similar to how you'd clean a standard unit. There really isn't much difference between how you'd clean the two toilets, except that you may be able to reach around the back of the base a little easier with a corner one.
However, there is a difference in cleaning a round bowl versus an elongated one. Round toilet bowls can be a bit more difficult to clean since they tend to have a deeper lip on the inside. It's best to invest in a good cleaning brush that can reach up into this crevasse of the toilet.
Clean your corner toilet as you would any other bathroom, and you'll be just fine. If you're looking for more tips on bathroom cleaning, you can find plenty of resources online.
---
People also Ask (FAQs)
What does corner toilet short projection mean?
Corner short projection means that the depth of the toilet has been reduced to be accommodating to a smaller bathroom. These types of toilets will not protrude too far into your walking space and typically take up less floor space than other units.
What is the difference between a 10 and 12 rough in toilet?
A rough-in refers to the distance from the wall to the center of the toilet waste outlet or floor drain. The standard measurement for both a regular toilet and a corner toilet is 12 inches, but it's also not uncommon to see some with 10-inch or even 14-inch rough-ins.
Measure your existing rough-in, and that will tell you what type of toilet you can pursue.
How much space is needed for a corner toilet?
Not all bathrooms are the same, and it's not wise to just purchase a corner toilet and hope it fits. To find one that fits your bathroom, compare all of the measurements, and find one that matches. In most cases, you'll want to leave at least 15 inches of space between the unit and the wall or other fixtures, as well as have at least 24 inches of space in front of the toilet so you can get up and move around.
What are the best corner toilet brands?
Some of the best brands on the market include American Standard, RSM, Kohler, Eljer, and Toto. Which brand or style of toilet you go with is all up to your budget and what kind of features you're looking for in a unit.
Can I change from a traditional toilet to a corner toilet without having to move the drain?
If you're not sure whether or not you can use the existing drainage for a new corner toilet, it's best to consult with your local plumber. Most standard toilets are not situated in a corner position, and you may need to adjust for this. Talk to your local professionals before you purchase a corner unit.
Where is the best place to find corner toilets for sale?
You can find some of the best deals for corner toilets on Amazon but also through your local Lowes or Home Depot. If you want to see a toilet in person, it's always best to visit your local retailer before buying online for the best deal.
---
Conclusion
At the end of the day, your bathroom remodels or renovations should result in a space that's easy to use and stylish. Corner toilets solve a space issue and can often become a focal point in a bathroom.
Our overall conclusion is that you're going to love our no.1 pick: The American Standard 270BD0001.020 Cadet 3.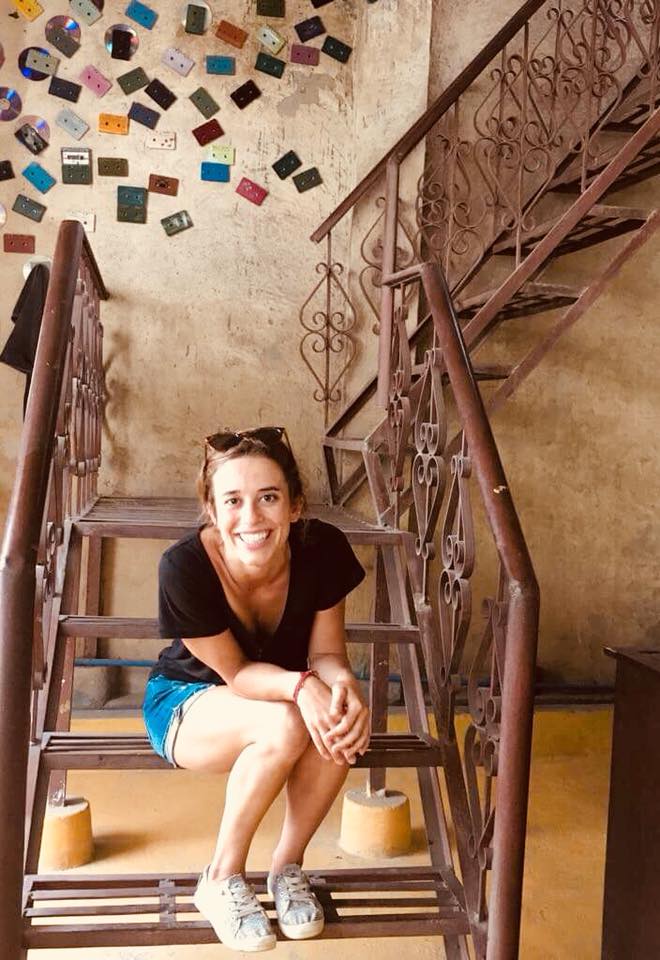 Caitlin Shaffer has been traveling & working as a content writer & SCUBA dive instructor since 2014. Having lived in Central & South America, Southeast Asia, India, & Australia, Caitlin has had many years of experience with a variety of kitchen, bathroom, plumbing systems & common household products. Other than writing about her plumbing experiences & knowledge, her main passions are yoga, ocean conservation, & sustainable development.