Well water is often "hard" by nature, meaning that it hasn't been filtered to remove certain minerals and debris that would otherwise be eliminated through civic filtration. However, "soft" water used in cities isn't perfect, either.
Often, it contains more chlorine than is recommended for good health. So, what are you supposed to do in either situation? Well, you can always install filters on your house's sinks. While you're at it, you can also pick up a Sprite shower filter to ensure that your baths and showers aren't exposing your skin and hair to excessive amounts of chlorine.
Page Contents (Click Icon To Open/Close)
Sprite Shower Filters Compared
| | | | | | |
| --- | --- | --- | --- | --- | --- |
| | | | chlorine, sediment, odors, and metals | | |
| | | | Free chlorine, dirt and odors | | |
| | | | | | |
| | | | | | |
| | | | | | |
| | | | Free chlorine, combined chlorine, hydrogen sulfide, iron oxide, dirt, sediment, odors | | |
| | | | | | |
---
Why Choose the Sprite Brand?
Patented Chlorgon Technology
This technology is found in each of Sprite's filters. It effectively draws out and traps chlorine, as well as an assortment of other water-based contaminants.
NSF/ANSI Certified Filters
This certification implies that Sprite's filters have been tested and proven to filter out chlorine and other "aesthetic impurities." In other words, Sprite's filters have been proven to work by an outside authority.
WaterSense Certified
WaterSense is a US EPA program that certifies products that are productively water efficient. Sprite's products have met this standard as a result of their durability and resistance to leaks.
Tool-Free Installation
Many of Sprite's products can be installed without any specialized plumbing tools. So long as you have some plumber's tape on hand, you can often mount them by hand.
Anti-Scaling Spray Nozzle/Tips
This feature denotes how Sprite's shower heads prevent accidental burns while bathing. Their nozzles and tips are designed to prevent a sudden burst of hot water from escaping onto a user.
KDF Filtration System
Kinetic Degradation Fluxion filters are used in some Sprite products to add an advanced level of filtration. They accomplish this through a proven redox process.
Smart Shower App
Sprite recently debuted its Smart Shower app. When connected to a Sprite shower head, this app tracks your water usage and makes suggestions about being more water efficient in your day to day life.
---
7 Best Sprite Shower Filters Reviewed
1. Sprite HE7-CM
Best Sprite Shower Filter
| | |
| --- | --- |
| | |
| | |
| | |
| | chlorine, sediment, odors, and metals |
| | |
| | |
Let's start off strong with the model that I hold up as the best Sprite shower filter. This may not come as a surprise to folks who have already shopped through Sprite's catalog, but I would easily give this mantle to the Sprite HE7-CM. This model can handle almost any home's need for filtration without decreasing its water pressure. This model's chlorgon media filter can draw out chlorine, sediment, odors, and metals – all without dropping below 2.5 GPM.
This model comes with all of this brand's bells and whistles, as well. For example, the Sprite HE7-CM comes standard with a 72-inch double-coil metal hose. I like this hose a lot because it is flexible yet fully durable, even after years of daily use. Also, I appreciate that this model's shower head is built with anti-scaling spray tips. That kind of small addition can make a world of difference when using this filter and shower head combo with a hard water supply.
Altogether, the Sprite HE7-CM costs just short of $50. That's certainly more than average for this brand. However, I would say that that investment is worth it. In fact, I'd gladly say that you're still getting a bargain when you factor in all of the productive features built into the Sprite HE7-CM.
---
2. Sprite Showers AE7-CM
Best Sprite Filtered Shower Head
| | |
| --- | --- |
| | Chlorgon filtration system |
| | |
| | |
| | Free chlorine, dirt and odors |
| | |
| | |
Another one of the best Sprite filtered shower heads is the Sprite Showers AE7-CM. This model is a part of this brand's Shower Pure™ collection, meaning that it was designed for luxury-grade bathing enjoyment without the luxury-grade pricing. Along those lines, this unit features a chrome exterior that isn't just for looks. As it turns out, it is durably built and able to withstand several years of wear and tear without ever losing its shine.
When it comes to shower head functions, the Sprite Showers AE7-CM doesn't leave you hanging. This shower head utilizes 7 different spray functions, each of which can help you enjoy every second of your bathing experience more. These functions range from a light mist to a course stream, allowing you to choose the intensity of your shower. I like that degree of choice, especially since most filter shower heads don't have any stream control whatsoever.
After a few months of use, you'll likely see this model's self-cleaning nozzles in action as well. These are designed to prevent calcification of the nozzle tips, which in turn prevents your water streams from becoming plugged up or going astray. These nozzles keep working through years of use, too, beyond the 6-month lifespan of this unit's typical filters.
---
3. Sprite HO2-WH-M
Best Sprite High Output Shower Filter
| | |
| --- | --- |
| | Chlorgon non-carbon media |
| | |
| | |
| | |
| | |
| | |
The best Sprite high output shower filter is a bit harder to name, based upon specifications and features alone. But if I had to pick just one, I'd probably go with the Sprite HO2-WH-M. That's because this model's filter is designed for higher-than-average concurrent water capacity. In practice, this model will not cause your shower's water pressure to dip in the slightest. I like that a lot because I prefer more water pressure while showering or else, I don't feel entirely clean.
Speaking of clean, you can bet that the Sprite HO2-WH-M will keep you feeling fresh for an extended period. I'm talking about a productive lifespan of up to a year, based upon the service life of this model's filter cartridges. During that time, you'll quickly notice how little free chlorine is making into your shower's output stream. Most of it will be trapped in this model's non-carbon media, which can even catch chlorine vapors.
Truth be told, I was ready to pay over $50 for the Sprite HO2-WH-M. Its productivity was well worth that much, in my opinion. But much to my surprise, I learned that it only costs usually under $30. Now, that's a real bargain that homeowners on any budget can get behind.
---
4. Sprite SL2-CM
Best Sprite Universal Filter
If you're looking to keep things simple when it comes to installation, I fully recommend checking out the best Sprite universal filter – the Sprite SL2-CM. This model's low profile design means that you can easily mount it onto your existing shower plumbing without needing special tools (besides a bit of plumber's tape, of course). Once it's on there, you'll likely be impressed to see that it only adds about 1.5 inches onto the length of your shower's head. I found this to be particularly useful due to my home's smaller shower stall.
Despite its compact form factor, you'll be pleased to know that this model is considered one of the sturdiest in its class. To be specific, the Sprite SL2-CM's triple-plated construction allows it to withstand years of wear from soaps and water without ever beginning to corrode. This construction doesn't make this unit any harder to maintain, though. I found it very easy to open and reseal after changing its filter every 6 months.
I have to compliment this model's price, as well. At around $20, the Sprite SL2-CM is a no-brainer when it comes to filtering your shower's water while sticking to a budget.
---
5. Sprite Showers BBC
Sprite Shower Filter Cartridge Replacement
If you end up picking up and installing any of the Sprite shower filters listed above, you'll eventually need to replace your unit's filter. To do that, you'll likely need to pick up one of these Sprite shower filter cartridge replacements, which retail at just over $10 apiece. At first, that may sound like a lot for a single filter that is rated to last for only "30 baths." But take my word for it – these filters can easily last through 3 months of daily use without losing any of their performance. As such, I consider them to be reasonably priced.
Speaking of performance, these NSF-approved filters utilize a proprietary bath ball filtration system that can draw the hardness out of most incoming water sources. As you'd expect, they also do a great job of filtering out any excess chlorine in your water source. After trapping in those undesirable particles, you don't have to worry about this filter giving them up again as it ages. That's because its filtering balls have been designed to not break down, even if they are regularly exposed to hot water.
---
6. Sprite Showers HC5-CM
Most Effective Sprite Filtered Shower Head
| | |
| --- | --- |
| | |
| | |
| | |
| | Free chlorine, combined chlorine, hydrogen sulfide, iron oxide, dirt, sediment, odors |
| | |
| | |
Now, it goes without saying that all of Sprite's filter shower heads are "effective" when it comes to removing chlorine. However, only one of this brand's models can stand tall as the "most effective Sprite filtered shower head." That honor goes to the Sprite Showers HC5-CM. This model is truly remarkable when it comes to water filtration. In practice, this unit can filter out free chlorine, combined chlorine, hydrogen sulfide, and iron oxide. It can even filter out dirt, sediment, and odors without clogging up or lowering your shower's water pressure.
That's not all this shower head is capable of, though. The Sprite Showers HC5-CM was also designed to provide 5 different spray functions that will allow you to easily alternate between a course stream and a gentle, relaxing massage. This shower head is also fully compatible with a 1/2-inch NPT shower arm. So, if you already have one of those, you'll be able to save yourself some time on the installation step.
However, the Sprite Showers HC5-CM does possess one noteworthy drawback. Specifically, its filters are only rated to last around 3 months at a time. This is a direct result of its stronger-than-average filtering capacity. As long as you're okay with such frequent changes, this unit is definitely for you.
---
7. Sprite HF-CM
Best Sprite Shower Hose Filter
Finally, I want to round out this collection with the best Sprite shower hose filter. There aren't many options on that front, so I'd likely choose the Sprite HF-CM for this honor. Priced at around $30, it isn't so expensive that you wouldn't try it out once. Once you try it out, though, you'll see that this model does just as well as its overpriced competitors. It can improve your hard water source to the point that your soap effectively lathers again.
Though you may not know this already, shower hose filters are known for falling apart after a year or two of regular use. That won't be the case with the Sprite HF-CM (as long as you change its filter every 3 months, that is). This model's durable chrome construction allows it to resist several forms of corrosion, including rust. Even through that, though, this shower head accessory will remain vibrant and aesthetically-pleasing with only a minimal amount of polishing necessary.
While it isn't listed with this unit's main specs, you'll likely be interested to know that this model is technically "universal" in its adaptability. I know I was pleased to see that because I planned on using this filter on several showers in my house. I ended up doing that, and I plan on keeping them installed for many years to come.
---
The Sprite Range Explained
Sprite offers a wide range of shower filters designed to fit nearly every home's needs. Many of these products live up to the brand's reputation, which revolves around making productive in-home filtration accessible outside of the luxury bathing market. This brand is also well-known for its specialized filtration technology, which manages to balance upkeep costs and ease of use, unlike any other competing brand.
Universal Shower Filters
These are this brand's most popular product, not least because they can be installed onto almost any shower head set up. All they need is to be properly mounted between beside your existing shower head, thus allowing you to enjoy Sprite's filtration benefits without sacrificing the usefulness of your current shower head.
Filtered Shower Head
Sprite's filtered shower heads are also quite popular. They're often utilized by folks who want to streamline the process of purifying their shower's water. These shower heads are very productive in their own right. One model, for instance, offers seven different spray options ranging from course to mist.
Filtered Extensions
These extensions are designed to round out a shower set up with an existing shower head and hose. To that end, these extensions simply mount on the end of the hose and finish the filtration process as water reaches your shower head. In practice, this helps keep your shower head and hose arrangement as portable as possible.
Replacement Cartridges
These cartridges are designed to replace those that come in your filter after a set period. Often, their service life is relative to their strength. For example, this brand's strongest filters last for only 3 months, while its more moderate filters can last up to a year.
---
Comparing Sprite Vs. Similar Shower Filter Brands
Here's a question you'll often see - "Are Sprite shower filters good?" Well, Sprite is undoubtedly better than its closest competitors, that's for sure. Take a look and see how Sprite stacks up to other players in its market:
Sprite vs. Berkey
Sprite has the upper hand on Berkey, primarily because their filters are stronger and more effective Berkey's filters. This is primarily because Sprite's chlorgon filtering media acts like Berkey's KDF filters, save for the fact that it also utilizes calcium sulfide. This means that they can trap and hold even more chlorine before requiring a replacement.
Sprite vs. Aquasana
Aquasana shower heads are just as popular as Sprite's shower heads, likely because their filters utilize activated charcoal. While this is a popular addition for consumers right now, it comes with an added cost. That cost comes on the front end, as well as every time you need to replace an Aquasana filter. So, Sprite remains a cost-effective option on this front.
---
How to Install & Replace Sprite Shower Filters
Installing and replacing a Sprite shower filter couldn't be easier. You can often do it without removing the entire filter enclosure from its mounting. To start, you'll want to check the dial on your filter to ensure that the proper amount of time has passed since your last filter change.
If it is time for a change, simply unscrew the front cap of the enclosure, pull out the old filter, pop in the new one, and you're ready to go. Be sure to run your shower after, though, to ensure your new filter is adequately aligned.
---
People Also Ask (FAQs)
How long do Sprite filters last?
A typical Sprite filter will last for around 6 months of regular use. Regular use, in this instance, involves at least one "use" of the filter per day, typically for bathing purposes. However, some of this brand's filters can last for as short as 3 months or as long as a year. Either way, you should replace your Sprite filter once this threshold is met in order to maintain optimal filtering performance.
Do Sprite shower filters remove iron? Do they remove chloramine?
Sprite's top-level filters can remove some amounts of iron from your shower's water. However, they aren't super effective on that front. So, it is recommended that you utilize another water filtration system to handle iron if it is common in your home's water supply. The same goes for chloramine, which Sprite filters are not designed to capture.
Will Sprite shower filter reduce water pressure?
In most cases, Sprite shower filters will not noticeably reduce your shower's water pressure. This is due to their overall size, which prevents your water supply from narrowing as it approaches your shower head. Along these same lines, you should not expect to see a flow restrictor inside any Sprite filter.
Where can I buy Sprite shower filters?
If you're looking to shop at a brick-and-mortar retailer, then Bed Bath & Beyond, Lowes, and Home Depot are all great options. There, you can compare Sprite's model's side by side with the competition based upon their features and price. However, if you want the best prices on Sprite's shower filters, then check out Amazon. They can always save you a bit of money through their discounted shipping rates.
---
Conclusion
All in all, there's a lot to like about Sprite shower filters. As you've seen, all of their most popular models are fully affordable while still providing an assortment of productive features. Simultaneously, these filters are easy to use, even if you're new to performing your own plumbing installations. So, without a doubt, I recommend the Sprite brand and each of its excellent shower filters.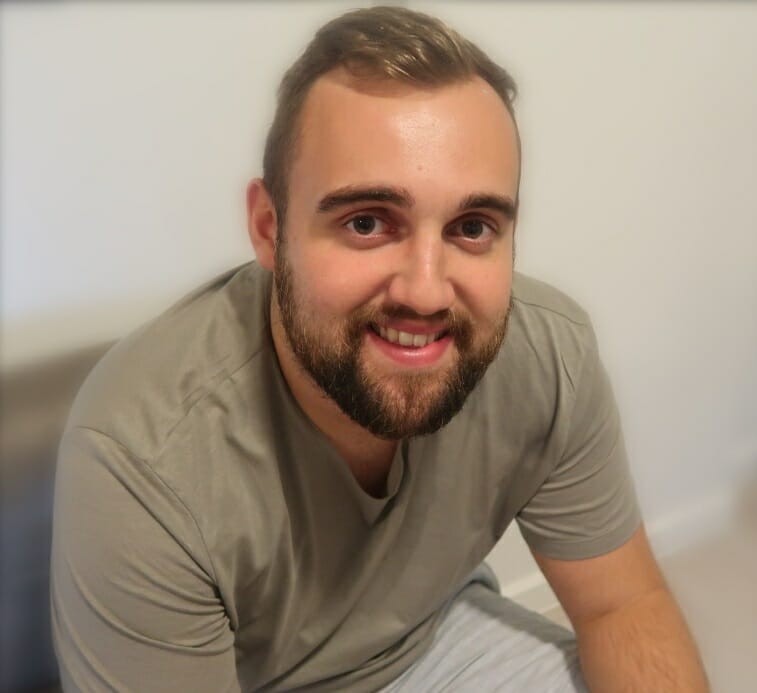 Matt is a freelance writer, English graduate, & keen traveler from the UK. As a specialist plumbing expert, he enjoys writing about everything there has to do with at-home plumbing products & related problems. When he isn't writing, he's usually drinking coffee or planning his next adventure. In his spare time, he also runs his own blog all about digital nomad life.