When it comes to your general bathroom experience, the simple fact is those small things can make a whole world of difference. One of these little things is your bathtub faucet. Having a beautiful bathtub faucet is but a small quality-of-life improvement that can make your entire bath and shower experience fundamentally different.
You might even feel inspired to start taking baths. Maybe you're looking to do a complete renovation of your bathroom; perhaps you're in the process of building a new home; potentially your current bathtub faucet just merely isn't cutting it.
Here, we're going to break down bathtub faucets, so you know what to look for and what your best options are.
Page Contents (Click Icon To Open/Close)
Bathtub Faucets Compared
| | | | | |
| --- | --- | --- | --- | --- |
| | | | Chromed Plastic, Polished Brass, Stainless Steel | |
| | Delta Faucet T4759-FL Trinsic | | | |
| | Moen Eva Two-Handle High-Arc Roman | | Brushed Nickel, Chrome, Oil-Rubbed Bronze | |
| | Kingston Brass Vintage Clawfoot | | | |
| | | | Polished Brass, Chrome, Brushed Nickel | |
| | Delta Faucet Single Function Kit | | | |
---
Advantages of Bathtub Specific Faucets
You may be asking why this all is so important and why it's an absolute necessity that you get a faucet intended explicitly for your bathtub. Well, the simple fact is that a high-quality bathtub-specific faucet will offer you many benefits over ones that aren't as good.
This is where a high-quality bathtub faucet comes into place.
---
Things to Look For in Selecting the Best Bathtub Faucet
There are several different things to consider when you're trying to pick the right bathtub faucet. Let's break some of those down.
Mount Type
The first consideration is the way that the faucet mounts. If you're planning to mount the faucet in your tub, then finding a faucet that does so is important. Does the faucet work with your plumbing setup?
These are questions you need to ask because a faucet has to be able to be mounted to be used. If you're starting from scratch, then we're partial to wall-mounted faucets, because they're among the most common and the highest number of options are available for them.
However, as we said earlier, it's very context dependent. So, for example, you'll only want a wall-mounted faucet if your tub is against the wall.
Spout Arch Height & Reach
Spout arch height and reach describe how high up your faucet's spout reaches and how far out it extends before the water comes out of the hole. Some bathrooms are smaller than others, and at any rate, you don't want a faucet that extends beyond your basin or extends so high that it looks terrible.
This can make a significant difference in the usability of your bathroom, so take note of it in your search. Generally, the spout arch height itself doesn't matter, and what matters is where the spout's opening is relative to the tub and its walls.
You want roughly 4 to 8 inches of clearance between the spout opening and the walls of the tub if you're using one in the ground. Otherwise, you want to be sure that it's not so high as to cause tremendous splashing.
Faucet Configuration & Size
Pay attention to your own needs. You want to make sure that your faucet fits your lifestyle. For example, if you shower a lot, then you need to make sure that your setup allows you to quickly turn off the tub's valve and enable water flow to the shower faucet and head.
Moreover, how many holes do you need to install the faucet, and how does the faucet's layout work with your tub? Not every layout is the same. Faucets have different installation modes.
For example, for deck-mount valves, there are different layouts, with the most common for bathtubs being wide-set, with 8 to 16 inches between the faucet centers. (This is also the standard for wall-mounted faucets.) Some other faucets are a single-hole installation, with both hot and cold water being controlled by a single handle.
Number of Handles
It's vital that you consider the mode of temperature control for your faucet. The number of handles that your faucet has can make it easier or harder to control. For example, some people prefer the aesthetic of merely having a single handle. It also makes it easier to get "exact" control.
On the other hand, you lose some of the control over how much water is flowing out in general. Consider the alternative: having two handles for temperature control, and potentially a third for engaging the shower head.
In this case, you get more direct control over how much water is flowing, but you may be kind of taking shots in the dark about your temperature and having to tinker with it more to hit the heat you're wanting.
Faucet Style & Finish
Not everything looks the same. One perfectly good faucet might not look as great in your bathroom as another. You want to be sure that whatever faucet that you get doesn't look out of place and keeps the room cohesive.
Some faucets have more classic styles while some have more modern styles; some are extravagant chrome while others are subtle matte gunmetal greys that you hardly even notice. This sort of distinction can make your bathroom feel entirely different.
Chrome and black finish are more consistent with modern styles, while the others are more traditional. In general, you should try to match your bathtub faucet to the other fixtures in your bathroom.
Valve Type
Valve types can make a significant difference in the level of maintenance required of your faucet over time. There are three main types: compression valves, ball valves, and cartridge valves. Compression valves have been used longer than the other kinds.
Faucets with compression valves typically have two different water handles, and these handles control the water flow. These are prone to leaking because the washes and disc inside might crack, but those are easy and cheap to fix.
Ball valve faucets consist of a disc in the middle which controls water flow. Usually, these faucets only have a single handle atop the faucet near the valve where the water flow is toggled on or off with quarter-turns of the handle.
Lastly, the cartridge valves, which operate via a cartridge which moves back and forth to turn the water flow on or off. These are super simple to fix, since you only have to replace the cartridge if you spring a leak, and they aren't very prone to leaking in the first place. Opt for the cartridge valve option if you can.
Installation & Maintenance
Some faucets are beautiful but take a lot of work to be kept up, comparatively. Likewise, a lot of faucets can be fairly difficult to install, and you want to make sure that you're up to the task because it can save you bringing in a plumber to do the job.
Looking for faucets that are low-maintenance, built to last, and easy to install can save you a lot of headaches in the long run. Some aspects of faucets are easier to maintain than others, as well. For instance, faucets which use compression valves will require you to disassemble the sink and replace washers if you develop a leak.
Things which indicate low maintenance faucets and simple repairs are cartridge valves (which Moen and Delta both use, according to Wikipedia), slip-on spouts (if applicable), and deck-mounted faucets (since your repairs are all in one place and don't require ripping up the floor or otherwise making significant changes to water lines.)
You don't need to opt for all of these, or perhaps even any, but these are reasonable criteria to look out for when looking for a low-maintenance bathtub faucet.
Warranty
Look, life is hard. Sometimes things break. A quality product will also have a quality guarantee to help you ensure that you have some form of security if everything goes downhill. The best warranties will last the reasonable lifetime of the product and protect you against a variety of things.
After all, a tub faucet is an investment in your happiness.
---
6 Best Bathtub Faucets Reviewed
As you can probably guess from all the subcategories, picking the best faucet can be hard. Lucky for you, we've assembled a list of what we think are the best bathtub faucets across a few different categories and reviewed them!
1. Delta Faucet TUB SPOUT
Best Overall Bathtub Faucet Spout
| | |
| --- | --- |
| | |
| | Chromed Plastic, Polished Brass, Stainless Steel |
| | |
| | |
| | |
| | |
This is the faucet that we ended up choosing as the best value overall. The simple fact is that this is a faucet that goes with almost all decor and, more importantly, it's incredibly cheap - that way you can spend more of your budget on things that matter to you. Delta Faucet has made an incredibly well-built faucet with a standard reach of 5.25 inches in three different beautiful tints: chrome, polished brass, and stainless steel.
This faucet spout is super easy to install and also pretty easy on your water bill. If you're looking for a wall-mounted or tub-mounted faucet, there is not a single better option out there. Even though it doesn't have a warranty, it's cheap enough that you can buy a new one if you need to. You shouldn't need to, though. Most reviewers love this faucet spout and have had no issues.
A reviewer on the Lowe's website says, "I like the overall design and ease of use. The hidden quality of the pull down diverter is especially appealing. Very good and well made product."
---
2. Delta Faucet T4759-FL Trinsic
Best Freestanding Floor-Mounted
Bathtub Faucet
This faucet is simple and elegant. If you're looking for a floor-mounted faucet, this one will do the trick correctly. It's a little bit of an investment, but it's a worthwhile one. Let's start with the overall build quality: this faucet, plain and simple, will not leak. It will last as long as you want it to and probably even longer. Rust issues with this faucet are incredibly rare, too.
To top it all off, setting this faucet up is easy and, since it's right in the ground, it won't get in the way of your valuable tub space so that you can sprawl out entirely. It's an overall beautiful tub filler that will go incredibly with a clawfoot tub if you have one. With an impressive 41 inch height overall and an 8-inch spout reach, your bathroom will be awe-inspiring and breathtaking thanks to the unique modernity this fixture will inject.
So let's address the elephant in the room: the price tag. This is an expensive faucet. But, it is an incredible faucet. This faucet is the faucet that people see when they fantasize about a gorgeous bathroom with big windows and sunlight streaming in.
And it's built as good as it looks. This faucet carries a hefty price tag. But for that price tag, you get a one-of-a-kind bathroom experience. This one is for people who want top-of-the-line quality and have money to spare on a luxury bathtub faucet.
"We remodeled our home and loved the classic look of this faucet. The plumber was thrilled with the quality of the Delta faucet and the fact that they stand behind their products. The height is perfect for our large soaker tub. The hand spray has a nice long hose and works great to rinse out the bathtub. " - A Delta customer's 5-Star Review
---
3. Moen Eva Two-Handle High-Arc Roman
Best Deck-Mounted Bathtub Faucet
| | |
| --- | --- |
| | |
| | Brushed Nickel, Chrome, Oil-Rubbed Bronze |
| | |
| | |
| | |
| | |
This faucet is beautiful, modern, and goes with a vast number of different décors. On top of all of that, it's tremendously easy to install and is built to last. The high-arched spout will look super elegant in any bathroom setup, with a 9½ inch height and an 8½ inch reach. With two handles, you're going to have easy control over the temperature of your water.
It's also an excellent choice if you're trying to resell your house. The remarkably inoffensive design will be compatible with tastes across the board. A warranty protects your investment, but you probably won't have any issues with this sort of faucet anyway - at least not for a long while.
"With flowing curves, the Eva collection's transitional design is pure and organic. Petal-like handles and swan-like spout bring a relaxed feeling to the bath." - Moen
When you buy this faucet, you're buying one of the best quality deck-mounted bathtub faucets available. You will need to purchase a valve for this kit.
This sink is ideal for people wanting to give their bath a modern yet refined look without breaking the bank, by taking nods from classical design and architecture to construct a very worthwhile addition to your restroom. Do note that to use this faucet, your bath must be compatible with deck-mounted faucets and have usable holes for a deck-mounted fixture.
More of our favorite Moen products can be found here.
---
4. Kingston Brass Vintage Clawfoot
Best Wall-Mounted Bathtub Faucet
Hausera says that "Wall-mount bathtub faucets are a nice option as well and lend an extra air of sophistication."
We agree, and we think that this kit is the perfect example of that. This kit is an excellent option for you, especially if you don't necessarily want to mount a shower head above your bath. Delta Faucets has created a worthy tub and shower kit for you to give your bathroom some style.
It conveniently puts the shower head on the same water line as the faucet, meaning that you don't have to replace the components separately. This setup is excellent for things like clawfoot tubs and open bathrooms because you can move the shower head freely.
You also would be able to mount it reasonably quickly if you decided to do so. Either way, this kit is excellent for that sort of arrangement, and you won't be disappointed. It also looks impressive and very high-quality, with an elaborate design that comes off as prestigious.
This kit is ideal for anybody who wants to give their bathtub some classic flair without making their clawfoot setup too complicated. (Or costly!)
You don't have to have a clawfoot bath to use this faucet, though; it'll work well with a lot of different tub designs. We recommend this faucet also as a great everyday faucet for the classic and straightforward tastefulness, overall experience, relatively high flow rate, and plethora of finishes.
---
5. DANCO Universal
Best Universal Slip-on Tub Spout
| | |
| --- | --- |
| | |
| | Polished Brass, Chrome, Brushed Nickel |
| | |
| | |
| | |
| | |
This tub spout is two things: plain and simple. But that isn't a bad thing. With a great polished brass finish, this faucet will accent your tub beautifully. This sort of faucet looks especially suited to bathtubs that look a bit older or have internal mounts.
At only around twenty dollars, you can have a super high-quality slip-on tub spout. This spout will last you a long time and comes in a few different finishes to make it more likely that the spout will match whatever décor is already in your bathroom.
There isn't a whole lot to say about this one in particular since it's only the spout. It's well made and will last a long time. Moreover, it's a genuinely universal faucet, with adapters to be adaptable with slip-on and threaded designs as found in most showers.
Many of the reviewers, myself included, believe that as far as replacement faucets go, you're not going to find something much better than this. That said, this is not the option for you if you want to do a full faucet installation. The reach is roughly that of a standard wall-mounted bathtub faucet, coming in at 5 inches.
---
6. Delta Faucet Single Function Kit
Best Bathtub Shower Faucet Combo
| | |
| --- | --- |
| | |
| | |
| | |
| | |
| | |
| | Yes - Warranty (Must own the home) |
Are you installing a new bathroom altogether? Buying a tub faucet and shower head from the same source at the same time is a good idea anyway because it helps make sure that your materials match one another and that your bathroom remains cohesive.
Also, even though it's unlikely, there still might be compatible issues with piping and things of that like between one component and another, so buying from the same set ensures that they're intended for the same context.
In this faucet and shower trim combo, you'll find a well-built and easy-to-install combination of a faucet with a relatively standard reach of 5.5 inches and a 2-inch shower head that you can easily replace down the line if you decide you want to upgrade to a fancier one.
If you don't, then the included shower head - though bare bones - is a great one nonetheless with a reliable stream that will soothe your body and put your mind at rest for a while.
The components themselves are made of super-strong materials and are guaranteed to last a while. Additionally, the design of this unit makes it certain that you're not going to have any problems with leaks. Do note that this kit does not include a valve so you may need to pick one up.
This plumber's review says, "Well as a plumber for the last 20 years, I can say that this is the only tub and shower valve I well install personally and the only one I've recommend. It's easy for your plumber to install and easy to repair in the future, witch saves labor cost to the costumer. Delta has figured it out, quality and style."
---
Bathtub Faucet Mount Types Explained
So you're ready to get cracking.
An important thing to start with is knowing where your faucet is supposed to mount, or perhaps where you want to fit it in your grand vision. This will help you figure out if your faucet will even work with your tub or with the design that you have in mind.
The three standard tub mounts are:
Deck/Rim Mounts
These mounts are seated on the rim of the tub or the flat surface at the front of the tub - the "deck."
Wall/Tub Mounts
Wall and tub mounts are mounts that mount directly into the interior walls of the tub or your bathroom wall. This is the most common form of faucet mounts.
Floor Mount
These mounts are bolted into the floor and aren't attached to the tub at all. As you can guess, setting these up would be a pretty different affair from setting up any of the others.
But as Badeloft USA points out "the type of bathtub you have and its location will have a large influence on the type of filler you should get." Context is going to play a massive part in which mounting style you should go for.
---
Tub Spouts: Slip-on vs. Threaded
It's essential to know how to differentiate between different kinds of tub spouts because that will have an impact on the exact faucet that you install and can have different implications for the overall experience you get. The two primary spouts are slip-fit spouts and threaded spouts.
Slip-fit sprouts slip over the copper pipe that carries water and then are screwed into place with a setscrew. Threaded spouts thread onto the end of a pipe nipple that's on the end of the copper pipe, fitting the spouts into each other like puzzle pieces. This allows the faucet to be relatively fixed in place.
---
How to Remove & Replace Bathtub Spouts
If your spout has a leak or is broken, or you are switching faucet assemblies and need the opposite spout type (threaded to slip-on or vice versa), then you'll need to replace your spout. Fortunately, it's super easy! If your spout has a nipple, take that off first with a pipe wrench.
If it is a slip-on faucet, there will be a setscrew; all you need to do is remove that. Next, you gently pull the spout while twisting very carefully. It should come right out. The new spout should slip right on.
If you're a visual learner, then this YouTube video should give you a fairly solid idea of what to do.
---
How to Repair Leaks in a Bathtub Faucet
Faucet starting to leak? These kinds of leaks have a few different causes. But, the vast majority come from just having a broken or rusted washer. These are usually super easy to fix. If your faucet starts to leak, pick up a washer of appropriate size, unscrew your faucet if necessary, and pull it off.
After that, you pull off the old washer and replace it. Put your faucet back on, and the leak should be fixed. Voilà! Enjoy your water bill savings. If those instructions aren't clear enough, try watching this well-produced YouTube video to help you understand what I mean.
---
People also Ask (FAQs)
Can I get a rust-resistant bathtub faucet?
The simple answer is yes! There are several different faucets available that are built to be corrosion resistant and stand up to the water flowing through them.
Do I need a professional plumber to install my bathtub faucet?
For the most part, no. Most faucets are easy enough to install yourself. This frees up your budget to get a higher quality faucet, too!
How tall should a bathtub faucet be?
Generally, a tub spout should extend four to six inches over the rim of the tub. Unique designs may demand different layouts.
What is the price range of all the brands on our list?
Our cheapest spout is under $30, and the most expensive bathtub faucet is almost $800. We have something for every budget!
---
Conclusion
Working with bathtub faucets can be a somewhat intimidating task. Hopefully, this article was able to demystify it and give you an idea of where you're supposed to start. If you're looking for an excellent faucet, then our reviews will provide you with a fantastic jumping-off point.
And if you're replacing a faucet, maybe save yourself some headache and go with our favorite faucet spout, the Delta Tub Spout or the Moen Eva Two-Handle High-Arc Roman if you're looking for a full tub faucet set.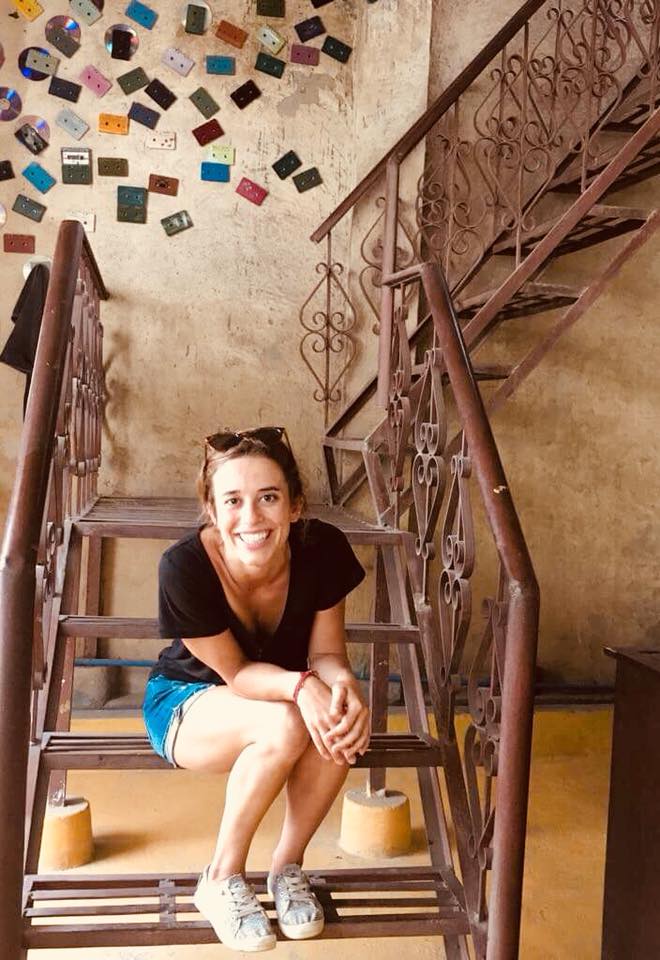 Caitlin Shaffer has been traveling & working as a content writer & SCUBA dive instructor since 2014. Having lived in Central & South America, Southeast Asia, India, & Australia, Caitlin has had many years of experience with a variety of kitchen, bathroom, plumbing systems & common household products. Other than writing about her plumbing experiences & knowledge, her main passions are yoga, ocean conservation, & sustainable development.