Flushing toilets make up a huge amount of water used and wasted, around 30% of daily household water usage. Composting and waterless toilets are an innovative way to get around this issue.
They process the waste with oxygen, heat and dry materials to create a safe, sanitary compost which you can use as fertilizer with no wasted water or power.
They're a popular choice for RV's, cabins, tiny houses, and campsites. No doubt you have a million questions about these fascinating inventions: what is the best composting toilet? Do composting toilets smell? How do you install it?
What is the best composting toilet for RV? We've got all of the answers for you, as well as comprehensive reviews of six awesome composting toilet models.
Let's get into the nitty gritty!
Page Contents (Click Icon To Open/Close)
Composting Toilets Compared
Nature's Head

Self-Contained

2.5 Gallons (Urine Tank) 60-80 Solid Uses


19W X 20H X 17.75L (Front To Back)


2.5 Gallons (Urine Tank) 60-80 Solid Uses


21W X 20H X 17.75L (Front To Back)


Separett Villa 9215 AC/DC

Sun-Mar Excel Self-Contained Composting Toilet

Approx. 3 Weeks
(Family Use)

Sun-Mar Centrex 3000 Non-Electric Waterless

8-10 (Seasonal),
5-7(Residential )

Laveo Dry Flush Chemical Free Electric Waterless Toilet
---
What is a Composting Toilet?
Unlike a traditional toilet, a composting toilet is a toilet which takes the contents (human waste) and turns it into compost by a process involving evaporation and aerobic activity. This type of product has been popular in Scandinavia for decades and recently become more mainstream in the USA.
One of the things that set it apart from regular toilets is that it is often waterless, i.e. it doesn't flush or has any added water involved in the process. Composting toilets are most commonly used in tiny houses, RVs and on off-the-grid properties. You can still use toilet paper, although quick-decomposing brands are preferred.
Most composting toilets have a finishing drawer (where the composted material falls into when ready to be removed), and some have a heating element to keep the environment nice and warm so the live process can keep thriving.
Some have a turning handle which disrupts the contents of the toilet to get more oxygen infused into the mix to help the process along. There are electric and non-electric composting toilets too, for catering to various accesses to power.
---
How Does a Composting Toilet Work?
A composting toilet works when a mixture of moisture, warmth, oxygen and organic waste combines. Microorganisms are fed by oxygen and get to work breaking down the waste until it is a safe, sanitary substance to be used for fertilizer.
Some composting toilets separate urine from solids and divert it into a separate holding tank where the urine is then disposed of. You can connect the urine pipe to your grey water tank if preferred.
Other toilets only have one holding chamber (doesn't divert urine), and they just require a bit more dry matter (i.e. sawdust or peat) and a warming mechanism to help soak up and dry out the extra liquids.
If you're concerned about the smell and cleanliness of a composting toilet, perhaps likening it to a "long drop", here's a great explanation from a builder with expertise in installing composting toilets: "A composting toilet shouldn't be septic, it shouldn't be wet, it shouldn't be closed up so that there's no air in it because composting won't take place if there's no oxygen around it."
So basically, you use the toilet, sprinkle over a cup of dry covering substance (mostly peat moss, coco coir or sawdust). Some composting toilets have a spinning drum with a handle which you turn every so often to pump more oxygen in and to stop things from becoming sodden or packed tight.
---
What to Consider When Buying a Composting Toilet
Space (Dimensions and Configuration)
The space your composting toilet takes up is a crucial feature you must be sure about before you make a purchase. When you're fitting a composting toilet to an RV, tiny house or cabin, size is especially important. Make sure you're clear on the dimensions of the toilet once it has been fully configured, including the ventilation pipes.
Capacity, Installation, and Maintenance
Be sure of the capacity of the composting toilets you are considering.
The capacity will relate to how often your composting toilet will need to be emptied, and how many people the toilet can accommodate. It might state something like: "capacity 3-5 people seasonal use, 2-4 people residential/heavy use".
Installation can be slightly tricky, so make sure you have someone to do this for you if you don't have the skills yourself. Take into consideration fans, heating mechanisms, vents and holes which will all need to be installed properly.
Maintenance and cleaning are also important to be perfectly clear on what to expect from caring for a composting toilet. Consider the cost of dry materials, how often you should buy them, and what to do if your composting toilet happens to dysfunction.
Electricity
Figure out what your preference and abilities are when it comes to electricity as there are electric and non-electric options. Some require nothing more than a battery to power the fan, and others require access to standard 110V electricity.
Consider questions such as: do you have the ability to use solar power? What kind of access does your chosen location have to electricity?
Plan for ventilation
Your composting toilet must be connected to a ventilation system which connects it to the open air outside. Before buying your composting toilet, plan where and how you will create an air vent.
Safety
Your composting toilet must be installed and maintained properly to ensure no pathogens or harmful bacteria remains in your final product. The goal is to end up with a safe, sanitary compost. Electric composting toilets must be installed and maintained properly to ensure safe electrical function.
Price Range Vs Efficiency
Weigh up the price versus how much money the unit is going to save you due to efficiency in terms of water usage, electricity, maintenance, dry matter, and general upkeep. How often are you going to use it? Is it just a seasonal toilet for holiday homes or will it be used daily in a residential environment?
Warranty
With any large purchase, be sure of the warranty it comes with so you don't end up getting a shock if the unit does happen to defect. A decent warranty (i.e. 5 years or lifetime) will protect you and set your mind at rest, especially if you're not so adept at DIY fixing jobs!
Local laws
Some governments install rules regarding composting toilets. For example, this guideline here showcases how different states in America offer different solutions. Before you even start looking for the best composting toilets, be completely clear on your local laws surrounding the issue.
The best way to go is to simply contact your local council and ask everything you need to know.
---
6 Best Composting Toilets Reviewed
1. Nature's Head Self-Contained
Product Specifications
| | |
| --- | --- |
| | 2.5 gallons (urine tank) 60-80 solid uses |
| Product Dimensions (Inches) | 19W x 20H x 17.75L (front to back) |
| | |
| | |
| | |
The first on our list is a composting toilet from Nature's Head. This is a self-contained unit, which means that everything happens within the unit itself. There is a container directly below the seat which catches the waste (separates urine and feces), and the composting process is completed from start to finish right there.
This is a great choice for small spaces such as RV's, tiny houses, cabins or boats as the unit is compact. It's got a really great capacity, holding 60-80 uses before emptying.
We like that this unit comes equipped with a vent hose and a fan, so you can get that fresh air and odor-free composting working. It's a compact, tidy-looking unit with a granite-colored exterior and hard-wearing stainless-steel hardware.
The fan is a 12 Volt fan which can easily be run from a battery, no electricity required (if you're using 110-volt house power, you need a wall transformer).
Nature's Head composting toilet separates solid waste from liquid waste. This is great as it means the solid waste can compost easily and cleanly without excess moisture which takes more heat and ventilation to evaporate and process.
The urine tank is easy to empty, and it can be used as a great liquid fertilizer for older plants (dilute with water first).
The seat has been attached to the unit (it doesn't lift up like regular toilet seats). This is great as it means there's no chance of the toilet seat breaking or shattering. The "spider handle" is designed to turn the compost and integrate the dry matter (i.e. peat or coco coir) which adds oxygen to the compost and keeps it from becoming sodden.
This is a great choice for you if you have an RV, a small cabin, a tiny house or boat with a small space for a toilet. All you need to do is feed the ventilation tube somewhere outside and that's it. Great if you have older plants which can benefit from the urine tank contents!
Here is a great video review and demo of Nature's Head Composting toilet.
---
2. Nature's Head Dry
Product Specifications
| | |
| --- | --- |
| | 2.5 gallons (urine tank) 60-80 solid uses |
| Product Dimensions (Inches) | 21W x 20H x 17.75L (front to back) |
| | |
| | |
| | |
Here we have another composting toilet from Nature's Head. This model has a standard crank handle as opposed to the 3-prong spider handle for turning the waste.
This is a self-contained composting toilet, with the waste falling directly below the seat, being held in two tidy containers (a water tank and a composting container for solid waste).
A well-put explanation of this unit is "The Nature's Head by Nature's Head USA is a well-made unit that does what it is supposed to do", from Composting Toilets USA.
This is called a "dry" composting toilet because the urine is diverted from the solid waste to keep the dry compost from becoming too wet. This means the dry compost can be left for longer and it doesn't require as much heat and ventilation. You can simply empty the urine tank whenever needed, either dispose of it or use it as plant fertilizer.
The unit comes with a ventilation hose and a fan to keep things odor-free and composting well. You just need a 12 Volt battery or a wall transformer if using 110-volt house power.
The toilet seat is molded and set into the unit so there's no need to worry about it becoming loose or broken, it also makes for simpler cleaning too (no seat to lift up and clean under).
Nature's Head dry toilets have been designed for ultimate durability even in really harsh conditions (i.e. boats on stormy water).
---
3. Separett Villa 9215 AC/DC
Product Specifications
| | |
| --- | --- |
| | |
| Product Dimensions (Inches) | |
| | |
| | |
| | |
Here we have the Villa 9215 AC/DC Composting toilet. This toilet is urine diverting, waterless and able to be run on a battery or solar power, no electricity required. The battery (or power) is required to run the fan which is included.
There is a maximum of 20 feet of ventilation for keeping things fresh and odor free. You have a few ventilation options, (i.e. through the roof or through the wall). This toilet comes with 10 compostable bags for easy, clean removal of waste from the waste bucket.
There are two locks which are designed to be pressed down whenever you open the top (seat) of the toilet to sort out the waste. This little detail is great as it stops the risk of having the seat fall on you. This toilet comes with all of the parts you need to install, secure and vent the toilet.
You can connect this toilet to your existing venting pipes, without the need for installing new ones. The urine diverter can be fed into your grey water tank, into a hole outside, or into a tank to be diluted and emptied later.
This is a fantastic toilet for anyone living off-grid, who wants a comfortable and great-looking composting toilet. The urine-diverting feature means the solid requires less heat to evaporate and break down.
One happy customer described the Separett composting toilet as: "it is clean and so simple to use that I don't understand why every household, especially those in more densely populated areas, do not have one of these in their home".
---
4. Sun-Mar Excel Self-Contained
Product Specifications
Approx. 3 weeks

(family Use)

Product Dimensions (Inches)
Here we have the Sun-Mar Excel Electric Self-Contained Composting Toilet. It has a high price tag, but it does have some great features. This unit is certified by the NSF (National Sanitation Foundation) and is approved for residential use so you can have this unit as part of your home.
It's designed for high usage, so it's great if you have large groups staying at your residence (up to 5 people) holiday home or cabin (up to 8).
This is a self-contained, waterless unit with electric heating and fans. You do need a standard electricity supply to run this toilet. In terms of liquid waste, there is an evaporation chamber below the main compost drum. The urine drains into the evaporation chamber and the heating unit and fan evaporate it.
This unit contains three parts: the patented Bio-Drum where the waste falls, the evaporation chamber and the finishing drawer where the finished, sanitary compost goes to finish drying, free from contamination from fresh waste.
This particular unit is electric, but there is a non-electric version available too. The Sun-Mar Bio-Drum is designed to remain odor-free and is turned with a handle to disrupt and add air to the composting waste. The turn of the handle (backward) empties the composted material into the finishing drawer.
One thrilled customer described the Sun-Mar Excel: "We cringed for years just at the thought of going/using the old outhouse at our family cabin site. Then we were introduced, by a neighboring cabin owner, to the Sun-Mar composter toilet.
After two years of using the Excel composter, we consider it the most practical investment we could have made. The most surprising element - total lack of any offensive odors".
This would be worth your consideration if you have a standard electricity supply, you require a high-capacity toilet, and you don't require a urine-diverting system. In saying that, we believe most people are suited to nature's head models as they are made with higher quality materials and are less likely to have issues.
---
5. Sun-Mar Centrex 3000 Non-Electric Waterless
Product Specifications
8-10 (seasonal),

5-7 (residential )
Another model from Sun-Mar, but this one takes things up another few notches in terms of capacity and price. The first thing to be aware of is that this is a toilet system which is designed to be installed with the Sun-Mar Dry Toilet which you must buy separately.
This is a central unit toilet system, which means it has a separate tank which is installed in a separate area from the toilet (i.e. under the house or outside). This unit is non-electric, so it's great for remote places where electricity is hard to come by.
The capacity is extremely generous, with up to 10 people for seasonal use (i.e. holiday cabin) and 5-7 people for residential use. For seasonal use with 10 adults, Sun-Mar estimates that you only need to empty the compost once a year, at the start of the next active season.
Because of Sun-Mar's NSF certification, this unit is certified for residential use. For waterless use, you do need to buy the waterless kit separately (there is a 1-pint flush version of this toilet too).
The Bio-Drum (Sun-Mar patented) turns by way of a handle, which deposits the completed compost into the finishing draw. The rotation also adds oxygen to the non-finished compost to help the process along and keep things fresh and odorless.
If you need a serious system with a super-high capacity, with no electricity or water required, take a look at this unit (and the other required items). Great if you're looking for a composting toilet for your family residence.
"We'd like to say that we are enjoying our Centrex Plus A/F composting toilet in our cabin in Clear Creek County, Colorado. With the drought conditions that we in Colorado (and many of the Western States) are experiencing, it has been great to know that we are doing our part in water conservation. We installed our central unit during the construction phase of our cabin and have been using it almost every weekend and vacation since it was installed (over a year now)." - Verified purchaser Pete C.
---
6. Laveo Dry Flush Chemical Free Electric Waterless Toilet
Product Specifications
| | |
| --- | --- |
| | |
| Product Dimensions (Inches) | |
| | |
| | |
| | |
This is something a little different. The Laveo Dry Flush toilet is not a composting toilet, but it is a waterless toilet. How it works is this: the waste is "flushed" into the holding tank below and is dropped and sealed into a bag which you then remove and toss into the bin.
It might sound a little iffy, but you don't ever come into contact with the waste, or the odor. The waste (in the airtight bag) is taken away from the toilet area, and there are no surfaces which have been touched by waste remaining. This is why the odor is non-existent.
One thing to note which may sway your choice is that the bags are not biodegradable. You are required to replace the cartridges (which hold the bags), and there are about 15 uses per cartridge.
If you're looking for an eco-friendly choice which can give back to the earth by way of composted materials, this one isn't the right one for you. This toilet runs on a battery pack which must be charged, (it comes with a charger and cord), so keep that in mind if your desired location has limited electricity.
A downside to this toilet is that the refills are expensive. For this reason, this is a good option if you don't intend to use it very often, perhaps for 1 or 2 people during a season. It could also be handy for an RV for occasional trips with a couple.
---
Benefits of a Composting Toilet?
There are many benefits of composting toilets, which is why many people swear by them. Here's a simple list of benefits and potential cons or disadvantages of composting toilets so you can weigh up the pros and cons for your needs.
Pros/Benefits:
Cons/Disadvantages:
---
Types of Composting Toilets
Self-contained
Self-contained composting toilets are great for small spaces such as tiny homes, RV's and small boats.
They consist of a single unit which contains everything: the seat, the urine tank and the solid waste/compost container.
The waste falls into the holding containers directly below the seat and the "action" happens there.
This is different to other composting toilet types which have a holding tank separate from the unit (i.e. under the house or connected outside).
Central system (Micro-flushing central system & Waterless central system)
Central system composting toilets have two distinct compartments. They have the seat unit, and the composting unit which installed separately from the seat unit, generally outside or in a basement space. They often allow for high capacity, and the waste is not held in the unit itself, which may be preferable for some people.
Micro-flushing
Some composting toilets are not completely waterless, but they use a small amount of water per flush. Special eco-friendly sanitary foams can also be used instead of water in these systems.
Waterless
Waterless toilets are another term that describes most composting toilets on the market. As the name suggests, they use absolutely no water whatsoever and differ slightly from the models that have micro-flush capabilities.
Electric Vs Non-Electric Composting Toilets
There are two main options when it comes to electricity: electric and non-electric. The electricity is used to power ventilation fans and heating units.
Electric
Electric composting toilets are suitable for installation where there is access to a regular 110V power supply. The electricity will be used to power the fan and heating unit.
The heating units are used to evaporate liquid waste, and the fans are responsible for odor-reduction and supporting ventilation to keep the conditions for effective decomposition perfect.
Non-electric
Non-electric toilets are ideal for remote places where there is no power supply or it's hard to come by. Some toilet fans can be run on a battery, without the need for a permanent electrical supply.
---
Common Places Composting Toilets are Used
When you gotta go you just gotta go! But sometimes we need to 'do the business' in places that may not be designed for optimal toilet comfort. When space is an issue, connectivity is difficult, and hygiene is key, many people look for this alternative to the normal household toilet.
Some popular places that this type of toilet can be found include:
---
People also Ask (FAQs)
How much electrical power does a composting toilet use?
Composting toilets have a fan and sometimes a heating mechanism included, and these might require very small amounts of electricity. Some only require a battery (i.e. 12 volts) to power the fan. You could also use solar power. Others require regular 110V house power.
Do composting toilets smell bad?
No. That's one of the great (and surprising) features of composting toilets. Because of the ventilation system and the overall composting process, odors are extremely minimal or non-existent.
If the toilet is sufficiently dry, (with enough dry matter and heat), and is properly ventilated to circulated fresh, outside air through the bathroom, there will be no odor. Many people remark at the freshness and cleanliness they experience when living with a composting toilet.
How do you install a composting toilet?
It depends on the kind of toilet you have chosen. If you've chosen a self-contained toilet, all you need to do is secure the unit to the floor (generally with brackets) and feed the ventilation tube through a space to access the outside air. Central units are a little more complicated as there are two main components to deal with.
Where should you empty the waste?
When it comes to liquid waste (what gathers in the urine tank), you can use it to fertilize plants as it adds a good dose of nitrogen. Be sure to dilute the liquid waste with water to ensure it's not too strong or disruptive to your plants. As for the compost, use it to enrich your soil or simply add it to your compost heap.
How often should you dump liquids/solids?
The urine tanks must be emptied whenever they get full, quite simply. They should also be emptied whenever you plan to leave the toilet unused for a long period of time (i.e. leaving a holiday cabin empty till the next season).
The solid compost should be emptied when full, which is generally after around 80 uses. Some people state they empty thiers every few weeks, while others may leave the solid waste for a season. Each unit will have its own specifications and recommendations for emptying.
What is the best substrate to process the waste? Peat Moss or Coco Coir?
Some composting toilet users find a mixture of peat moss and coco coir to be the best substrate to use to process the waste. These fibrous, dry substances are used to cover the waste to soak up moisture, keep the environment dry, and encourage the circulation of oxygen.
---
Conclusion
There we have it! Hopefully you now feel far more equipped with knowledge about buying, owning, using and maintaining a composting toilet.
After exploring and reviewing the top six best composting toilets for RVs, caravans, tiny houses, boats and all other relevant applications, we've found the best to be the Nature's Head Self Contained Composting Toilet.
We were impressed by the sleek aesthetic, versatile ventilation options, urine diverting style, comfort, ease-of-use and cleanliness. Be sure of your needs regarding electricity, space, capacity, installation and eco-friendliness before you make your final choice.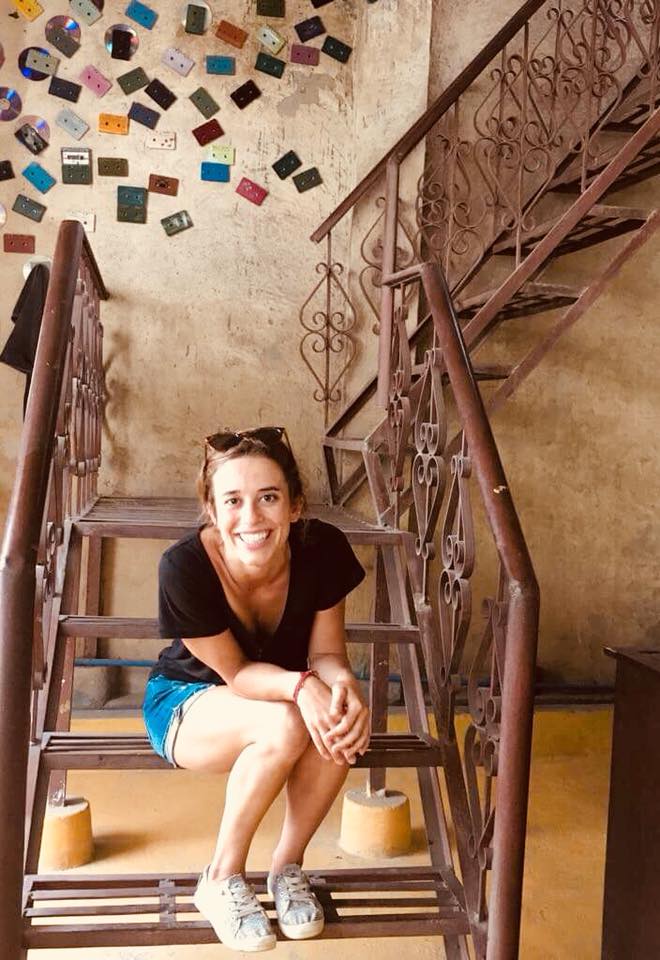 Caitlin Shaffer has been traveling & working as a content writer & SCUBA dive instructor since 2014. Having lived in Central & South America, Southeast Asia, India, & Australia, Caitlin has had many years of experience with a variety of kitchen, bathroom, plumbing systems & common household products. Other than writing about her plumbing experiences & knowledge, her main passions are yoga, ocean conservation, & sustainable development.