Just because your tent or camper isn't outfitted with its own plumbing system doesn't mean that you'll have to relieve yourself in the bushes. Portable camping toilets are becoming more popular as people strive to find more ways to get outdoors without giving up the luxuries of home.
From simple bucket-style toilets to modern toilets with an electric flush, there is a portable camping toilet for every preference and price-point. We've got you covered.
Page Contents (Click Icon To Open/Close)
All Camping Toilets Compared
Camco Standard

5.3 Gallon

Green Elephant

Comfort Chair

Collapsible Waterless Bag Toilet


Nature's Head

Self Contained

13 Gallons For Solid Waste /

2.2 For Liquid Waste

NOVA Medical

Folding Commode

Palm Springs

Portable Outdoor

Flushable Self Contained Toilet

Flushable Self Contained Toilet
---
Things to Consider When Buying Portable Toilets for Camping
Waste Disposal
When using a portable toilet on your camping trip, it's important to know the final destination of your waste for proper disposal purposes. Many campsites in the US have "dump sites" that are connected to the sewer so that you can safely dispose of any waste.
If you're using a smaller toilet, the contents can usually be safely disposed of in a toilet. And thanks to biodegradable toilet bags, your waste can also be safely disposed of in the trash. If you're really out in the backwoods, burying your waste is also an option.
We recommend always checking the regulations of where you'll be staying.
Ease of Use/Cleaning
Most portable camping toilets are pretty straight-forward in setup and easy to use. Composting toilets are the exception, but they are meant to be more of a permanent toilet solution anyways.
Cleaning also ranges from very easy to very self-involved. Bagged toilets will need to be changed very often but are practically mess-free.
Composting toilets will take 30-40 minutes to really clean but will only need to be done every three weeks or so when regularly used.
Each type of toilet has its pros and cons regarding clean-up. We go into further detail with this later on in the article.
Maintenance
Realistically, all portable toilets require some maintenance and cleaning, although some require more than others. Toilets with bags and liners require the least about of maintenance but need to be cleaned almost as often as you use them.
Flushable travel toilets and composting toilets require clean-out less often, but at a more intensive level. Failing to properly maintain your portable toilet can result in bacteria, mold, mechanical misfunction and early break-down of the product.
Price
There is a portable camping toilet for every price range and preference, from very affordable to "King's Throne" status. When considering price, make sure that you factor in any products that will be required for the upkeep of the toilet, from deodorizers to toilet bags to special cleaning enzymes.
Size & Weight
Portable camping toilets vary greatly in size and weight, from very small (around 3 lbs) to quite hefty (composting toilets start at 28 lbs). You'll want to consider this for travel purposes as well as waste-removal purposes.
As the portable toilets fill, they become heavier and will become more difficult to carry (especially if they aren't sealed up tight). For example, most users found that bucket style toilets are best kept below half-full.
Extra Features
Some portable toilets are not much more than literally a bucket with a seat on top, whereas other portable toilets are quite comfortable and easy to maintain. Some extra features to look for in your shopping research are locking valves, odor protection, liners or bags, flush pumps, stability bars, and special composting enzymes.
Tank Capacity
The main feature of your portable toilet will be its holding tank for waste. It's important to know exactly how large your waste tank is so that you will know exactly how often you will need to clean it out.
This factor is especially pertinent if you are using a toilet with a closing valve that prevents you from seeing how full the tank actually is, as you definitely want to avoid any overflow.
Some of the bagged toilets we look at in this article, like the Green Elephant, will need to be changed much more often than more permanent camping solutions like Nature's Head Self Contained Composting Toilet, which separates liquid and solid waste and can be cleaned much less frequently.
Warranty
Many outdoor camping toilets come with a manufacturers warranty that will cover any defects that are the fault of the manufacturer (such as a faulty flush pump or handle). To make sure that you are fully covered by the warranty of your portable toilet, make sure that you keep the purchase receipt and use the toilet only as intended.
Durability
When purchasing a portable toilet, you'll want to consider where you'll be keeping it and whether or not it is able to stand up to the elements. Some portable toilets are made to withstand rain, sun, and extreme temperatures, while other models will be more vulnerable in these conditions.
For example, you wouldn't want to leave your collapsible metal-frame toilet out where it would constantly be getting wet because it would rust over time.
---
7 Best Portable Camping Toilets Reviewed
1. Camco Standard 5.3 Gallon
best portable camping toilet
| | |
| --- | --- |
| | |
| | 10.8 lbs empty / 32 lbs full |
| | |
| | |
| | |
| | |
The Camco Standard Portable Travel Toilet is the best portable camping toilet on the market and our favorite hands-down. In fact, at under $100 this toilet is so useful that it might even be worth purchasing one to store away for emergency use in the future.
The toilet itself is made out of a sturdy polyethylene plastic that can support up to 330 pounds and pleasantly looks like the type of toilet you have in your home. The body is two main parts – a "clean water" tank and a "waste tank."
When using the toilet, you simply use the bellow pump on the side of the unit to pump as little or as much water as you like for your "flush" and go! And the feature that really put this portable toilet over the top is that it has a sealed gate valve that will truly lock in odors.
To really achieve maximum odor protection and make clean-up easier, I highly recommend using Camco's TST Treatment every so often. The product helps block odors and will also use enzymes that naturally break up waste. One drop-in packet will work up to seven days, and the product is completely biodegradable.
User Annie writes in her 5-Star review, "This toilet has worked great, It's small yet easy to sit on. It's easy to dump, well worth the money."
---
2. Reliance Luggable Loo
best camping toilet bucket
| | |
| --- | --- |
| | |
| | |
| | |
| | |
| | |
| | Extremely Easy to Transport |
There is no hiding the fact that the Luggable Loo is simply a 5-gallon bucket with a toilet seat attached to the top. The product was made to be simple and made to be convenient, and it really is the best camping toilet bucket on the market.
The comfortable toilet seat easily snaps on to the top of the bucket so you don't have to worry about slipping. The seat closes firmly too, which will really help with odor control and even leak protection if you accidentally knock it over.
If you're in a pinch, you can use the Luggable Loo as it is and dump your waste as needed and clean out the bucket. But for a truly mess-free experience (even easier than cleaning your home toilet) I would absolutely recommend purchasing the Reliance Double Doodie bags.
They fit perfectly over the rim of the bucket and zip closed when you're finished to prevent leakage. Other users recommend using a simple trash bag and adding a little cat litter inside to help with absorption and odor control.
Though perfect for camping, I was intrigued to find out that the Luggable Loo is also a staple for many truck drivers. It's easy to keep in their cab and allows them to skip the unhygienic rest stops along the way.
"Our Loo served three adults for six days with no problems whatever. The loo will be part of my camping/emergency stash." - Review via the REI website
---
3. Green Elephant Comfort Chair
best folding camping toilet
| | |
| --- | --- |
| | |
| | |
| | |
| | |
| | Collapsible Waterless Bag Toilet |
| | Extremely Easy to Transport |
If you're pinched for travel space, you can still bring a portable toilet along for your camping adventures because collapsible options hardly take up any room at all.
In fact, many users have found that keeping their fold-up camping toilet seat stowed under a seat in their car or in their trunk has really saved them in the event of an emergency, especially those with young children because when they gotta go, they really need to go now!
The best folding camping toilet that we've found in our research is the Green Elephant Portable Camping Seat. The toilet seat is built on a sturdy metal frame and snaps in place in seconds.
The Green Elephant works with camping toilet bags for waste disposal. The bags fit snugly right over the toilet seat, so the toilet seat should never actually come in contact with waste, which makes this product hygienic as well.
I personally don't mind sitting on the plastic bag barrier, but beware that in hot climates the sun can really heat it up and make for an uncomfortable encounter. For this model, any 8-gallon camping toilet bag will work, but we recommend the Green Elephant Portable Toilet Replacement Bags.
They are less than $1 each and are completely biodegradable and compostable.
---
4. Nature's Head Self Contained
best camping composting toilet
| | |
| --- | --- |
| | |
| | |
| | 13 gallons for solid waste / 2.2 for liquid waste |
| | |
| | |
| | Meant for permanent installation in camper/RV/boat/tiny home |
Nature's Head Self Contained Composting Toilet is truly the Rolls-Royce of the portable camping toilets. These composting toilets are serious products for the avid camper and are meant to be installed in campers, RVs, boats or even tiny homes.
The first thing that you'll notice about Nature's Head Composting Toilet is that it looks very much like the toilet in your home. The great thing about composting toilets though is that they don't require the use of any water, which is a valuable resource when you're out in the wilderness.
On the flip-side, you will require access to a 12V outlet (either electrical or solar) to have access to the five-foot vent and fan. The toilet works by separating the liquid waste and solid waste – the number one factor in reducing odors over time.
"We take great pride in offering a product which we manufacture in the United States and strive to provide exceptional customer service." Nature's Head
The maintenance for composting toilets can seem downright intimidating, I'm not going to lie about that.
But once you understand how composting toilets work and why we use composting mediums, you'll find that although it might take you 30-40 minutes to clean every few weeks, you'll still be saving time over how long and often it would take you to clean other types of portable toilets.
On their website Nature's Head walks you through the entire process of how to upkeep your toilet, and if you have further questions their customer service in on-point.
We believe that Nature's Head provides the best composting toilet out there. In their YouTube video, David and Jenni (who live full-time in an RV) thoroughly review the Nature's Head and you can see even further why if you're planning the composting route that this is the way to go.
---
5. NOVA Medical Folding Commode
best portable toilet for elderly
The NOVA Medical Folding Commode was originally created as a portable toilet to be kept bedside for the elderly or disabled, but many users have also found it to be a reliable camping toilet.
The toilet frame is built for stability and can be used in conjunction with a home toilet for extra support, or with the bucket (included with purchase) either bedside, outside, or anywhere else you would need a portable toilet.
This extra stability makes the NOVA Medical Folding Commode not only the best portable toilet for the elderly but also the best portable toilet for anyone requiring a little extra support, including small children and those with injuries.
For camping use, you'll want to note that the bucket for this portable toilet has a maximum capacity of 1.9 gallons (and that's being generous – you wouldn't really fill it to the brim).
I think that the best application for this toilet would be to empty it every 2-3 uses, and for sanitary purposes, I highly suggest you purchase Commode Liners.
Regular camping toilet bags will be much too large for the bowl size of this toilet, and those these liners won't hold as much waste, they do work much like a diaper in that they turn liquid waste (up to 16 ounces) into a gel, making clean-up effortless.
---
6. Palm Springs Portable Outdoor
best self-contained portable camping toilet
| | |
| --- | --- |
| | |
| | |
| | |
| | |
| | Flushable Self Contained Toilet |
| | |
The thing that you will appreciate the most about the Palm Springs Portable Toilet is that it is one of the only portable toilets on the market with a full-sized toilet seat. Many portable toilets have a smaller seat to be true "travel size" but when it comes to using the restroom sometimes you just need the extra comfort.
The Palm Springs Portable Toilet is made from high-density polyethylene that is not only made to withstand the elements but is also described as "leak-proof." As far as self-contained camping toilets go, we find that it is the best on the market.
Perhaps the best feature of all is the waste tank with a double-sealed valve and easy carrying handle. Simply carry the waste tank to a disposal station and easily pour out the contents. No mess!
It's much easier to work the separation, the drainage pull-out and the valves. I wish we bought 2 of these instead of one Zimmer. If you're in a toss-up over which one to buy, apparently the more expensive brand isn't the best option in this case. I'm very happy with this one."
A satisfied Walmart shopper remarks, "This potty was easy to manage. It was for my tent so I didn't have to walk to the bathroom in the middle of the night. It was an awesome purchase! Make sure you get the deodorizer that you can put in the holding tank. I tried without it and it started to stink. I put the deodorizer in it and never smelt anything after that! If you are a frequent flier at night going potty this is for you!"
---
7. SereneLife Outdoor
best portable toilet for car
| | |
| --- | --- |
| | |
| | |
| | |
| | |
| | Flushable Self Contained Toilet |
| | |
SereneLife uses the catchphrase "go in comfort anywhere" and this outdoor portable toilet certainly lives up to that standard. It's big enough to use on your camping trips or on a boat, but it's small enough to be kept in the trunk of your car.
And although we call it the best portable toilet for your car, don't think we're limiting it. This portable toilet can be used anywhere and is a fan favorite at tailgates, outdoor events, and camping trips.
And to make transport even easier, the SereneLife even comes with its own carrying case (which we haven't found with any other portable toilet).
You will find that the SereneLife is slightly more expensive than many of the other portable toilets we've looked at that have similar features. Is it worth the money? That will be for you to decide.
The feature we love that makes it worth it to us is the indicator feature that shows you green when you're "good-to-go", yellow when you're close to full, and red when you really need a clean-out. Don't let it the indicator get all the way to red – trust us on that.
This short video by YouTube user CutieBaby shows you just how easy the SereneLife Outdoor Portable Toilet is to assemble and use.
---
Types of Portable Toilets
Collapsible, Waterless Bag Toilets
Collapsible or fold-up camping toilet seats are the easiest portable toilet to travel with and store as they are both lightweight and extremely compact. They function as a toilet seat much like you would find in your home, built on a collapsible metal frame.
These bag toilets require camping toilet bags like Green Elephant Portable Toilet Bags, which fit snugly over the toilet seat and make your clean-up experience mess-free.
Pros:
Cons:
Bucket Style
Bucket style portable toilets often represent a standard 5-gallon bucket with a seat on top that snaps securely shut to prevent leakage and odors. Perhaps the simplest style of camping toilet, these affordable bucket toilets can be used with or without liners or trash bags.
Pros:
Cons:
Self-contained Chemical Toilets
Chemical toilets are just about as scientific as their name might suggest. Self-contained means that they are all one unit (unattached to a sewer line) and they work by having waste go into a holding tank full of chemicals that both break down the waste and control odors.
These toilets usually flush by using the chemicals to wash any waste into the holding tank. Chemical toilets are considered more commercial and are often rented out by companies that will deliver, pick-up and clean them.
Pros:
Cons:
Self-contained Flushing Toilets
Self-contained flushing toilets are portable toilets with two chambers: one for fresh water and one for waste. Using a hand or foot pump, the toilet uses a small amount of water to flush away any debris that gets in the toilet bowl.
These models are popular because they come about as close to a home toilet as you can get while camping, both comfortability wise and functionally.
Pros:
Cons:
Composting Toilets
Composting toilets are a more permanent type of portable toilet, and they are best used for campers, RVs, boats or cabins where they will be used regularly.
These toilets work by separating the liquid and solid waste.
The liquid can be emptied every few days right down a drain, and the solid waste works with a composting material like Coir Block or Peat Moss to literally create a compost that can be used in your soil or disposed of as you choose.
Pros:
Cons:
---
5 key Benefits of Portable Camping Toilets
---
How Portable Toilets Work
All portable toilets work by containing waste within a medium (either a bag, bucket, or tank) to dispose of later. Below is a brief explanation of the main functions of each type of camping toilet:
---
Considerations for Setting Up Camping Toilets
When setting up your camping toilet, the most important consideration is to find a flat, level area where the toilet can be set up without fear of tipping over. (Can you even imagine the mess? Yikes.)
Most people would agree that privacy is also an important factor in setting up your portable toilet. We highly recommend using a portable pop-up tent like Campla Portable Pop-Up Tent. These tents are affordable and will have you covered from every angle.
Another option is a privacy net. You can completely blend into your environment with this camo designed net by NINAT Woodland Camo.
A final consideration for setting up your camping toilet is how you will keep things sanitary. How often will you clean your camping toilet and how will you keep your hands clean after use? Avid campers might even consider a portable hand-washing station like the ZTDM Outdoor Garden Sink.
---
Care and Maintenance: Portable Camping toilets
All camping toilets will need to be cleaned and maintained to extend their life and to achieve cleanliness during your time of use. Failure to maintain a camping toilet can result in bacteria, mold, germs and foul long-lasting odors. We recommend following the user guide to your specific camping toilet as closely as possible for best results.
Storage is another important factor in maintaining your camping toilet. For example, if you live in a cooler climate and plan to store your camping toilet in an uninsulated shed, you will want to ensure that the product is made to withstand such cold temperatures.
Some users have found that storing their plastic products this way over the winter results in cracks and leaks in the toilet that could have been otherwise prevented.
---
Portable Toilets: Managing Waste Disposal
In an ideal situation, the camping ground that you'll be staying at will have a sanitary sewer dumping location for you to dispose of your liquid and solid waste. These sewers are easy to use and connect to water treatment plants, making it not only the easiest way to dispose of your waste but also the safest and most hygienic way.
For smaller portable toilets, dumping your waste inside a toilet connected to a sewer line is also an option as long as you make sure you are flushing often enough to avoid overflow.
Bagged toilets are designed to absorb moisture and these can be discarded directly into a trash bin. They are biodegradable and meant to break down over time in a natural way that won't seep chemical components into the earth. And if you're way off the grid, most of these bags are perfectly safe to bury.
We ask that you always follow local ordinances for dumping your waste and that you never empty your sewage into running water like creeks or lakes, especially if you are using chemical enzymes.
---
People Also Ask (FAQs)
How well do these portable camping toilets control odor?
The amount on odor your camping toilet emits will depend majorly upon two factors: how the toilet was designed and how you take care of it.
Many portable camping toilets are built with special seals or closures that will keep odors at bay. There are also special products that will help to deodorize and clean, such as Royal Flush and Tank Deodorizer.
Is there a particular kind or brand of toilet paper to use for these portable toilets?
Although it's not mandatory to use special toilet paper, we recommend using a "quick dissolve" brand like Scott Rapid Dissolving for a faster breakdown, fewer clogs, and easier clean-up.
It's specially made for portable toilets, so it might be slightly less comfortable than what you keep in your home but it will do the job just fine.
How do you set it up?
Are there special instructions to install it before using? Many camping toilets, like the folding and bagged varieties, are very much "set-it-up and go" whereas some other varieties will take a little more effort.
If you're using a flushable toilet with a clean water tank, you'll want to put the toilet at your destination before filling it with water to make it easier for you. This article from HowStuffWorks goes into more detail on the setup of different portable toilets.
How stable and reliable are these portable camping toilets?
All camping toilets are made with stability in mind. Therefore, it is the job of the user to ensure that you install your toilet on flat, level ground. When this simple rule is adhered to, you will have a reliable place to relieve yourself at any time of day or night.
How do I empty my camping toilet?
All portable toilets need to be emptied at some point, and it will depend on the type of toilet you have how this will be achieved. Bagged or lined toilets can be discarded directly into the trash, whereas flushing toilets will need to be emptied into a sanitary sewer line.
Composting toilets separate the liquid waste (which can be dumped down a drain) from the solid waste (which can be discarded or used as compost).
Where is the best place to put portable camping toilets?
The best place to keep your portable camping toilet is a flat, even surface where you can easily access it! Using a small pop-up tent or Pop-Up Pod will offer you some privacy. Some truck drivers even keep their portable toilets in the cab of their truck for relief on-the-go.
---
Conclusion
When you have to "go" in the woods, it doesn't have to be the experience our ancestors faced of crouching in the bushes. Portable toilets have come a long way, and there is a camping toilet for every budget and preference. For best overall camping toilet, we recommend the Camco Standard Portable Travel Toilet as our top choice.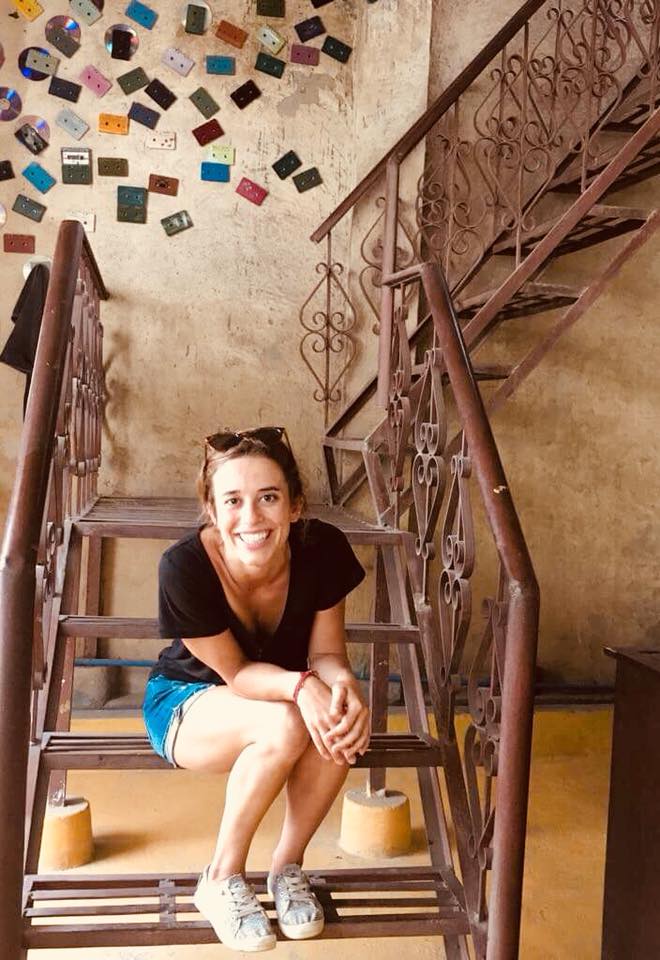 Caitlin Shaffer has been traveling & working as a content writer & SCUBA dive instructor since 2014. Having lived in Central & South America, Southeast Asia, India, & Australia, Caitlin has had many years of experience with a variety of kitchen, bathroom, plumbing systems & common household products. Other than writing about her plumbing experiences & knowledge, her main passions are yoga, ocean conservation, & sustainable development.