As any van lifer or frequent camper will tell you, there's nothing quite as important as having access to hot water on a long road trip. Without it, you'll be stuck with cold, unenjoyable showers and poorly-washed dishes.
That's why today, we're going to be telling you all about the best electric tankless water heaters (& conventional options) for RVs. Let's start with the basics.
Page Contents (Click Icon To Open/Close)
RV Tankless Water Heaters Compared
| | | | | | |
| --- | --- | --- | --- | --- | --- |
| | | | | | |
| | | | | | |
| | | | | | |
| | | | | | |
| | | | | | |
| | Atwood Mobile Products 96110 | | | | |
| | | | | 12.75 X 19.2 X 12.75 Inches | |
| | | | | 15.5 X 22.5 X 12.5 Inches | |
---
5 Benefits of RV Tankless Water Heaters
Here are 5 advantages that tankless water heaters have over conventional water heaters:
Longer lasting


Tankless water heaters have a longer lifespan than conventional systems. As such, they'll need replacing less frequently and save you money in the long run.

More energy efficient


As tankless water heaters heat up water on-demand, there is little to no heat dissipation. This is much better than hot water tanks, in which heat dissipates across the surface area while you're not using it and wastes energy.

Instant hot water


With conventional tank systems, you need to wait for the tank to heat up after turning it on. Tankless systems don't have this issue - they provide hot water instantly. You can wake up and jump straight in the shower without having to wait around for hot water.

Cleaner water


Tankless systems take clean water straight from your supply, heat it up, and send it to your faucets. This is ultimately much cleaner and hygienic than conventional systems, which store water for long periods in a tank in which rust and sediment can build up.

More compact


Tankless systems are smaller and more compact. You don't need to set aside storage space for a water tank, allowing you to make the most out of the available space in your RV.
---
Buying The Right RV Tankless Water Heater
Here are some things to consider when shopping for a tankless RV water heater.
Capacity (Gallons)
Most conventional RV water heaters will hold between 6 and 10 gallons. Unlike conventional water heaters, though, tankless water heaters don't have a specified capacity. That's because tankless water heaters don't store water, so you don't need to worry about this at all.
Water Consumption (GPM)
What you do need to worry about is the GPM. GPM stands for gallons-per-minute and is essentially a measure of how much hot water your unit can supply at any one time. Most tankless RV water heaters have a GPM of somewhere between 1 and 5.
You should compare the GPM listed on any water heater you're considering to your RVs water consumption. I'll talk more about how to estimate your water consumption and correctly size your water heater later on in this article.
For now, the main thing to know is that the more people living in your RV (and the more hot water appliances you typically run simultaneously), the higher the GPM you'll need.
If you only ever run a single water hot water appliance at a time and use low-flow shower heads/faucets, 1.5 GPM should be enough.
Water Pressure
Most tankless water heaters will specify a suitable water pressure range. You should make sure that the water pressure supported by your heater makes sense for the water main you'll be using.
Normal water pressure is between 30 and 80 PSI (pounds per square inch) and the majority of tankless water heaters will support pressure within this range, so you don't need to worry about it too much. 80 PSI is the maximum pressure range you're likely to ever use - anything above that is bad for your plumbing anyway.
Temperature Range
Another factor to consider is the temperature range. Tankless units typically state their temperature rise range. This refers to how many degrees they can raise the temperature of water by at different flow rates.
I'll talk about how to calculate your ideal temperature range later on.
Ignition System
Different RV water heaters rely on different ignition systems. Some use battery ignition, in which two battery cells provide the power needed to fire igniters when the water heater detects water flow.
Others use direct spark ignition, in which you push a button to turn your water heater on and it then automatically ignites itself whenever hot water is needed. Others still use pilot ignition, in which the ignition system relies on a pilot light that continuously burns. If your pilot light goes out, you'll need to call someone out for repairs.
Each ignition system has different pros and cons and it's worth factoring this into your decision.
BTU Input
BTU (British Thermal Unit) is a measurement of the heating capacity of a water unit. Generally speaking, the higher the BTU, the quicker the unit can heat up your water.
RV water heaters are typically less powerful than residential units, so the BTU probably won't be as high as it would be in your home water heater. Expect a BTU somewhere between 30,000 and 50,000.
Smart Protection
In an RV, safety is paramount. Thankfully, many RV water heaters have 'smart protection' features to minimize the risk of malfunctions and keep you and your family safe.
These smart protection features include things such as overheating and freeze protection to weatherproof your system against cold temperatures, protection against altitude, safe venting, automatic problem detection systems, and more.
Installation, Accessories & Maintenance
Before you make any purchase, you need to think carefully about how you're going to install your RV water heater, as well as any maintenance needs.
Some heaters that look affordable might be expensive when you factor in installation costs. Some will require venting, whereas others won't. You need to consider the available space in your RV and where you're going to install it to avoid any issues down the line.
Some water heaters (mainly portable ones) come with accessories such as attached shower heads to make things more convenient.
Price & Warranty
Tankless water heaters can cost anything from a few hundred to a few thousand dollars. Residential water heaters are usually at the top end of this price range and have a lifespan of around 10-15 years. Warranty on residential tankless water heaters is usually between 2 and 8 years.
RV water heaters, on the other hand, are typically cheaper as they're smaller, more portable, and less powerful. As such, they also don't last as long. They don't cost much, but will probably need replacing every few years or so. Warranty periods typically cover you for around 1 to 3 years.
---
8 Best Tankless Water Heaters for RV's Reviewed
1. Eccotemp L10
Our Top Pick!
| | |
| --- | --- |
| | |
| | |
| Flow Rate (GP minute or GP hour) | |
| | |
| | |
| | |
This Eccotemp L10 tankless water heater is, in my opinion, the best tankless water heater for RV use. It offers all the flexibility of portable water heaters but performs more like a more expensive, traditional tankless water heater.
The 2.7 GPM flow rate is more than enough for a powerful shower even without low-flow shower heads or faucets. The 20-80 PSI means it can work with most water supplies. And the 74,500 BTU rating means this thing will heat up your water real fast. It's actually one of the highest BTU ratings on this list, despite being a portable unit.
As you'd expect from a portable heater, the L10 is super easy to set up and can be used pretty much anywhere. As one reviewer put it, "hang it just about anywhere - on a post, a fence, even the ladder of the RV."
It comes with a mounting bracket that you can use to hang it off the back of an RV, a garden hose adapter, and a showerhead - exactly what you need for an awesome makeshift shower spot.
All you have to do is mount the heater, hook up the gas and water inlets/outlets, insert a couple of batteries for starting the system and you're good to go! The easy set up makes it perfect for camping and long road trips.
It runs on propane, which means you don't have to worry about access to electricity. All you need is a 20-gallon propane tank in your RV and it should last you at least 3 months or so of light use.
Another thing I really like about the L10 is that it's very safe, thanks to a bunch of safety features like the 20-minute shut-off timer and 45-degree safety tilt-switch. This is an excellent choice for long term or regular recreational vehicles as it is powerful enough to supply a lot of hot water.
---
2. Camplux 5L
Best small Water Heater for RVs
| | |
| --- | --- |
| | |
| | |
| Flow Rate (GP minute or GP hour) | |
| | |
| | |
| | |
This Camplux 5L water heater is one of the top small propane tankless water heaters for RV owners on the market. Camplux is one of the leading brands in home appliances for outdoor use so, as you'd expect, this water heater is designed specifically for outdoor adventures.
Like the L10, this Camplux water heater has a ton of useful safety features, including heat protection, a flame failure device, and 'oxygen depletion safety shutoff protection'. What makes this really stand out for me, though, is the anti-freezing protection.
This is something the L10 doesn't have and makes this water heater a possibly better choice if you're living in or traveling to a colder region.
At 1.32 GPM, the flow rate might not be as fast as the L10 above, but it's plenty enough for your standard camping needs. If you're living in your RV and plan on using more than one hot water appliances at once, you'll probably want something a little more permanent.
However, if you just use your RV for the occasional family camping trip, it's all you need! It's also a little less expensive than our #1 choice.
Another point worth making is that this water heater has one of the lowest water pressure startups you can find. It only requires a minimum of 2.5 PSI to run, unlike the 20 PSI required by many other units.
As we mentioned, this is a top choice for smaller RVs or campers and best for those who need a minimal amount of water but more flexibility and safety.
"Awesome product!" says Raphael on the Camplux web page. "We purchased it for our cabin in the woods and works perfectly! Instant super hot water!"
---
3. Camp Chef HWD5
Best Portable RV Water Heater
| | |
| --- | --- |
| | |
| | |
| Flow Rate (GP minute or GP hour) | |
| | |
| | |
| | |
The Camp Chef is another portable RV tankless hot water heater that runs on propane. Like the others we've talked about so far, it's highly portable, easy to install, and ideal for camping and other outdoor activities.
It has a 1.5 GPM flow rate, which is about the same flow rate as your standard low-flow shower head - which is convenient as that's exactly what you'll be using with this water heater. It comes with its own low-flow shower head that has 4 settings: off, mist, jet, and shower.
You can use it for everything from washing the sand off your feet after a trip to the beach to washing the mud off your dog's paws before you let him back in the RV!
The HWD5 raises water temperature between 38º F and 102º F, depending on your flow rate, which should be more than enough for a piping hot shower in most circumstances.
If your water supply is super-cold, you might just need to reduce the flow a little to help it reach a temperature that you find comfortable. It gets really hot too.
Here's a glowing review from happy buyer that about sums it up, "Everybody wants to know where I got that hot water heater. The water is the hottest water ever, and the pressure is unbelievable."
It has a minimum PSI of 25, which is fine for your standard water supply. However, if you plan on hooking it up to a non-pressurized system like a well or something, you might be better off with the Camplux product above.
To set it up, you just need to hook it up properly to your gas and water. You can either mount it using the included brackets or leave it self-standing, and it even folds away for easy storage!
We like this product for tent camping as well as camper vans. It's very lightweight, versatile and easy to set up.
For more portable hot water heater options, read our full guide here.
---
4. EZ Tankless 202
Fast Flow Rate
| | |
| --- | --- |
| | |
| | |
| Flow Rate (GP minute or GP hour) | |
| | |
| | |
| | |
Next up on our list of the best RV tankless hot water heater is the EZ202. This is the last portable on-demand heater on this list, and it's also the most powerful. Because of this, we recommend this unit for larger campers and more permanent installation.
Boasting a 3.2 GPM flow rate (more than double the typical low-flow shower faucet GPM), and a BTU of 85,000 (the highest we've seen so far), this thing really packs a punch. It heats up water quickly, efficiently, and provides a powerful flow that feels more like a residential power-shower than your average camping shower.
Despite that, it doesn't require high water pressure to work well and will work well even with a garden hose. It has a battery-powered ignition and works well as both a temporary, portable shower and as a more permanent fixture in your RV.
Like the other water heaters we've mentioned so far, it runs on propane. While not as efficient as electric features, this at least means you can easily take it on the road without having to have a generator or solar panels installed. Of course, running on propane also means that it requires an exhaust vent.
The only bad thing I have to say about this is that setup is a little difficult. The fittings on the water heater aren't standard so you may need to go to your local hardware store to pick up some materials before you can install it.
---
Slightly Slower Options
5. New RV Atwood GC6AA-10E
Best For Direct Spark Ignition
| | |
| --- | --- |
| | |
| | |
| Flow Rate (GP minute or GP hour) | |
| | |
| | |
| | |
Ok, we've covered portable, on-demand heaters, now we're moving on to more conventional RV water heaters, starting with the Atwood GC6AA-10E.
These kind of units are a little more expensive than the portable water heaters we've already looked at, but you get what you pay for. The performance is much better, as is the shelf life. Expect your GC6AA-10E to last up to and beyond the 12-year mark.
It's not a portable heater and is designed to be more of a permanent fixture in your RV. It can hold up to 6 gallons of water, which should be enough for a long 10-minute shower, and then you'll need to wait for around 10 minutes before it's ready to go again.
It features direct spark ignition, which means you don't have to worry about a pilot light going out and is ultimately a much safer ignition system. It's safe in other ways too. For example, it has a high-temperature limit switch, temperature control, and pressure relief systems to better protect you and your RV.
The best thing about this water heater, though, is the fact that it uses a combination fuel source. It can run off both gas and electric, which is perfect for RV owners as it gives you a lot of flexibility.
When you're at an RV camp with access to an electricity supply, you can hook it up. Then, when you leave the camp, you can switch over to gas and keep it burning while on the road. Set up is more difficult than portable heaters and you'll need some basic DIY skills, but it's not overly complicated.
---
6. Atwood Mobile Products 96110
Best For Pilot Ignition
| | |
| --- | --- |
| | |
| | |
| Flow Rate (GP minute or GP hour) | |
| | |
| | |
| | |
Next up, we have another Atwood RV water heater. Like the one above, this is a great option for RV owners looking to install a permanent water heater that won't let them down. The 96110 also has a 6-gallon capacity, which should be enough for small families that are happy to wait for a few minutes in between showers.
The main differences between this water heater and the one above are that this one only runs on gas (as opposed to electricity and gas) and that this one features a pilot ignition system (as opposed to direct spark).
This isn't ideal as most people prefer direct spark ignition on account of the fact that it's safer. However, it does also mean that you can get the 96110 at a lower cost. Pilot ignition water heaters tend to be more affordable, in general.
The fact that it only runs on gas is another downside, but it's a small price to pay when you consider how affordable and reliable this product is.
---
7. New Suburban SW6DE
Best dual power source
| | |
| --- | --- |
| | |
| | 12.75 x 19.2 x 12.75 inches |
| Flow Rate (GP minute or GP hour) | |
| | |
| | |
| | |
Next up we have the Suburban Sw6De 6 Gallon water heater. It is another great option in dual power source water heaters for RVs.
The dual power source means you get all the advantages of both gas and electricity. You can benefit from more efficient electricity when you're at a campsite or RV park, but switch over to gas when you need to take it on the road.
There's another advantage of the dual power source too - it gives you a faster recovery rate. The standard recovery rate of this water heater is already super fast at 10.2 GPH (allegedly the fastest in the industry), but you can also use the electric 1,440-watt element to recover an additional 6 GPH when you're at campsites.
This means you can theoretically get a recovery rate of 16.2 GPH. In case you don't know why that's important, it's because the recovery rate refers to how fast the hot water tank 'refills' its supply of hot water an hour after being drained.
As you'll be using a 6-gallon tank, it will be drained after around a 10-minute shower. With a 16.2 GPH recovery rate, you can expect to have enough hot water for around three more showers within the hour.
If you are searching for a gas and electric powered unit and don't want to break the bank then this option is for you.
---
8. Girard 2GWHAM
Perfect for colder climates
| | |
| --- | --- |
| | |
| | 15.5 x 22.5 x 12.5 inches |
| Flow Rate (GP minute or GP hour) | |
| | |
| | |
| | |
The final hot water heater for RVs that I wanted to mention is the Girard 2GWHAM on-demand tankless water heater.
This is the best water heater for RV owners that plan on visiting cold climates. It's been designed for winter use with in-built freeze protection that should stop it from breaking when the temperature drops right down as low as 0F - perfect for those who don't want the hassle of having to winterize their water heater.
It's durable and powerful enough to work as a permanent fixture, as opposed to just a camping shower. In fact, this family of four that live in an RV mention in their YouTube video that it's perfect for them as they didn't want to feel like they're camping all the time. They also love the rapid recovery time, and say "there is no recovery time".
Another thing I like about the Girard 2GWHAM is the fact that there is minimal temperature and flow rate variation thanks to the high-tech microprocessor monitors that monitor and control the temperature and flow rate to ensure a steady flow of hot water. It has a respectable BTU/h rating of 42,000, which is ideal for RV plumbing.
The brushless motor is silent as a mouse too.
If I had to pick something I didn't like about this water heater, it would probably be the minimum flow rate. In order for the heater to activate, your appliance needs to have a flow rate of at least 0.9GPM. If you're using a super low-flow faucet or showerhead that has a lower GPM than 0.9, it might not activate the water heater.
---
What is a Tankless Water Heater?
A tankless water heater is a system used to heat up cold water on demand and deliver it to your faucets. It's the perfect system for RVs as it doesn't use as much space as traditional water tanks, is more efficient and provides instant hot water.
We'll talk more about the benefits of tankless water heaters later. First, let's look at how they work.
---
Types of Water Heaters
There are three types of RV water heaters you should know about: tankless, conventional, and portable. Here is some information about each of them.
Tankless
Tankless water systems are the gold-standard when it comes to modern RVs.
Because they heat up water on-demand, you don't need to wait for long periods of time for them to heat up first as you do with conventional systems.
They tend to be slightly more expensive to purchase and install than conventional tanks, but are also much more efficient as there is less heat dissipation. This will save you money on energy costs over time.
Conventional
Conventional water heaters operate by heating up and storing hot water in a tank and then distributing it through your plumbing.
The water in the tank takes time to heat up when you turn the system on, so it's much slower than tankless systems. It also takes up more space as you'll need room for the tank and is less energy efficient.
You're also limited by the capacity of the tank in conventional systems. Once the tank runs out of hot water, you've got to refill and reheat it before you can use any more. This can be inconvenient if you use a lot of hot water in your RV.
I think this quote from Energy.gov sums up the difference in cost-effectiveness between conventional and tankless systems nicely:
"The initial cost of a tankless water heater is greater than that of a conventional storage water heater, but tankless water heaters will typically last longer and have lower operating and energy costs, which could offset its higher purchase price."
Portable
Portable RV water heaters are small, compact, standalone systems that usually hook up directly to one faucet. They're often hooked up directly to their own fuel source, and some are even battery-powered.
They're typically not as powerful and can't heat water as effectively as standard conventional and tankless systems, but they're a good quick-fix for camping trips. If you don't typically use a lot of hot water but enjoy a hot shower now and again, they can be a great solution.
---
How Tankless Water Heaters Work in RVs
There are many different models of tankless water systems in RVs with different operating instructions. Generally speaking, though, here's how it works...
Whenever you run a hot water faucet, the tankless system will pull cold water directly from your water source into the tankless unit via a pipe.
As the water flows through the system, a sensor triggers activation of a heating mechanism.
Depending on your fuel source, the heating mechanism then transfers heat via either a heat exchanger (gas) or a heating element (electric) to the cold water flowing through.
This heats it up instantly as it travels through your plumbing and out of whatever hot water faucet you're using.
---
Powering These Heaters For RVs
Different water heaters run on different fuel sources. Here are the three main options for RVs:
Gas/Propane Units
Gas/propane units need to be hooked up to a kerosene, natural gas or propane tank to run. They burn these gases in order to heat the water.
The main advantage of this type of water heater is that you don't need to be hooked up to an electricity supply. If you're not planning on staying at RV parks and don't have access to electricity, you can just take your fuel with you instead.
Another advantage is that, unless you're using solar for your electricity, gas is usually a more cost-effective and efficient option. They're also typically able to produce a larger temperature rise per GPM than electric units. In other words, they heat your water faster.
As a plumber, my main concern about using a gas hot water system is safety. Gas units need to be properly vented as they produce dangerous gas byproducts like carbon monoxide.
If you're planning on installing a gas unit yourself and you're not used to working with plumbing, I'd strongly recommend getting help from someone qualified.
Electric Units
Electric units run on electricity. You can get your supply of electricity by directly hooking up your RV to an electric grid or through things like solar panels and generators.
There are several advantages to using electric units. The main advantage is that they're simpler to install. You don't have to worry about venting as there are no gas byproducts.
Another benefit is the ignition is always switch operated. This means you don't have to manually light a gas tank each time you want to turn your water heater on, and there's no risk of the pilot light going out on you.
Electric units also save on space as you don't have to carry a tank of gas with you.
Dual Units
Dual units kind of combine the best of both worlds. These units can run on both gas and electricity. A lot of modern RVs use these systems as they're ideal for campers that move around a lot.
When you're in an RV park, you can hook up to an electricity grid and switch your water heater over to electric. Then, when you're on the move and don't have electricity available, you can use your gas tank instead.
---
Selecting the Right Size
When sizing your RV water heater, there are 2 main things to consider: GPM (flow rate) and temperature rise. Here's how to calculate each of them.
Choosing the Right GPM
You should choose a water heater that has a GPM sufficient for your RVs water consumption. The basic calculation to do this looks like this:
Step 1:


Figure out the GPM of your hot water appliances

Step 2:


Find the sum of the GPM of any hot water appliances you plan to use at the same time (for example, if you plan on running a shower and a dishwasher at the same time, add both GPM values together).

Step 3:


Choose a water heater that can provide this GPM
Here are some figures to help you estimate the GPM of your appliances:
It's worth noting that these figures relate to households. RVs typically deliberately use low-flow shower heads and faucets to minimize water consumption
Choosing the Right Temperature Rise
To calculate your required temperature rise, you'll need to subtract the temperature of your cold water supply from your desired hot water temperature. You can then choose a water heater that can raise temperatures by this figure.
105–115°F is the hot water temperature that most people find comfortable, and the temperature of your incoming water supply will typically be around 50°-60°F, on average.
Therefore, you should aim to choose a water heater that can raise your water temperature by at least around 50° at a fast flow rate so that you can have a comfortable shower.
Depending on how hot the climate is in the area that you live in, the water supply temperature can vary, so you can be a little flexible on this.
---
Installation Guide: RV Tankless Water Heaters
The exact steps to installing a tankless water heater in your RV will differ depending on the type of heater you're using. Most heaters will come with the manufacturer's instructions for installing that specific product. Installation for portable heaters is usually really minimal.
That being said, all installations will involve at least the following basic steps:
Here's a video that does a great job of walking you through the full installation process for a standard electric water heater unit:
And just in case you prefer your instructions in text format, here you go:
Step 1:


Turn off fuel sources (propane and electrical) & turn off the water supply

Step 2:


Disconnect the gas, water, and electrical from your existing water heater

Step 3:


Unscrew existing water heater unit door with power tools, cut around the seal, and pry the unit out

Step 4:


Scrape away the old sealer and clean the edges with a cleaning solution

Step 5:


Take measurements to make sure your hole is the right size for your new water heater, and adjust the opening size if it isn't

Step 6:


Put your new water heater in the gap so that it sits flush against the opening and then seal any gaps with caulk

Step 7:


Position the water heater door in front of the new unit and screw it back in

Step 8:


Seal it with silicon around the edges

Step 9:


Make the 12-volt electrical connections by connecting the black wire to ground and the red wire to positive

Step 10:


Reconnect your hot and cold water hoses to the new unit

Step 11:


Set the temperature using the unit's control panel
---
Water Heater Maintenance
After you've installed your water heater, you'll need to perform some regular maintenance checks on it once in a while to keep things running smoothly.
Here are three basic maintenance tasks you can do:
---
People Also Ask (FAQs)
How to turn on a water heater in an RV?
There will usually be a switch on the wall of your RV to turn on your water heater. There is often a red light next to it that lights up to show when it's turned on. This may be different depending on the water heater being used in your RV and the installation.
Are tankless water heaters road worthy?
Yes, tankless water heaters are roadworthy and many RV owners prefer them over conventional heaters.
How to convert RV traditional water heaters to tankless?
You'll need to remove the electrical, gas, and water hookups from your existing heater, remove it and replace it with a tankless unit. It's a complicated process so follow your manufacturer's instructions or see our installation guide above.
How to winterize an RV tankless water heater?
To winterize your RV tankless water heater, shut off the gas, electric, and water supply (wait for the water in the unit to cool down before shutting off the water supply), then open all taps to allow the system to drain.
Next, disconnect all water pipes from the heater, remove the water filter, and drain off any residual water in the system with a bucket.
How reliable are these tankless water heaters for RVs?
Depending on the price and quality of the product, reliability will differ. We've recommended only those products that we find at least reasonably durable and reliable.
How long does it take for an RV water heater to heat up?
Tankless units heat up water on-demand, so there is no waiting period for the water to heat up. It happens more or less immediately after you turn on your faucet. Conventional tank heaters can take up to 30 minutes to warm up.
Does a tankless water heater work differently with low-flow faucets or showerheads?
Not usually, but if you do notice that you're not getting hot water on your low-flow faucets, it probably means that the flow isn't activating the tankless unit. In this case, you can try lowering your hot water heater's temperature setting so that it activates easier.
How does cold weather affect tankless water heaters in RVs?
In colder climates, the inlet water supply is usually colder. This means that your tankless system has to work harder to warm it up to the desired temperature (the necessary 'temperature rise' is higher). Because it may take longer to warm up the water, the flow rate (GPM) may be reduced.
---
Conclusion
That about covers all you need to know about RV tankless water heaters! By now, you should have enough information to make sure you get the hot water you need to make your next camping trip a successful one.
If you're still not sure which water heater to go with and just want something quick, easy to install, and affordable, I'd definitely recommend the Eccotemp L10 Portable Tankless Water Heater. It's all you really need to get the job done.
Good luck and happy camping!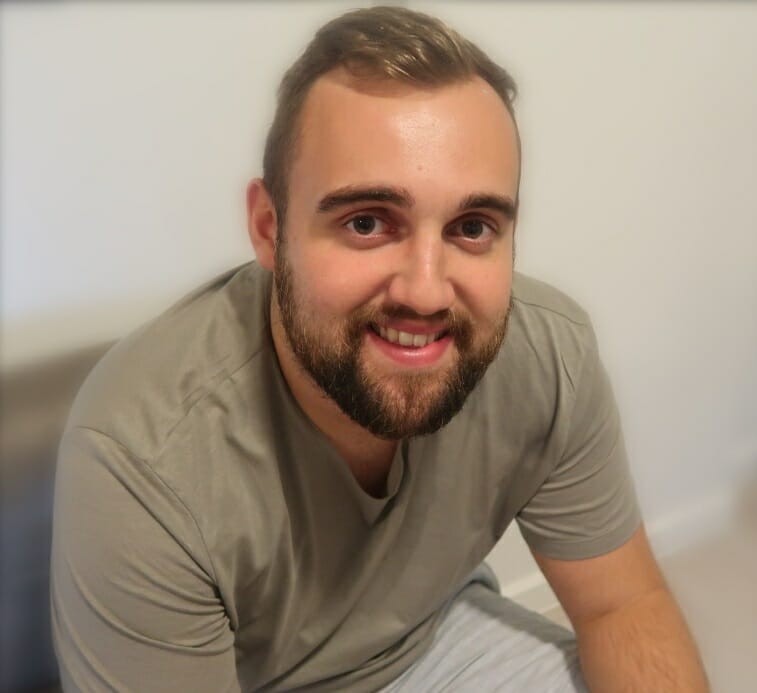 Matt is a freelance writer, English graduate, & keen traveler from the UK. As a specialist plumbing expert, he enjoys writing about everything there has to do with at-home plumbing products & related problems. When he isn't writing, he's usually drinking coffee or planning his next adventure. In his spare time, he also runs his own blog all about digital nomad life.