In today's modern world, when we want something we want it fast. That's why drive-thru restaurants, 2-hour dry cleaners, and overnight delivery services are popular. And the same thing is true with hot water in your home.
Getting hot water instantly has become a requirement for a lot of homeowners. An under sink unit is able to heat up water much faster and get it to your faucet almost instantly, making it an efficient and energy-saving addition to your home.
Page Contents (Click Icon To Open/Close)
Under Sink Water Heaters Compared
| | | | | |
| --- | --- | --- | --- | --- |
| | Bosch Electric Mini-Tank Tronic 3000 T | | | |
| | | | | |
| | | | | |
| | | | | |
| | InSinkErator H-HOT150SN-SS | | | |
| | | | | |
| | | | | |
| | | | | |
---
What Exactly Are Under Sink Water Heaters?
Under sink water heaters are small electric units that are mounted under a sink to supply hot water directly to that faucet. Also called point-of-use (POU) water heaters, they either heat the water as it's passing through or they preheat a small amount of water and store it until it's needed.
These type of under sink water heaters are great when the main water heater is located far away in the house, meaning that it takes longer to get hot water at that location. Or when there is more demand for hot water than your water heater can handle and you don't want to upgrade to a larger hot water heater tank.
These compact units are also a great way to be more energy efficient in your home. Because they require less energy and only heat up a small amount of water at a time, they can help you save money on your energy bill and lower your energy usage.
Related Article - Best Hot Water Heaters For The Home
Types of Under Sink Hot Water Systems
Tank
The first option is an under sink unit that has a tank, which means it heats up a small amount of water and then stores it for later use. These models usually hold between 2.5 and 7 gallons of water at a time. This is a great option if you want to have hot water instantly.
That also means that you can cut down on your water usage by not having to run your sink waiting for hot water to get there.
These models are also usually very easy to install and can be plugged into a standard electrical outlet.
However, it's important to keep in mind that the supply is limited and they will have to reheat once the hot water has been used.
This is handy if you have a faucet located far away from the main water heater or just somewhere that you want to have hot water right away but don't need a large quantity of it.
Tankless
The second option is an under sink model that's tankless, meaning there is no storage of hot water. This type of model heats the water up as it passes through the system so as long as the water is running you can have an endless supply of hot water.
This under sink water heater is a great option for saving energy in your home because it's not constantly working to keep water hot.
It's only running when it detects water flowing through it. Unlink a conventional water heater, which is constantly running to keep its tank of water hot. The tankless version is also a bit smaller and more compact because it doesn't need space to store the hot water.
However, it does require a bit more set up than the tank versions do. You'll need to make sure that you hook up the wiring and connect it to the existing pipe properly to make sure it works right. But after it's installed you'll have as much hot water as you need, while still cutting back on your energy usage.
Also See - Best Tankless Water Heater Models
---
5 Benefits of Under Sink Hot Water Systems
Compact Size


Under sink hot water heaters are great because they're small and compact. They don't take up much space under your sink and are a lot smaller than traditional larger water heaters.

Easy Install


They don't require a lot of electrical or plumbing knowledge to set up. They come with instructions and easy-to-follow guides that make the installation process take little to no time at all.

Fast Heating Time


Because they offer hot water instantly, you don't have a lag between when you turn on the faucet and when the water runs hot. That means you don't have to waste water by letting it run until it gets hot.

Constant Hot Water Supply


You don't have to worry about running out of hot water with these systems. That makes them ideal for showers, bathtubs, and kitchen sinks where you want to have hot water all the time.

Energy Efficient


Using these systems can help you cut down on your household energy consumption because they require less energy to heat up the water and they aren't constantly running to keep a large amount of water hot.
---
8 Best Under Sink Water Heaters For Homes
1. Bosch Electric Mini-Tank Tronic 3000 T
Product Specifications
| | |
| --- | --- |
| | |
| | 13.75 W x 13.75 H x 10.75 D |
| | |
| | |
| | |
| | |
When it comes to picking point-of-use water heater, you want something that you know is going to be reliable and high quality for the money. Bosch is a well-known brand and it's no surprise that their Tronic 3000 model is one of the best under sink water heaters.
This unit is a nice, compact size with dimensions of 13.75 (width) x 13.75 (height) x 10.75 (depth). It can easily fit under your sink and be either mounted or on a shelf.
For faucets that are located far away from the main water heater, this unit provides instant hot water with no lag time. It is also made of durable materials and built to last over the longer term.
According to HouseNeeds.com, it's "lined with glass to prevent leaks and other damages, this unit is built to be dependable and tough".
Installation is fairly simple. You only need to tap into the water line at the point of use and then plug it into the wall. Plus it comes with a 6-year warranty on the unit and a 2-year warranty on all parts.
This is a longer warranty than other models, which only offer 1-2 year warranties, so it goes to show that the manufacturer is clearly invested in providing you with a quality product.
---
2. EcoSmart ECO 11
If you're looking for the best under sink tankless water heater, this one is probably the best option on the market. This unit provides an endless supply of hot water and can easily save you up to 60% on your water heating costs per year.
One of the cool features of this model is that it offers a unique patented self-modulating technology, which allows the unit to control the energy output depending on the water flow. This means it's even more energy efficient because it will change the energy input based on how much water is being used.
It's also very small and compact and doesn't require a lot of space. It measures only 11.5" x 8" x 3.75" and weighs only 6.5lbs. It's designed to heat up to 2 GPM, making it optimal for use in a small apartment or smaller point-of-use application. If you live in a warmer climate (above 67F), it can easily warm up two sinks and a shower running simultaneously.
It also comes with some great features. "The digital temperature control allows control of the hot water temperate," according to Ecosmart. You can easily control the temperature of the water with just a click of a button.
Plus it comes with a lifetime warranty, so whether you're looking to replace your old energy-wasting water heater or just want more hot water faster, this is one of the best tankless water heaters for a shower and sink usage.
---
3. Thermoflow UT10
If you need something a little more effective, the Thermoflow mini water heater is a great option. It's a little bit larger in size and can hold up to 2.6 gallons of water at a time, making it a better choice if you need a decent amount of hot water available instantly.
This model has a stainless steel tank, which makes it more durable and requires little-to-no maintenance. It's a great on demand under sink electric water heater and would be a nice choice for smaller apartments, offices or even an in-home wet bar.
According to MyAmericanAppliances, "if you want to significantly minimize the waiting time for the hot water, then you will certainly appreciate this model from Thermoflow."
You can easily adjust the temperature of the water between 45F and 167F, and it also has an energy saving mode and frost protection mode so you know that it's going to be working efficiently at all times.
It also is equipped with nice safety precautions like the auto cut-off feature, which will automatically shut off the electric heating component if the temperature gets higher than the set temperature. This is nice because it can prevent you from getting burned by scalding hot water.
---
4. Stiebel Eltron 233219
This German-made water heater is designed to help you save energy and water, giving you instant hot water right where you need it. It also has a nice, modern design making it a little bit better looking than some other models on the market.
This is one of the best under sink electric water heaters because it's designed to save space and easily fit into any location. It can be wall-mounted or floor-mounted making it versatile and suitable for pretty much anywhere you want to put it.
It's also easy to install, just plug it into a 120v outlet. And it only draws 11 amps, so it doesn't require any special wiring.
According to their website, this "mini-tank frees up precious space while providing plenty of hot water."And the temperature of your water is easy to control with its thermostat dial located on the top of the unit.
The temperature can be adjusted between 86F and 140F, which means it doesn't get quite as hot as other units, but that can also be seen as a good safety feature.
---
5. InSinkErator H-HOT150SN-SS
If you're looking for quality and design, this is a great option. Not only does it come with the instant hot water heater for under the sink, but it also comes with a satin nickel finish hot water dispenser.
That's a really great feature but might require you to make some adjustments to your sink if you don't already have a space built into your countertop for it.
This nice addition lets you get boiling water instantly, which is perfect for a lot of uses such as making coffee, warming baby bottles, or thawing frozen foods.
It "delivers up to 60 cups/hour of 200°F near-boiling water" as reported by HomeDepot.com. Plus, it's much smaller and compact, which makes it ideal for smaller uses but not great for showers.
The tank only holds 2/3 of a gallon of hot water, so it won't last for a long time but it's great for providing instant hot water when you need it. Plus, the water temperature can be set much higher than other models, ranging from 160F to 210F.
If you want instant hot water under your sink, this is definitely the best option. It's easy to install, doesn't require a lot of set up, and heats up water very quickly. Another bonus is that it's compatible with the InSinkErator filtration system, so you can hook it up and easily filtrate your water for better taste and quality.
---
6. Camplux ME25
The Camplux ME25 unit is a great portable sink water heater. It allows you to easily get instant hot water at your sink. You can save water and energy with this unit, by cutting out the wait time for hot water and not needing to heat a large amount of water when you only need a little bit.
The glass-lined tank also provides great insulation and low maintenance. With a 2.5 gallon tank, it can hold enough hot water to easily supply a small apartment, office, or a single use that may be further away from the main water heater.
This unit also has some great safety features, such as overheat protection, which will shut the unit off if it goes over the set temperature, and pressure relief valves. There is also a freeze protection setting that can be used when the heater is not in use and may be at risk of freezing.
All of these features help to ensure that you can use this model safely for years to come.
---
7. Ariston GL4S
Another great product from Bosch, the Ariston unit is one of the best 13 amp under sink water heaters on the market. It has a larger tank, which can hold up to 4 gallons. This makes it great for larger jobs such as running multiple showers or sinks simultaneously.
It also has a "fast recovery rate [that] eliminates long waits for hot water," according to HomeDepot.
With this unit, you don't have to wait for hot water, and you will be able to use the hot water for a longer time since you have a larger water source. It's also easy to install and plugs directly into a 120v plug.
This is a great option if you're wanting to cut down on your energy usage and maybe even want to replace your larger more expensive water heater. It has an easy-to-use thermostat dial and an updated heat-sensing probe, which adjusts temperatures more quickly to maintain consistent heat.
---
8. Reliance 6 2 SSUS K
There are a lot of great mini water heaters for under your sink and this Reliance model is definitely one of them. It has a great stainless steel tank, which is designed to be both durable and efficient at maintaining heat.
It's a great mini instant water heater under sink for small sinks and single application uses where you want hot water fast. It's a decent size so it will fit under most sinks and is easy to install. It also comes with a 6-year warranty, which is nice if you ever have any issues with it.
Overall, this is a great unit that works well and can handle small to medium jobs requiring hot water. This unit will definitely help you save energy and get you hot water on demand.
A 5-Star review on eBay says, "Works like a champ. Took about 1 hour to install including release valve plumbing. Now he have hot water instantly."
---
Choosing the right Under Sink Water Heater For Your Home
When looking for the right under sink heating unit to buy, there are a few key things to keep in mind. Be sure to check each of these categories on a specific model before you buy.
Size of Unit
You'll want to know how much space the unit is going to require and how much room you have available.
Be sure to check the dimensions of the heater before you purchase it so you know whether or not it will fit under your sink. You don't want to end up buying a unit that is too big for the space you have.
Learn More - Sizing a Tankless Water Heater
Capacity
If you're going to go with a unit that has a tank, be aware of how much water you would like it to be able to store. Some units have options in tank size, usually between 2.5-7 gallons while other units only come in one size. If you want to have more hot water readily available a larger tank is ideal.
Flow Rate (GPM)
The flow rate is measured in gallons per minute (GPM). The higher the flow rate a heater has, the more quickly it will be able to heat your water. If it's 1 GPM, that means it can heat roughly 1 gallon of water per minute.
If you require more hot water you'll want to look for a higher GPM. Usually, flow rates are between .5 and 2.25 GPM. This is only for tankless water heaters.
Learn More - How To Flush a Tankless Water Heater
Heating Power in kW
This refers to how much power the unit uses to heat the water. Units with a smaller kW power won't be able to heat larger quantities of water as quickly.
How much kW power you need will depend on how much you want to heat the water (aka the rise in temperature) and what the total gallons per minute demand is in your home or for that specific area.
Units with higher kW power will be able to heat more water at a faster rate and provide a higher increase in temperature. This is only for tankless units.
Voltage
The voltage refers to the electrical requirements that are needed to power the unit. You'll want to make sure that the electrical outlets you're using can handle the voltage of the water heater.
Most units can be plugged into 120v outlets (which are standard) but some require 220v, meaning you'll have to make adjustments to your outlets.
Energy Efficiency
Under sink heaters are more energy efficient because they don't waste a lot of energy heating and storing large amounts of water. Be sure to check what the energy efficiency rating is for each unit.
Most units offer 96-98% energy efficiency ratings meaning they cut down on a significant amount of energy lost with traditional hot water heater tanks.
Recovery Rate
The recovery rate refers to how many gallons of water the unit can heat. The standard is usually raising the temperature by 90 degrees F in one hour after being completely emptied. The recovery rate is measured in gallons per hour (GPH).
So if the recovery rates for a 90F temperature rise is 6.8 GPH, which means it can heat 6.8 gallons to 90F in an hour. This is important because the higher the recovery rate the more quickly your hot water will be replenished. This is only used for units with a tank.
Safety Features
Some models come with safety features that make using these units safer and easier to use. Some units have a thermostat included, making it easy to regulate the temperature of the water.
Another safety feature is modulation, which means that the unit can change the heat output in response to the flow rate of water running through the unit. This can help keep the water temperature better regulated no matter what the flow rate is like.
Another feature is the pressure relief valve, which prevents damage from happening due to excessive water pressure. When the pressure is too high, this valve relieves that pressure making it safer for you to use without worrying.
Installation and Maintenance
Different types of units will require different kinds of tankless water heater installation and maintenance.
Some models can simply be plugged into an outlet and are ready to use, while others will require more electrical or plumbing work to be operational.
While most of the units can be installed by you, it may be wise to hire a plumber or electrician for more complicated models. Be sure to read all the installation and maintenance requirements before and after purchase.
Price and Warranty
Obviously, the price is going to be a factor when deciding which unit to buy. What you're using the heater for and how much water you need to heat will be major factors in the price.
Some manufacturers offer warranties on the units, but they may require that the unit is installed by a professional in order for the warranty to be guaranteed. You'll want to check on the warranty and any fine print before you make a final decision.
Also See - Tips for Hiding Water Heaters
---
Maintenance of POU Water Heaters
It's important to keep your water heater in good shape. That's why regular maintenance of your Point-of-use (POU) or under sink water heater is advised. For example, there is a risk of developing limescale build up in any water-based appliance so it's a good idea to flush our your water heater, usually every 12 months.
Some routine maintenance tasks you'll want to run are:
You can do these maintenance checks on your own but it could also be a good idea to hire a professional, at least the first time, to see how it's done properly.
---
How to Install a Water Heater Under Your Sink
Installing your POU water heater is designed to be easy and relatively quick. You can choose to install it yourself or hire a plumbing professional near you.
Depending on your situation and setup, it may be best to hire a professional, especially if you don't feel comfortable with electrical and plumbing work. Also, it's important to note that some companies only offer warranties if a professional installs the product.
For Tank Water Heaters:
Make sure that you will have enough room under your sink for your water heater

Turn off the water supply to the sink

Mount the unit to the wall, floor or shelf depending on where you want it

Simply tap into the hot water link under your sink by connecting the tube on the heater to the tube running to your faucet

Plug the unit into a wall outlet (make sure it's the right voltage)
For Tankless Water Heaters:
Mount the unit on the wall

Connect the water source to the inlet side of the unit

Connect a pipe to the outlet fitting on the unit

Make sure all the plumbing is hooked up correctly before moving onto electrical, run the water

Depending on which unit you have, make sure you have the correct wiring

Connect the wires to the unit and then connect the other end of the wires to the circuit breaker
Note, especially with tankless units, even though you can install them yourself, it's best to hire a professional to make sure there are no issues.
Related Article - Converting Water Heaters In An RV
---
People Also Ask (FAQs)
Do I need a licensed plumber to install an under sink water heater?
No, it is not required, but it's a good idea if you don't feel comfortable doing it yourself.
How does a point of use water heater work?
A point of use (POU) water heater is a unit that is located close to the water outlet, providing hot water instantly. If it has a tank it heats up a small amount of water to have readily available, or if it's tankless it heats up the water as it passes through the system.
How reliable are these under the sink water heaters?
Very reliable. They are a great option if you want hot water quickly or if you don't require a large amount of hot water all the time.
How do I adjust the hot water volume under the sink?
Turn off the water to the sink first. Then, find the two water-control valves under the sink. The one on the right adjusts hot water. Turn the nob clockwise to increase the hot water volume, or counter-clockwise to reduce the volume.
What type of amp breaker is required?
The type of amp you need will depend on the unit that you choose. If the max amperage is less than 40, you'll only need 1 x 40-amp breaker. If the max amperage is 150, you'll need 4 x 40-amp breakers. So you need to make sure that the amp breakers in total can handle the max amperage of your unit.
How long does a kitchen sink water heater warranty last?
It depends on the company and model. Most models have a 1-6 year warranty and some even offer a lifetime warranty. Check with your manufacturer to guarantee the warranty on your unit.
Where is the best place to buy under the sink hot water heater?
The best place to buy under the sink water heaters online is amazon.com. It offers the most in-depth analysis of each unit and actually review from real customers.
---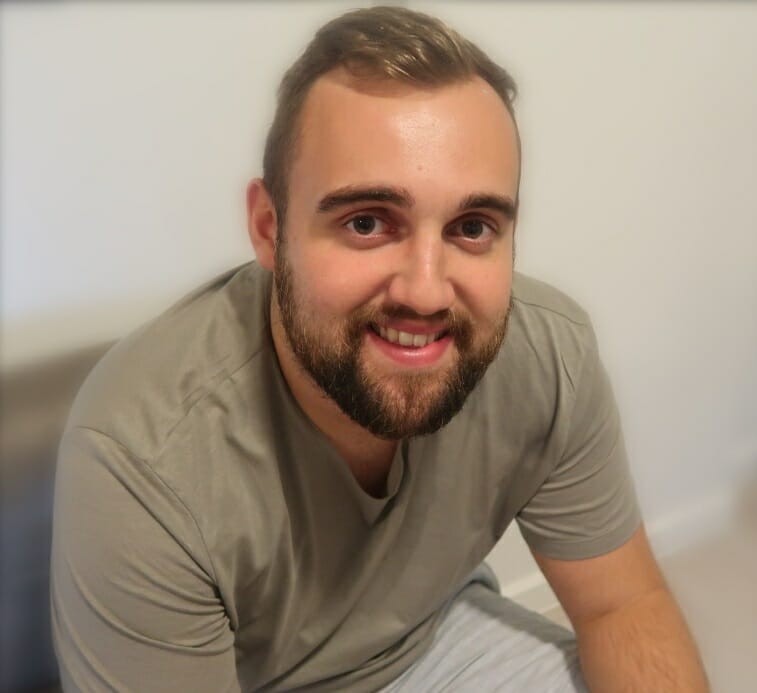 Matt is a freelance writer, English graduate, & keen traveler from the UK. As a specialist plumbing expert, he enjoys writing about everything there has to do with at-home plumbing products & related problems. When he isn't writing, he's usually drinking coffee or planning his next adventure. In his spare time, he also runs his own blog all about digital nomad life.