You might be forgiven for picking a toilet-based solely on its appearance. Though it may be true that flushing of toilets has not adjusted from the 19th century, plumbing, sizes of the bathrooms and regulations have.
Toilets that are siphoned utilize the atmospheric pressure and gravity to drive the waste away. Pushing water down to the bowl from the elevated tank. Up until the mid-nineties, the best modern toilets made use of about 7 gallons of the water to drive away the waste.
Later with the insurgence of laws that conserve water (in 1994), the right amount of water for flushing was decreased to 1.6 (GPF) Gallons Per Flush. The modern toilet brands used technological advances to assist in flush efficiency.
Page Contents (Click Icon To Open/Close)
Modern Toilets Compared
| | | | | | |
| --- | --- | --- | --- | --- | --- |
| | TOTO MS604114CEFG#01 With Sana-Gloss | | | | |
| | | | | | |
| | Saniflo 023 SANICOMPACT 48 | | | | |
| | | | | | |
| | | | | | |
---
3 Benefits of Luxury Modern Toilets
The main advantage of upgrading your old toilet with a more modern one has to do with aesthetics.
Of course, a bathroom from the '90s will be much less pleasing to the eye than a newer one within this decade.
The best modern toilets can completely change the look of your bathroom, especially if you choose one with an elongated bowl.
In terms of functionality, it is hugely advantageous to install a toilet with a flushometer valve. More commercial buildings like airports, restaurants, and office buildings are installing these (this is not something you are likely to see within a home). A flushometer uses water pressure from the water supply system to flush - rather than using gravity from a tank.
The reason a flushometer is not commonly used within a home is that the water needs to come from a large supply line with greater pressure, one that is more common in a commercial building. If your building or home has adequate water pressure, then you might consider getting a flushometer toilet. Here are the three main benefits of this type of modern toilet:
A high-pressure wash of toilet bowl with every flush

Greater water efficiency than tradition toilets

Faster refill for heavily-used restrooms
---
How to Purchase the Right Modern looking Toilet
Style of the toilet
Toilets are designed in one piece and two piece. Two-piece toilets mostly are cheaper than the one piece ones and can be easier to get parts or repair if necessary. Both of the toilets function in the same way, however, individuals may like the one-piece alternative for a few reasons.
First, it has no seam from the bowl to the tank which gives a sleeker look. Another reason is with the lack of space in the two parts, the one-pieces have fewer places where bacteria can stick and therefore simpler to clean.
Water usage
It is important to check on the consumption of water so as to ascertain which one augurs well with your needs. The federal law demands that new toilets cannot consume over 1.6 water gallons in every flush. Most modern thrones offer efficiency and use relatively little water. This will help you reduce the water bill too.
Rough measurements
Prior to the purchase of a new toilet is ensuring that it will fit the intended space of the bathroom. A vital calculation is " rough-in", that is the distance from the wall of the toilet to the middle of either the bolts or drain pipes that fit the toilet towards the floor. This video helps explain what should be considered.
Design & Functionality
Unlike the days of toilet shopping in the past, you have tons of options for toilet design features. You can find a toilet with a more modernized design or one with an elegant vintage look. Toilet design has a lot to do with the shape, angles, and edges of the porcelain, but also the finish of the material. Most people opt for the classic cotton white or ivory finish, but you also have the choice of a less popular color.
Functionality has to do with the type of tank system (tank or tankless), flush settings, and whether or not the toilet has smart features. Tank systems use gravity flushing, whereas a tankless system utilizes water pressure. In terms of flush setting, you might want to opt for a dual flush system for optimal water efficiency. With dual flushing, you'll have the option for a full flush for lots of waste or a partial flush where little water is needed.
Bowl & Seat Type
There are two main bowl types: round and elongated. All toilets used to be manufactured with a round bowl shape, but nowadays a modern toilet bowl is often elongated in shape. An elongated bowl will be slightly larger and have an ovular form instead of being circular.
Not only are elongated bowls more aesthetically pleasing, but they are also more comfortable to sit on. The seat follows the same possible choices with a few extra features. Bidet seats have also become popular attachments in recent years, and offer a wide range of functionality.
Flushing Mechanism
There are several crucial parts of a toilet, but the most important in terms of function is the flushing mechanism.
There are a few flushing mechanisms to choose from, determining the power of the flush and how much water is used each time. The dual setting that I mentioned above is an excellent choice if you want the option of a full or partial flush.
Modern toilets are becoming smarter than ever; you now have the option of a touchless flush setting. This flushing style is by far the most modern feature of any toilet. All you need to do is wave your hand over the battery-powered sensor, and the waste is flushed away. If this is within your budget, it is a great way to prevent the spread of germs and bacteria.
Installation
Installation depends a great deal on the type of toilet, whether it is one-piece or two-piece. One-piece systems are easier to install since these contain just one large piece of porcelain. They are becoming a go-to choice for this reason, plus they look incredibly sleek in any bathroom. However, it is still entirely possible for DIY installation of a modern two-piece toilet. You can read more about the specific installation steps later.
WaterSense Certification & ADA Compliance
The main reason to upgrade a toilet is to improve water efficiency. Older toilets from the '80s and 90's use up to 4 gallons of water per flush (GPF) and anything manufactured before that is even worse. During the '90s, manufacturers were required to keep the water consumption at 1.6 GPF or less. It's enough to invest in the bathroom upgrade when you compare the water efficiency of old vs. modern toilets.
A WaterSense label means that the toilet is efficient on water consumption, but the overall performance won't be affected. WaterSense labeled toilets thoroughly flush down waste while only consuming about 1.3 GPF.
Another critical factor is to find a toilet that complies with the American Disabilities Act (ADA). This means that the toilet is comfortable and functional for anyone, even if that person has a disability.
Warranty
Toilets don't typically have a lifetime warranty, but you can often find one that offers between a 1 and 5-year limited warranty. Always check to see what is covered by the manufacturer since not everything is (remember that these warranties are limited).
Domestic use will usually have a more extended warranty than commercial buyers. Also, keep in mind that the flushing mechanism typically has a shorter warranty period than the porcelain parts.
---
5 Best Modern Toilets Reviewed
1. TOTO MS604114CEFG#01 with Sana-gloss
The TOTO MS604114CEFG#01 Ultramax II toilet is made in a single piece, making it more simple when installing and offers a seamless and finished look at the tank's base.
There is an elongated area amongst the tank's bottom and lid top that allows easier excess and cleaning it up. The UltraMax II characterizes a cyclone double flushing mechanism.
With the use of two strong nozzles and a centrifugal action that is forceful, it cleans the bowl and rim efficiently with every flush.
This model is manufactured at the commonly used height just over 16 inches, which is a slightly taller than some models and adds to extra comfort. The inches of additional height allow it to be simpler for taller people or those with longer legs.
More comfort-ability is also guaranteed with an elongated bowl and the coordinating seat. Both features render the unit compliant to the ADA. At about 100 pounds, this toilet is durable and strong, however, it is not amongst the heaviest on the market. Still, you might require a pair of other hands to move it, but its installation is easy.
Regarding the Toto Ultramax, user Bob says, "The flushing action of this toilet is perfect - virtually impossible to clog even though it only uses 1.28 GPF. It's also very quiet. The only thing to note is that this toilet uses a proprietary flush valve (called a flush tower - not a flapper). You can buy replacement flush parts on the Internet, but don't plan on getting replacement parts in you local retail hardware store. These special TOTO parts work together to form the perfect flushing action. Buy this toilet - you won't be disappointed !!!
---
2. WoodBridge T-0001
| | |
| --- | --- |
| | |
| | |
| | |
| | |
| | 5 year limited on porcelain parts against fading/staining of the glaze; 1 Year on flushing mechanism & soft closing toilet seat |
If you're hoping for high-efficiency, incredible comfort, and a design that looks sleek in any bathroom, this WoodBridge is a excellent option. Its one-piece design makes it easy to install and easy to clean. WoodBridge has always been known for elegant design and quality construction, and this model is no exception to those standards.
One of the best features of this dual-flush toilet is the siphon flushing design. This allows each flush to go down quickly, powerfully, and quietly. The flush is not only powerful but also extremely efficient. This WaterSense certified toilet consumes less water than the average modern model - only 1.28 GPF. This feature has been proven to reduce the water bills of both commercial and residential users.
The high-quality soft-closing seat is another important feature. The seat hinge is made from stainless steel with a quick-release design; if you want to remove the seat for cleaning purposes, you can easily do this. The seat is not included in the 5-year warranty; it is just covered for one year.
The only negative feedback for this elongated one-piece WoodBridge is that it is "not comfort height." According to the dimensions, this toilet is considered to be standard height rather than comfort since it is only 14.5 inches high. This means that it doesn't meet ADA standards either (at least 17 inches tall).
Modern, very nice, easy to install, looks and feels like very expensive one and works perfect." - Happy customer Rene via the Walmart website
---
3. Saniflo 023 SANICOMPACT 48
This toilet was designed with specific needs of small compact spaces. It is ideal for those places with little room to spare, and is an environmentally friendly toilet which uses little water amounts.
Sanicompact is small and lightweight when compared to other modern toilets. It was made specifically for small bathrooms or half bathrooms which won't fit the universal toilet.
For the efficiency of the toilet, it has a double push button which allows from the normal double fuel usage of 1.28 GPF or a more concerning alternative of only 1 GPF. The non-return gauge, that comes already installed, does away with any type of backflow entering the unit.
To add on this, the waste is pushed 9-100 feet in a horizontal way to meet with the sewage line. This is precisely an amazingly manufactured design for those spaces that the normal toilet is not able to fit or work because of the sewage line distance.
For more reviews of our favorite Saniflo toilets, click here.
One Lowe's review says, "Great for retrofits. Beats digging out your cement basement floor for an additional powder room.
---
4. Toto MS992CUMFG#01
3 year limited (residential)

1 year limited (commercial)
This is an integrated type of toilet with a modern washlet, the Neorest a really commendable merger of luxury and ecology. The toilet meets or exceeds both the Universal design and ADA needs.
With the addition of the Cyclone system of flushing, remote control, e-water innovation, Sana gloss and automatic flushing. There is also an extra smooth, barrier with ion area to aid maintain the cleanliness of the bowl longer.
The TOTO 700H is manufactured to ensure the user has great comfort. Thee water innovation ensures the bowl is hygienic and clean. Besides all these, the dryer of warm-air and the wonder-wave spray will leave you with a feeling of freshness.
Convinced wife that we needed this given my travels allowed me to experience Toto smart toilets around s the world. Took the plunge and bought one for home during bathroom remodel and bingo! Just the ticket!" - A thrilled reviewer from Faucet.com
---
5. TOTO MW6042044CEFG#01
You're probably familiar with the name TOTO by now. Their WaterSense, EPA certified washlet is excellent if you want to conserve water with each flush. Like many other dual-flushing toilets, this one consumes less than average at only 1.28 GPF.
There is also a model that uses only 1 GPF, which is just slightly more expensive but will save you money on water bills. This is one of the most modern models on this list since it comes equipped with a bidet toilet seat. Anyone who has been browsing top-rated bidet toilet seats can stop searching.
The bidet function with front and rear warm water washing and has a variety of temperature and pressure settings. Choose between an oscillating or pulsating spray, and dry off with the warm air dryer. The slow-close seat even has heating capabilities - sitting on the toilet has never been so comfortable.
The dimensions of this TOTO meet ADA standards, measuring 17.5 inches from floor to seat top. This is ideal if you are tall or are suffering from limited mobility. This toilet is technically not considered "self-cleaning," but it uses a pre-mist technology that helps to keep the bowl clean. This works by releasing a mist before you use the toilet, preventing waste from becoming stuck to the bowl.
All in all, this is a top choice if you want to modernize your bathroom, but there is one negative aspect: cost. Since this modern one-piece toilet comes with a bidet seat, the price won't fit everyone's budget. You indeed would not find this within a restaurant or office building restroom, but if it fits your budget, it is excellent for residential bathrooms.
An elongated, beautifully sleek one-piece design. Features our industry-leading Tornado flushing system and CEFIONTECT ceramic glaze (see SmartFact below), which creates an extraordinarily smooth, ion-barrier surface to help keep the bowl cleaner with every flush. Universal Height. This toilet only sold with a compatible WASHLET®+ - Toto
---
Gravity Vs. Pressure-Assisted Toilets
The Shiny Home says that "most toilets on the market are equipped with gravity-fed flushing systems. It's a system that has been around ever since flushing toilets were invented and it's very unlikely that another system will replace it anytime soon." This type uses the force of gravity for flushing. When you hit the handle or button, the water drops from the higher tank to flush the waste down the toilet.
Although this is the most popular common type of toilet, there is also something called a pressure-assisted toilet that is gaining popularity. These toilets use the forces of water and pressurized air to move the waste from the toilet bowl down the drain. They contain a water tank and a compression tank that work together to complete the flush.
You might be wondering which one is better, and this depends on a few things. The main benefit of the pressurized system is that it is extremely water efficient, but the drawback is that it costs more than a gravity toilet. Another disadvantage is that with more moving parts and technology involved in pressure-assistance, there is a higher chance of defects.
---
Installing a Modern Toilet
Installing a modern toilet can be done on your own without hiring a plumber. Every toilet will come with a thorough list of instructions from the manufacturer. Just remember that this will be easier done with two people, especially if you are installing a 2-piece toilet.
Since most of the bathroom toilets I have reviewed contain only one piece, here are the steps involved for installation of 1-piece toilets:
---
Modern Toilet Cleaning & Maintenance
Even if your toilet has a smart self-cleaning feature, cleaning and maintenance are still necessary. You should be using one of these highly-rated toilet bowl cleaners frequently and taking measures to maintain the toilet's functionality. To keep your bathroom smelling fresh, try using a clip-on mechanism that is placed on the underside of the bowl rim. These products release a cleaning agent with each flush, keeping it sparkling and stain-free.
To keep the porcelain or vitreous china looking shiny and new, spray the toilet with a mix of vinegar and water (1:1) every week or so. Keeping a toilet clean is one thing, but preventing defects is another. You can do your best to avoid significant problems by following these tips:
---
People Also Ask (FAQs)
How far should a toilet be from a wall?
A leading home improvement source, SF Gate, says that "the minimum distance between the toilet and a finished wall on either side is 15 inches. This is measured from the toilet's centerline, not from the outside edge.
The standard distance from the back wall is 12 inches or 12-1/2 inches from the center of the flange to the wall framing. The minimum distance in front of the toilet to the facing wall or fixture is 21 inches."
Do self-cleaning toilets work?
One of the most modern features now being implemented by the top toilet manufacturers is self-cleaning. There is considerable debate over whether or not this feature does an excellent job in keeping a toilet clean. In my opinion, it does. One of the main reasons for a self-cleaning toilet not to work is on the fault of the user.
A lot of people don't realize that the cartridge containing the cleaning detergent needs to be changed every few months. This cartridge is responsible for releasing the cleaning agent, but when it runs out, then it cannot do a proper job. Changing it out is simple; it is easily accessible at the top of the tank. Another pointer is that the cleaning feature does not work automatically. You need to push a button to activate it.
What is a good flush rate for a modern toilet?
Modern toilets use a minimal amount of water, but this does not negatively affect its performance. You won't find any modern toilets that consume more than 1.6 GPF. Dual-flush modern toilets will have the option to flush at a rate of 1.0 GPM when you choose to flush partially. Even if there is no dual flush option, you can easily find a modern toilet that consumes less than 1.6.
Which is better, a traditional toilet or a modern one?
Definitely a modern one. Not only will you be conserving water with every flush, but modern toilet design is also much more appealing. Modern elongated toilets are more comfortable to use, and they often have smart features like touchless flush and self-cleaning capabilities.
---
Conclusion
The above-mentioned models are the best modern toilets in regard to the whole market. We 've chosen them to help the average homeowner. The quality and design of these toilets are remarkable and most of them are reasonably affordable.
Before going to a purchase of the toilet, do some deep background digging to ensure that you get exactly what you've always wanted. We love the Toto model which can be found here.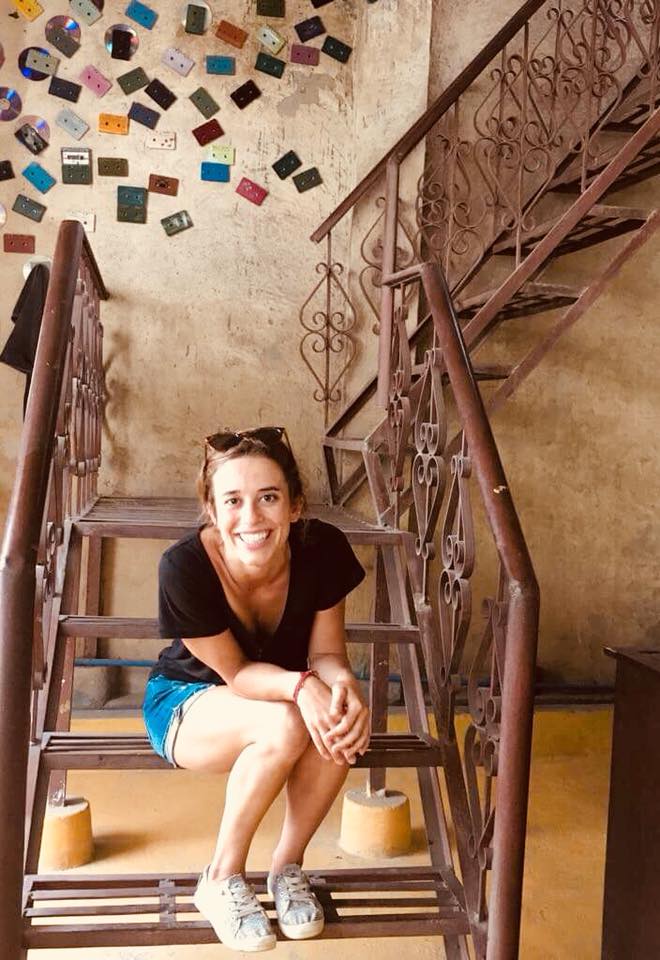 Caitlin Shaffer has been traveling & working as a content writer & SCUBA dive instructor since 2014. Having lived in Central & South America, Southeast Asia, India, & Australia, Caitlin has had many years of experience with a variety of kitchen, bathroom, plumbing systems & common household products. Other than writing about her plumbing experiences & knowledge, her main passions are yoga, ocean conservation, & sustainable development.