If you're planning on remodeling your smaller-than-average bathroom, you may feel like your lack of space limits your options for shower fixtures.
There's some truth to this, as you'll likely need to get creative with the layout of said compact bathroom. But a small amount of space does not mean you need to sacrifice productivity or durability when it comes to choosing shower fixtures.
This includes shower doors, many of which come in a variety of useful sizes today. These shower doors come in a variety of styles, each of which has different implications for the door's overall reliability.
Fortunately, you can turn to this guide when it is time to shop for such a shower door. This guide will teach you what key features and specifications you need to keep an eye on when comparing models.
Page Contents (Click Icon To Open/Close)
Shower Doors For Small Bathrooms Compared
Tropical Art Glass Inc. 24-28

W: 24" to 28"
H: 72" to 78"
---
Choosing Shower Doors for Small Bathrooms
Dimensions & Configuration
First and foremost, you should isolate the shower door models that fit your current shower dimensions and configuration. Given that space is at a premium in your bathroom, this is one specification you cannot compromise on. However, you should be on the lookout for models that offer a variety of sizes that best match your shower's size. The same can be said for configurations, with some models now offering reversible configurations.
Framing Options
When it comes to shower doors, you're sure to see a variety of framing options. This refers to the frame (or lack of frame) around the main glass panel on your shower door. Many brands today offer frameless models that match the aesthetics of a modern bathroom. Framed and semi-framed models are still common, too, primarily because they offer better durability.
Door Style
One spacing factor that too many DIYers forget is to account for a shower door's style.
Specifically, they forget to consider how much space a shower door may take up when it is opened. This amount of space can depend on if you have a sliding, hinged, pivot, curved, or bi-fold style door.
In all cases, a door's operational style should be examined carefully for more than just aesthetics.
Material & Durability
Durability is absolutely essential when it comes to glass shower doors. That's why pretty much every major brand today uses tempered glass that is less prone to cracking for their shower doors. At the same time, shower door hardware has taken a dive in durability in recent years. As such, it is always best to opt for stainless steel hardware that is not prone to rust or corrosion.
Glass Type
When it comes to style, many shoppers look to a shower door's glass type. These range from clear, window-like glass to textured or frosted glass. While no one type is better than another, most folks like frosted glass because it provides more privacy and requires less frequent cleaning.
Installation
If you are planning on installing your own shower door, be sure to check a given model's user reviews to determine how easily said unit is to install. While many modern shower doors can be installed on your own, be aware that you'll always get the best results when utilizing a professional installation.
Price & Warranty
If you're remodeling your entire bathroom, it is essential to save some money and get a good deal on your new shower door. This means comparing prices against the providing specification list to see if those features justify the price. In particular, be sure to account for the added value of a productive warranty on the relatively fragile service life of a shower door.
---
7 Best Small Shower Doors Reviewed
1. DreamLine Cornerview 34
Best Shower Door for Small Bathrooms
First up, I want to introduce you to one of the best shower doors for small bathrooms - DreamLine Cornerview 34. I wanted this to top this list because I really believe it is an outstanding small sliding shower door on all fronts. To be specific, I think that this model's anodized aluminum wall profiles help it remain rust-free over the course of a long service life. Those same profiles can also be installed onto a slightly un-plumbed wall, which is a major asset for DIY home remodelers.
You're also sure to find that the DreamLine Cornerview 34 doors are among the easiest to clean in their entire class. This is because this model's clear tempered glass panels utilize a unique proprietary formula known as ClearMax technology. This technology prevents staining and soap scum from building up, which means you won't need to clean these panels almost at all. The same goes for this model's chrome hardware, which only needs a quick shine to start looking brand new again.
Of course, all of this productive quality comes at a price. In fact, the DreamLine Cornerview 34 costs right around $500, which is well above the average for a small shower door. But take my word for it when I say that that extra price is well worth the investment in the long run.
---
2. Tropical Art Glass Inc. 24-28
Best Frameless Shower Door For Small Bathrooms
A lot of DIYers these days are looking for the best frameless shower door for small bathrooms. Well, if you can count yourself among that crowd, then look no further! You'll find what you're searching for in the Tropical Art Glass Inc. 24-28. This unit is plenty durable, starting with is 3/8" thick tempered glass panels. From there, you'll find even more durability (and might I also say beauty) in this model's chrome, brushed nickel, or oil-rubbed bronze hardware.
Also, it's great to see that you'll get a number of sizing options when opting for this particular small shower door. To that end, the Tropical Art Glass Inc. 24-28 comes in widths ranging from 24" to 28". You'll also be able to get the same doors in heights ranging from 72" to 78" while retaining this model's excellent frameless style and polished edges.
All in all, you'll find that the Tropical Art Glass Inc. 24-28 is also very easy to install. This is fully apparent while adding on this model's bottom door sweep, which attaches without the need for any extra adhesive. This sweep will also more effectively seal this shower door, making it all that more practical to use in a tight bathroom space.
---
3. SUNNY SHOWER Neo-Round
Best Glass Shower Door for Small Bathroom
Here's another of the best glass shower doors for a small bathroom – the SUNNY SHOWER Neo-Round. This model is actually a set of sliding frameless shower panels that make up a full bathing enclosure. Its rounded design makes it very unobtrusive, ideal for small bathroom remodelers looking to relocate their shower. All of the ¼" tempered glass panels on this unit are very durable, of course, and are rated to be fully shatter-proof.
Leakage and ease of access are two issues that often come up in discussions of shower enclosures such as this one. The SUNNY SHOWER Neo-Round addresses both issues by first providing a full-length seal on each of the unit's glass panels. These effectively prevent water from leaking out into your tight bathroom space. Also, these same panels feature stainless steel handles that won't ever loosen or corrode over this enclosure's service life.
If you're interested in installing the SUNNY SHOWER Neo-Round yourself, you should be able to do so because this unit comes with a user-friendly instruction guide. As for price, you'll be paying over $400 for the full enclosure. That's more than usual, but not outrageous at all.
---
4. DreamLine Aqua Fold 33
Best Folding Shower Door for Small Bathrooms
Finding the best folding shower door for a small bathroom may be a priority for you if your bathroom does not have a lot of spare space for a swinging door. The DreamLine Aqua Fold 33 certainly addresses that concern by providing you with a bi-folding form factor that can be operated smoothly with just one hand. In total, it expands to around 33.5", so it has ample coverage for wider shower stalls. Reaching that full extension length won't be a hassle, though, thanks to this model's self-centering pivots.
If you're remodeling your bathroom right now, there's a good chance that you want to upgrade to a more modern aesthetic style. The DreamLine Aqua Fold 33 can certainly cover that desire effectively thanks to its curved form factor that takes cues from European interior design. You'll also find this model's chrome hardware to be much more visually attractive than its competitors, even after many years of exposure to soap scum.
This small shower door is not without its own credentials when it comes to durability, though. In fact, this model's ANSI-certified glass doors are rated as being entirely shatter-proof. That's really impressive, given that many folding shower doors of the past ran a risk for shattering upon enduring a hard impact.
---
5. DreamLine Aqua Fold
Best Tub Door for Small Bathrooms
Meanwhile, if you have space for one of the best swing shower doors for a small bathroom, then I fully recommend the DreamLine Aqua Fold. This model is priced slightly below other competitors in its class at right around $320. But despite its reduced price, it includes many of the best specifications for a swinging small shower door. This includes the ¼" tempered glass door and adonized aluminum wall profile that have helped this brand's shower doors become well-recognized for their durability.
For the longest time, it seemed like every new small shower door was relying on old track-based systems for flipping open and closed. But now, the DreamLine Aqua Fold breaks the mold by utilizing a continuous self-centering pivot that can open and close freely, yet securely. Better yet, these hinges can swing on both directions to allow for a safe entry and exit during every shower.
At first glance, you may think you'll be able to install the DreamLine Aqua Fold. But the aforementioned hinges require a lot of precision and finesse to set correctly. So, it would be in your best interest to call in a professional and save yourself the time and effort. Don't forget that this model can only be installed around a square space, too, or else you'll find this model unsuitable for your needs.
---
6. Aston Cascadia
Best Reversible Small Shower Door
In the middle of a remodel, you may not yet be fully committed to your finished layout while purchasing new hardware. It's okay to be a bit indecisive like that, so long as you have one of the best reversible small shower doors available to you. In fact, if you go with the Aston Cascadia, you'll be able to choose the handle and hinges positioning while you are mounting it. As such, you'll be able to position this unit's zero-threshold entryway in a position that takes full advantage of your small bathroom's available space.
Speaking of this model's swinging hinges, you'll find that they aren't at all loose enough to cause them to wear out quickly. As it turns out, these hinges are instead built with a self-closing mechanism that allows them to gradually and gently shut themselves after you release the door. That kind of care is really well appreciated, especially when it comes to protecting the integrity of this unit's premium 3/8" tempered glass door.
Leaks through those doors will be an afterthought, by the way. That's because each door includes full-length seals that keep water in and drafts out. Those seals are entirely clear, though, so they won't intrude in on the aesthetic style of this unit's frameless glass doors.
---
7. ELEGANT FP32
Best Swing Shower Door for Small Bathrooms
Finally, let's have a quick look at the ELEGANT FP3. In my eyes, this is the best tub door for a small bathroom, though it has some competition for that title. Even so, I believe that it comes out on top based upon its shatter-proof clear tempered glass door. Even for its relatively thin 3/16" thickness, this door was able to earn a full ANSI Z97.1 certification. That's really impressive, especially for a swinging shower door in this price and size range.
The ELEGANT FP3 also does a great job when it comes to the small details. To that end, you'll likely notice that this model utilizes vertical stainless steel handles. What you probably cannot immediately tell is that these handles are anchored such that they evenly distribute all weight placed upon them. You also might have overlooked this model's magnetic strip seal that both keep water in and ensure that this door always closes flush with its mountings.
---
Tips for Installing & Replacing Shower Doors in A Small Space
If you're planning on installing or replacing one of your shower doors within a compact bathroom, then you need to keep at least a few of the following tips in mind:
You can check out this helpful YouTube video for more tips as well.
---
Shower Door Cleaning & Maintenance
No one looks forward to cleaning their shower door. But this is a necessary maintenance job that you must engage in occasionally to keep your shower door looking good and operating efficiently.
When it comes time to clean your glass shower door, you'll want to mix a special cleaning solution that can cut into soap scum. This can be done by combining the following ingredients in a spray bottle:
Allow these ingredients to combine and spray them across the entire door's surface. Allow the liquid to sit for 5 minutes before scrubbing. Then, be sure to rinse the door's surface thoroughly. You may need to repeat this process several times for like-new results.
---
People Also Ask (FAQs)
Why do frameless shower doors cost more than other shower door types?
There are pros and cons to each type. Generally speaking, frameless glass doors cost more because they have to utilize more technology within the glass itself to keep it stable and durable over its full service life. Simultaneously, frameless shower doors are in style at the moment, which leads to some price inflation at retail.
Are there any other shower door solutions for small spaces?
As far as shower doors are concerned, most of the most viable options are covered in the collection of reviewed models above. However, homeowners with small bathrooms can also opt for a shower curtain if they are concerned about hogging up too much valuable bathroom space. Shower curtains always lay flat and don't require extra space in which to open, after all.
How much will it cost to have a professional install my shower door?
Professional shower door installations can range in price depending on the requirements of the door itself, as well as the space in which it is being mounted. On the lower end, a shower door could be mounted affordably for around $200. However, complex installations could run you as much as $750 for the cost of labor alone.
Who makes the best shower doors ideal for smaller bathrooms?
There are a lot of reliable small shower door brands on the market today. However, many consumers today swear by DreamLine's catalog of products. This is primarily because this brand offers a wide variety of sizes that can fit most of the bathroom without compromising on either style or durability.
Where is the best place to find these shower doors for small spaces?
Back in the day, you could find the best prices on small shower doors at a local hardware store. But today, you'll always find the most affordable shower doors for small bathrooms on Amazon. That's because they offer competitive prices that often come out cheaper than traditional retailers due to their reduced shipping fees.
---
Conclusion
When you get down to it, there's no reason to despair when it comes time to remodel your small bathroom. As you've now seen, there are plenty of worthwhile options when it comes to finding a durable, aesthetically-pleasing shower door for your small bathroom. Each of the models reviewed above will certainly serve you well, so be sure to check them all out before committing to your next in-home remodel.
Real quick, I want to give one last shout out to the DreamLine Cornerview 34. This model topped my list with good reason, such as for its thin yet resilient tempered glass door or its corrosion-resistant anodized aluminum wall profiles. It's true that you'll pay a good bit extra for this small shower door, but its inclusion of ClearMax technology will make that price well-worth paying when it comes time to clean up.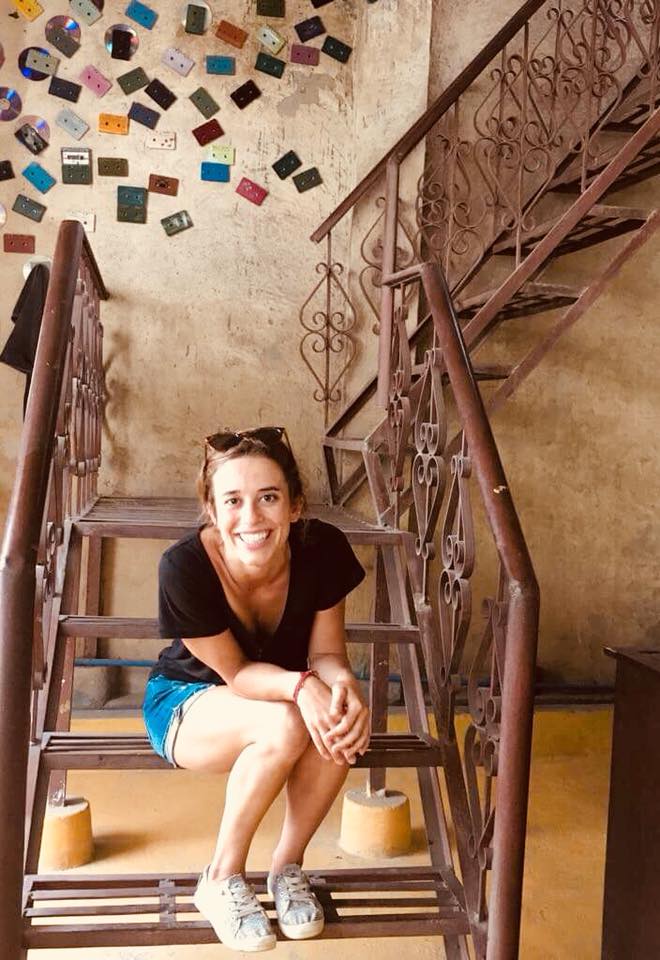 Caitlin Shaffer has been traveling & working as a content writer & SCUBA dive instructor since 2014. Having lived in Central & South America, Southeast Asia, India, & Australia, Caitlin has had many years of experience with a variety of kitchen, bathroom, plumbing systems & common household products. Other than writing about her plumbing experiences & knowledge, her main passions are yoga, ocean conservation, & sustainable development.