About two-thirds of Americans start their day with a shower. Not only is it essential for personal hygiene, but it also serves as a refreshing wakeup call to start the new day. This is why a fully-functional, well-designed shower environment is a staple for quality homes.
But it can be challenging to decide between glass shower doors, framed, semi-frame, or frameless shower doors, and sliding shower doors, etc. We reviewed the best shower doors on the market to help you make the perfect selection. So whether you have a big or small bathroom, read on to know what may be the best shower doors for you.
Page Contents (Click Icon To Open/Close)
Shower Door Comparison Table
W: 50-1/8 to 58-1/2"
H: 71"

Clear and frosted (combination)

DreamLine SHDR-1948723L-04 Mirage-X
---
Advantages Of Glass Shower Doors
---
What To Look For In A Quality Shower Door
Bathroom/Shower Configuration
Glass shower doors for a tub or standing shower can be built to match the exact dimensions of the entrance of the shower or bathtub.
Measure vertically and for precise fitting measurements should be taken at one-sixteenth of an inch. These are the usual dimensions:
Frames For Glass Shower Doors
The framing options for glass shower doors are framed, frameless, semi frameless, and glass tub/partial enclosure. We go over each of these in more detail below.
Entry Design & Style
Glass Type
Here are some types of glass you can choose for your shower door:
Shower Door Size
Take measurements of the opening to the shower area before the shower door installation.
It's best to measure once all finishing touches are done. If you have no room for a door to open inward or outward, you can go for a barrier-free door or a sliding shower doors. Likewise, if there are no space constraints, you can go for pivot shower doors, etc.
If the given size is unique, look into getting custom glass shower doors. Remember to do this before you buy a door — you don't want to end up purchasing a beautiful door that does not fit your bathroom.
Reversible Installation Option
Some doors give you the freedom to decide whether you want to enter from the left or right.
This feature comes in handy, especially when you have a small bathroom where the fixed panel is reversible and can be put on either side. The shower door hinges can be installed accordingly.
Price & Warranty
The pricing starts modestly and easily goes above $3,000, depending on the features and style you need. Framed doors are the most cost-effective options, followed by semi-framed.
When narrowing down your selection for cheap shower doors, please ensure that you do not compromise on quality. Furthermore, check how much coverage is provided by the manufacturer; more warranty is also better and usually indicates that you are buying a good quality door.
---
9 Best Shower Doors Reviewed
1. WOODBRIDGE MBSDC6076C
If you have a wide enough shower area but not enough room for a swinging door, your best bet is to go with sliding shower doors.
We found that the WOODBRIDGE MBSDC6076C is the best in this category hands down! That's why this model tops our list for the best sliding shower doors reviews.
This frameless door looks beautiful and instantly raises your bathroom's aesthetic appeal. You have a choice of black or chrome fittings, including robust rollers and an ergonomic handle.
You can adjust its width from 56 to 60-inches, and with a 75-inch height, it can fit most shower areas. Also, with the door slid all the way, you have about 22 to 26-inches of space to go inside the shower area.
A significant advantage of the WOODBRIDGE MBSDC6076C is that it is also a reversible door — it's your call to open it to the right or left.
Opening and closing the door is a smooth, jerk-free process and requires little to no force. The featured tempered glass is 3/8-inches thick, and all included hardware is made from stainless steel, so corrosion won't even be an issue.
---
2. VIGO VG6041CHCL7274 Elan
Best Frameless Shower Door
| | |
| --- | --- |
| | |
| | |
| | |
| | |
| | Chrome and 304 stainless-steel |
The beautiful VIGO VG6041CHCL7274 Elan is another strong contender in our glass shower door reviews.
It meets all the checkboxes as one of the best frameless shower doors; in fact, we will go so far as to say that this is the best frameless shower door.
If you have a large bathroom and an ample-sized opening to the shower area, this door will be a perfect fit thanks to its adjustable width of 68 to 72-inches and a 74-inch height.
So when the door is open, you get 27.5 to 31.6 inches of room to enter. Moreover, the door is reversible — it can be installed on either left or right side, per your preference.
The door handle of the VIGO VG6041CHCL7274 Elan is made of brass and has a silver finish, and you can easily mount it on to the pre-drilled glass. Its fashionably good looks and durable design can be contributed to the 304 stainless steel, which also makes the door resistant to corrosion.
It has a 10 mm tempered glass and smooth rollers underneath to ensure that you'll never hear a squeak out of it.
Furthermore, clear door strips ensure that the door won't ever leak.
---
3. DreamLine Mirage-X
Best Shower Doors For Tubs
| | |
| --- | --- |
| | |
| | |
| | |
| | |
| | Aluminum, Chrome, Right-wall Bracket |
If you love a relaxing bubble bath, opt for glass shower doors for tub instead of curtains.
We recommend the DreamLine Mirage-X, as it ranks among the best shower doors for tubs. This unit has a 56 to 60-inch width and 58-inch height and features two panels – on the right is a 29-7/16 inches fixed panel – on the left is the sliding panel. Once installed, you have a 22-3/4 to 26-3/4 inches walk-in area, so you can safely enter the tub.
Plus, the DreamLine Mirage-X provides the illusion of a bigger bathroom as it has frameless shower doors and no header. This also makes it easier to clean it and keep the mold and mildew away. It has a chrome finish that looks beautiful, enhancing the overall look of the washroom considerably.
If you want the door installed to an uneven wall, that won't be a problem either since its width can be adjusted by up to 1/4th inch. Likewise, the provided aluminum rail on the bottom can be trimmed by 4 inches.
The glass on the DreamLine Mirage-X is 10 mm thick, i.e., 3/8 inches, and it is an ANSI-certified transparent tempered glass.
---
4. WOODBRIDGE MBSDC6076-B
Popular Model
| | |
| --- | --- |
| | |
| | |
| | |
| | |
| | Chrome and stainless-steel |
This one's a market favorite, so if you want to buy from a brand that's stood the test of time look no further than the WOODBRIDGE MBSDC6076-B. We consider it one of the best glass shower doors because it has hundreds of reviews, and it's been tried and tested by thousands of homeowners who expressed their satisfaction with the product.
It features a thick 3/8 inches or 10 millimeters ANSI certified tempered glass, which is also water spot resistant (rarely found in other units), and it is quite easy to clean.
The WOODBRIDGE MBSDC6076-B has an adjustable width of 56 to 60 inches and has a 72-inch height—once installed, you get about 28 1/8 inches for the walk-in.
Thanks to the well-placed door-handle and the stainless-steel rollers, sliding the door is effortless without any squeaks.
The top guide or stainless-steel header can be trimmed by up to four inches. The door also has a reversible installation option, so you can choose whether to enter from the left or right at your convenience.
All parts and hardware is made from stainless steel and is scratch, chirp, and rust-resistant—so with proper care, these frameless shower doors will last for years on end.
---
5. Delta SD3172718 Trinsic
Best Semi Frameless Shower Door
| | |
| --- | --- |
| | |
| | |
| | Clear and frosted (combination) |
| | |
| | Nickel and anodized aluminum |
If you want the jack of all trades, i.e., a semi frameless shower door which offers you the best of both worlds, look no further than the magnificent Delta SD3172718 Trinsic – this definitely is the best semi frameless shower door available these days.
The thing about this Delta shower door is that it defines elegance with its European design and a contemporary rustic look that immediately draws the eye. It has an adjustable width of 50-1/8 to 58-1/2 inches and a height of 71 inches, and uneven surfaces are not a problem as it can be adjusted by up to 3/8-inches.
The Delta SD3172718 Trinsic has a 6 millimeter, i.e., 1/4 inches ANSI certified tempered glass. It features a spot guard glass coating — soap scum, limescale building, and hard water stains won't ever be an issue anymore. This glass has a blend of frosted and clear stripes, so privacy is ensured without compromising on brightness.
The matte dark silver aluminum top track has smooth rollers, and on the side, there are sleek metal trim pieces, for a smooth, squeak-free experience. For your convenience, the doors are reversible, so you can choose whether the entry point should be on the left or right as per your shower configuration.
The Delta SD3172718 Trinsic also has 20-inch wide Nickel Trinsic Handles that allow you to hang towels for easy reachability once you are done showering. And courtesy of the featured die-cast zinc post door handles and the shower door bottom track — opening the door is smooth and noise-free.
---
6. DreamLine Cornerview 34
Best Shower Doors For Small Bathrooms
If you have a small bathroom, you have to ensure that everything from the sink and toilet seat to the shower area, leaves you with enough space to move inside easily.
The DreamLine Cornerview 34 is properly-sized for smaller openings, and it's built to last; that's why it ranks among the best shower doors for small bathrooms.
This chrome finish enclosure has a width of 34-1/2 inches, and its 72 inches high. Two glass panels are sized at 16 ¾ inches and have a thickness of four millimeters. The featured tempered clear glass is ANSI-certified, so if it breaks — your safety is ensured. Also, if you have an uneven wall, this door's anodized aluminum wall can be adjusted up to 1/3 inch out-of-plumb on both sides.
This unit is also the best for small spaces because it ensures that no water leaves the shower area courtesy of the large shower door magnetic strip.
Make sure to check out our complete guide to the best shower doors for small bathrooms.
---
7. Basco Deluxe
If you want a premium framed shower door for your bathroom, the Basco Deluxe framed sliding shower should top your list for the best framed shower door on the market.
With handcrafted aesthetics and elegant metal construction — this door rocks in the beauty department without compromising the performance. All hardware is made from anodized aluminum, so it is rust, corrosion, and scratch-resistant. Also, for your convenience, there are two handles – one on the inside and one outside – and both of them are big and sturdy enough to hold towels.
This glass shower door has an adjustable width of 42 to 44 inches and has a height of 68 inches.
The featured glass has a textured design, and it is made from durable tempered sheets that make it five times sturdier than standard glass.
Additionally, the Basco Deluxe has reversible doors so that you can keep the opening on the left or right according to the design of your bathroom.
The bottom track features Sta-Kleen, which drives away all dirt, and ensures that there is no water leakage.
This door is finished to perfection; not only is it corrosion resistant, but it looks elegant year after year.
See more of our favorite sliding shower doors in this article.
---
8. DreamLine Aqua Fold 33
Best Bi-Folding Shower Door
If you want your shower area to have an open space, consider buying the DreamLine Aqua Fold 33, the best Bifold shower door.
It works well with both big and small washrooms thanks to its frameless curved European design. It has a self-centering pivot and features a trackless style of folding that can open up space or provide privacy in the shower area as and when you need it.
This shower door is 33.5 inches wide and has a 72-inch height. If installed on a 48-inch opening, you get a 45-inch walk-in space, whereas if it is a 60-inch opening, you get a 57-inch walk-in space. Plus, if you have a small bathroom where sliding and swing shower door installation is not possible, this door will fit perfectly. This bi-fold door has a certified tempered glass that is 6 millimeters thick, so it is durable, reliable, and safe.
To add to that, the Anodized aluminum wall profile is adjustable by up to 3/8 inches, so even if you have an uneven surface, it won't be a problem. Also, the door is reversible; you can choose whether you want to enter from the right or left.
---
9. DreamLine SHDR-1948723L-04 Mirage-X
Top Rated Model
| | |
| --- | --- |
| | |
| | |
| | |
| | |
| | Brushed nickel, or chrome |
We would like to end on a high note by showcasing the highest rated shower door on the market — the DreamLine SHDR-1948723L-04 Mirage-X.
This elegant door has an adjustable width of 44 to 48 inches and is 72 inches high. Once it is installed, you get a 16.5 to 20.5-inch walk-in area.
A fascinating aspect of the Mirage-X is its configuration – the sliding door is on the right with an L-bar for support, and there is also a fixed door on the right. The DreamLine SHDR-1948723L-04 Mirage-X features a clear tempered glass that is 3/8 inches or 10 millimeters thick, and it is treated with ClearMax, which is a stain and water-resistant coating.
Like most units we featured in our glass shower doors review, this door also has reversible doors, so you can select to have an opening on the right or left.
The bottom guide rail is made from anodized aluminum. It can be trimmed up to four inches for easy, and if you have uneven walls, the stationary panel can be adjusted by up to 3/8 inches.
---
Types Of Shower Doors Explained
Framed
They generally have a thinner glass that is shouldered and protected by the aluminum frame. It could be smooth or textured, or powder-coated for an assortment of finishes.
Frameless
These feature a thicker glass as there is no additional support to hold together the door.
All shower door hinges, clips, and handles are installed directly on there as a silicone shower door seal strip is put on the corners of the glass to hold it tight and also prevent the water from seeping out.
Frameless options are probably the most popular choice for modern bathroom builds and renovations.
Semi-Frameless
These have metal usually on two sides of the door, but not the entire door — they are the best of both worlds.
Glass Tub/Partial Enclosures
Only the area next to the shower has a barrier to shield water from going out, and there is no door involved in this setup.
---
Shower Door Cost Comparison
As we said earlier the prices of glass shower doors can significantly vary
| | |
| --- | --- |
| | |
| | |
| | |
| Semi frameless shower door | |
| Neo-Angle, curved & custom glass shower doors | |
The framed door is the easiest to install and may not cost as much, but a frameless door and custom installations can be expensive.
Professional installation can cost $547 to $1,350, where sliding doors can be installed for $350 to $700, and frameless options can cost $900 and above. Furthermore, single hinged and pivot shower doors installations are a lot more affordable.
You also have the option to DIY with shower door installation kits from online retailers and home improvement stores, but its best to leave it to the professionals for a proper fitting that will last you for years.
Overall, if you do a little research, we are sure that you will find the best price on frameless shower doors or framed shower doors.
---
Shower Door Installation & Replacement
You will need a drill, wall anchors, hacksaw, pencil, silicon sealant, wood shims, masonry and drill bits, etc. Also, look for an assistant to help you with the shower door installation project – this is not a one-person job, especially if you've never done it before.
Once you have the equipment and fittings at hand, follow these steps:
Taking The Measurements
Size the opening to ensure that the selected glass shower door can fit it comfortably. You do this by measuring the length of the threshold, pinpointing the middle of the threshold, and measuring the height of the wall up to 1.5 meters or five feet.
Framed Door Installation
A swinging door is best for shower stalls that measure up to 48-inches – sliding shower doors are best for openings that are 60-inches or broader.

Use a hacksaw to cut the base track according to the size of the threshold.

Attach the base track to the threshold by using a silicone sealant — put some force into it so that it does not wiggle.

Now put the shower door hinges or the hinge-side, jamb on the base track — make sure it is appropriately placed. Otherwise, you won't have the space to fit the glass.

Mark where you will have to drill on the wall according to what is required by the hinge-side jab.

Remove the jamb and drill in the markings, and make sure each screw hole is about 1.75 inches.

Put back the jamb and fasten the screws.

Repeat the steps as mentioned above to install the hinge-jamb on the opposite side.

Measure the available space on the shower door and accordingly cut the header rail with a hacksaw.

Set the header at the top of the frame.
A Swinging Framed door
If you are looking to install a swinging door, here's what you need to do:
Drill screw holes into the side jamb, they should be about 0.56 cm each, and you may need to out three to four holes.

Now attach the door to the jamb, fasten the screws, and test the door.
A Sliding Framed Door
If you have a sliding door to put up:
Install the bumper that comes with your DIY kit on the side jambs — they may slide over the screws and can be secured by putting the strike-side rail in place

Put hanger brackets on the header part of the door panel and the plastic separator clips on the two holes available on top – then slide the brackets on top and fasten them by bushing them from the outside and putting nuts on the inside.

Put the provided rollers on the hanging bracket and fasten them.

Mount the door on to the header rail.
A Frameless Door
Here's how to install a frameless door:
Put the hinges and door handles on the glass door by fastening them with a screwdriver.

Put a 0.225-inch wooden shim to raise the door from the floor, and then with a pencil mark, the spots where you will need to drill.

Now put the anchors in the holes and screw in the door

Put vinyl sweeps on the floor of the threshold and then start opening and closing the door to ensure that it has been correctly fitted.
---
People Also Ask (FAQs)
How can I remove hard water stains from glass shower doors?
Spray a solution of white vinegar and water in equal quantities on the stained surface. Let it sit for a while, and then remove it with cold water. Now wipe the surface with an absorbent cloth to remove all stains from the glass.
How do I keep glass shower doors clean?
The best way to clean glass shower doors is to fill a spray bottle with a cup of water, half cup vinegar, and some dish soap and then spray it on glass shower doors. Leave it there for at least five minutes, then wipe it off using a cloth and cold water.
How to get soap scum off shower doors?
You can use an all-purpose bathroom cleaner, but a water-vinegar solution is the best cleaner for glass shower doors, and it's quite affordable too. However, it would take some thorough wiping to get rid of the stains.
How do I determine the height and width of the shower door I will be purchasing?
Measure from the ground up, or the tub edge to the top of the wall – also size horizontally from both sides. The measurement should be to the nearest one-sixteenth.
How safe are glass shower doors?
Glass shower doors can last for decades at a time, and people only change them when buying a new home.
However, there is a very slight chance that the glass door may explode because of gas formation in the shower area. However, since they are made from tempered glass – if the glass breaks or explodes – it will shatter into many small pieces with dull edges so you won't hurt yourself.
What to do if the shower door leaks at the bottom?
The drain holes in the frame are probably clogged; use a screwdriver to clean it. Also, put some more sealant in the case of frameless doors.
---
Conclusion
All in all, a glass door is a worthy addition to any bathroom. After reviewing some of the best options, we believe that the WOODBRIDGE MBSDC6076C is one of the best shower doors on the market.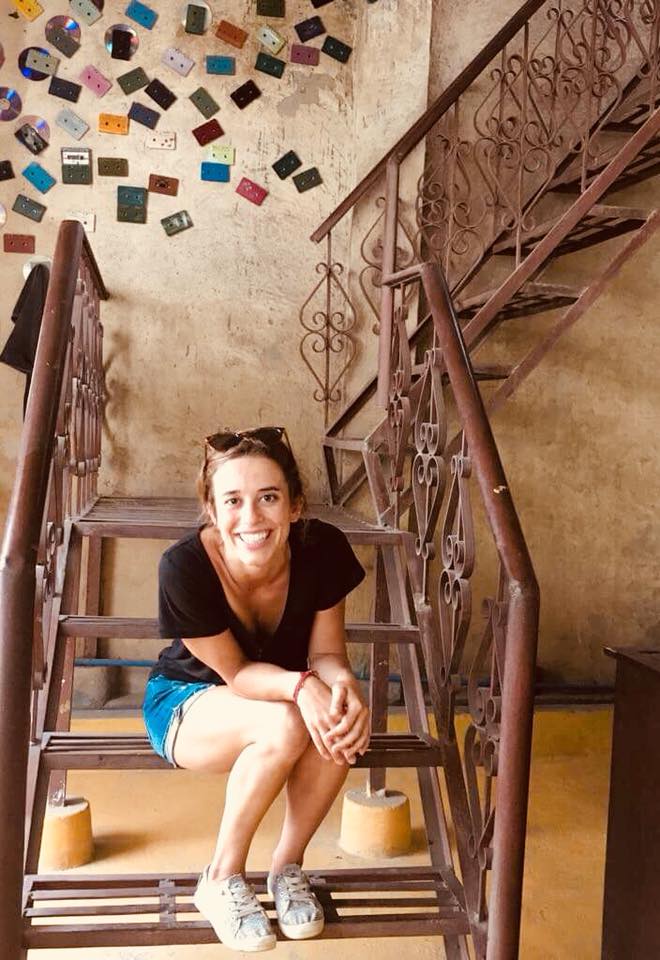 Caitlin Shaffer has been traveling & working as a content writer & SCUBA dive instructor since 2014. Having lived in Central & South America, Southeast Asia, India, & Australia, Caitlin has had many years of experience with a variety of kitchen, bathroom, plumbing systems & common household products. Other than writing about her plumbing experiences & knowledge, her main passions are yoga, ocean conservation, & sustainable development.