Your bathroom should be a comfortable and private place where you can unwind after a long day or start a new one. An often overlooked item is your sliding shower door. It can bring your whole bathroom together, and it eliminates the need for an often dirty-looking shower curtain.
If you're looking to take your bathroom to the next level, then check out this buyer's guide and review of the best sliding shower doors.
Page Contents (Click Icon To Open/Close)
Sliding Shower Doors Compared
| | | | | | |
| --- | --- | --- | --- | --- | --- |
| | | | | | |
| | Delta Shower Doors SD3172664 | | Clear, frosted, rain, & transition | | |
| | | | | | |
| | | | | | |
| | | | | | |
| | | | | | |
| | | | | | |
---
The Benefits of Sliding Shower Doors
There are many advantages to updating your bathroom decor with a new door. It can be quite an affordable upgrade, and there's a lot of benefits. Frameless sliding shower doors usually hang from a rolling assembly. They look chic and slim compared to other entries.
It can be a pain to clean your bathroom, but cleaning is much easier with a sliding shower door. You can easily wash down the door in a few minutes. Another advantage is that it eliminates the need for a bulky shower curtain. They can often become molded and dirty.
---
Sliding Shower Door Buying Guide
Bathroom/Shower Configuration
The most important thing to consider is how your shower is setup. You'll need to take accurate measurements of your current configuration to make sure you buy the right door. For example, different types of doors fit corner showers versus showers with bathtubs and other models.
Framing Option
There are generally two types of sliding shower doors; framed and frameless. Framed shower doors have an aluminum frame around the edge of the glass. They are typically cheaper, more sturdy, and keep all the water in.
Frameless shower doors are just a piece of tempered glass with no frame. They are normally more expensive, sleeker, and slightly less stable.
Entry Design and Style
The main styles of sliding shower doors are neo-angle, curved, bi-fold, hinged, and bypass sliding. Neo-angle shower doors fit into the corner of your bathroom.
Curved doors also fit into a corner shower, but they have a more U-shaped curve to them. Bi-fold doors are doors that fold in half when opening. Hinged shower doors simply open and close like a standard bedroom door. A bypass sliding door usually hangs from a track assembly and acts as a pocket door.
Glass Type
The style of glass that you choose will largely depend on style preference. The typical glass types include clear, frosted, patterned, heavily textured, and tinted. Clear glass is the type that you find most frequently on regular home windows. Frosted glass has a slight haze to it and offers more privacy.
Patterned glass obscures the view into the shower but has a specific pattern, such as small triangles. Heavily textured glass is not as common, but it is usually much thicker. Tinted glass is not very common, but it is tinted like a pair of sunglasses.
Shower Door Size
The size of your shower will determine the size of the sliding shower door that you need to purchase. We recommend taking precise measurements a couple of times before deciding on the correct door. If you have a corner shower, you need to measure for a more compact sliding door.
Extra Features
Some of the shower doors on our list come with additional features such as towel rails, water deflectors, and shelves. If you need a place to hang towels in your shower, then consider investing in a door that has these elements built-in. An extra water deflector can help prevent mold build-up and ensure that water stays in the shower. Shelves can come in handy for storing shampoo and conditioner.
Price and Warranty
While adding a sliding shower door to your bathroom is a reasonably priced upgrade, some doors are more expensive than others. Frameless doors tend to be more costly than framed doors. Keep these things in mind when deciding on your budget. All of the shower doors we have included in our review come with some sort of warranty to give you peace of mind.
---
7 Best Sliding Shower Doors Reviewed
1. Woodbridge MBSDC6076C
Our Top Pick!
| | |
| --- | --- |
| | |
| | |
| | |
| | |
| | Chrome, matte black, & brushed nickel |
For the first one on our list, we have a chic and elegant product that has high reviews, according to consumers. We chose the Woodbridge Frameless as the best sliding shower door. It will fit in well with almost any bathroom decor since there are three finishes to choose from.
This sliding glass door from Woodbridge comes with clear glass, which is the most popular glass type for shower doors. It allows you to see through the shower to showcase the tile work. It also makes your shower appear bigger since there's nothing to obscure the view.
This model comes in a frameless design that hangs from an upper rolling assembly. The glass is shatter-resistant with a thin safety film bonded to the glass. If you accidentally break the door, there won't be a million pieces of glass on the floor.
We liked that this door was simple and elegant in its design. It offers a modern and minimal look that most customers seem to enjoy. The rolling assembly was solid, and it looked great in all three finishes.
This shower door looks amazing. Simply stated, but it matches the simplicity of this door.
---
2. Delta Shower Doors SD3172664
Best Semi-Frameless Sliding Shower Door
| | |
| --- | --- |
| | |
| | |
| | Clear, frosted, rain, & transition |
| | |
| | |
If you're having a hard time deciding between a framed and a frameless door, it might be useful to have an option that falls in between. We chose the Delta SD3172664 as the best semi-frameless sliding shower door. It offers a partial frame that helps hold water in but also still looks sleek.
This Delta semi-frameless door is a unique choice on our list of reviewed products. It features a rame around some of the edges but not in the middle or top. It is similar to the last model in that it has a hanging track assembly. It comes with a handle that doubles as a towel rack on both sides of the door. The glass has a Spot Guard treatment that will assist in cleaning the hard water spots. This Delta model comes in four different glass types and three different finishes.
One thing that we really liked about this product is the range of options available. Delta gave you glass types of clear, rain, transition, and frosted possibilities. They also provided chrome, nickel, and bronze finishes.
Very easy to assemble, fit the shower opening perfect and it made my shower remodel look awesome.
---
3. DreamLine Mirage-X
Best Sliding Shower Doors for Tubs
Many customers may still have tubs installed in their bathrooms. It is difficult to remove, so we included an option to accommodate the tub. We chose the DreamLine Mirage-X as the best sliding shower doors for tubs.
This DreamLine model comes with a right-hand side stationary door. It comes in a frameless design with a bottom track assembly that attaches to the tub. The proprietary L-bar provides a streamlined look. It doesn't come with towel rack handles, so keep that in mind if that is something that you want.
There is clear glass with ClearMax coating to prevent water and stains from building up. It comes with a lifetime warranty, which is more than the Delta line. You can get either chrome or brushed nickel finishes to match almost any bathroom decor.
We liked that DreamLine was able to make a sliding door that helped make your tub look more elegant. The clear glass and frameless design offer a modern touch to your bathtub.
As Ronnie noted in his review,
Best product I've ever bought that comes in a box. The glass and chrome were of the highest quality. The hardware kits we're well marked and extra screws were supplied.
---
4. Vigo VG6041CHCL7274 Elan
Popular Model
| | |
| --- | --- |
| | |
| | |
| | |
| | |
| | Chrome, matte black, stainless steel, & matte brushed gold |
It says a lot about a product when its a best seller, and it has excellent reviews. We chose the Vigo Elan as the most popular model on the market. It is similar to the Woodbridge model that we reviewed earlier but with a few different touches.
The Vigo Elan model comes in a similar design to the previous stand up shower sliding doors that we reviewed. It has an upper hanging assembly track with a vertical handle on one side. There is a frameless design with multiple different choices for finishes. It comes with Vigo's RollerDisk assembly that is designed to withstand the test of time.
Regardless of the finish that you choose, the components are made of stainless steel to increase longevity. Vigo has implemented flex sizing for easy installation, which means that as your walls contract over time, the doors will still hang correctly.
We liked that Vigo took the time to accommodate for the future contraction of walls, which is a common issue in homes. They included extra spacing to ensure that the doors always hang like they are supposed to.
Beautiful, simplistic, solid shower door. Easy to install. Instructions were clear and precise. If you're at all handy, you'll be able to install this shower door.
---
5. Basco Deluxe
Best Framed Sliding Shower Door
| | |
| --- | --- |
| | |
| | |
| | |
| | |
| | Silver, bronze, & brushed nickel |
This product is different than the other ones on our list. We chose the Basco Deluxe as the best framed sliding shower door available. The framed design of this door makes it easier to install, and it will create a better seal with the tile in your shower to prevent splashing.
The Basco Deluxe comes in three different glass types; clear, frosted, and rain. You can also pair any one of the glass types with either brushed nickel, silver, or bronze. It comes with a bypass sliding assembly on both the top and bottom, which guarantees that it will stay in place. It can open from both sides, and it includes two horizontal handles that double as towel racks. It comes with Basco's patented Sta-Clean track assembly, which helps prevent the build-up of dirt and grime within the tracks.
We liked the approach that Basco took to designing this sliding shower door. Many people shy away from the framed doors because they are not as sleek as frameless doors. This door, on the other hand, retains that chic look.
As Jan stated in her review,
Very nice door. Not too complicated to put together. Really great addition to our bathroom.
---
6. Sunny Shower
Every homeowner loves a good bargain, especially when it is also good quality. We chose the Sunny Shower as the best value for money sliding shower door. It is reasonably priced and also has great features.
This model by Sunny Shower comes in a semi-frameless design with runners across the top and bottom. It comes with one long horizontal handle and towel bar. It features two small knobs on the inside so that you can open it from either side from the interior.
It as an aluminum frame that features silent sliding technology so that it glides along smoothly. They only offer a clear glass option, which is sleek but doesn't provide much privacy. It comes with a high-quality bottom seal strip to keep all of the water inside.
One benefit that we found with this sliding shower door is that it is relatively cheap but still looks great in most bathrooms. The quality was great for this price point. There are two finishes to choose from so you can get precisely what you want.
---
7. DreamLine Cornerview 34
Best Corner Shower Sliding Door
Many customers who are searching for a new upgrade may not have tubs or standard standing showers. If you have a corner shower, then this is the best option for you. We chose the DreamLine Cornerview 34 as the best corner shower sliding door.
DreamLine has created another fantastic product that has made it onto our list. This sliding shower door is the only one that we have reviewed that is designed for a square corner shower. It comes with two sliding doors and two stationary panels so that you can open it from both sides. The framed doors come in either chrome or a unique satin black. This is ideal for smaller spaces where a swing door will not work. This model also comes with the ClearMax coating to prevent hard water build-up.
We thought that this corner shower sliding door was unique in that it saved a lot of space in small bathrooms. Swinging or hinged doors can often be difficult to get open in small spaces. We liked that DreamLine included a satin black finish, which is unique compared to other finishes.
Make sure to also check out our guide to the best shower doors for smaller bathrooms.
The bathroom is now a showpiece room and the shower is the main attraction.
---
Sliding Shower Door Cost Range
While making this upgrade to your bathroom is less expensive than a full remodel, there is quite an extensive range of prices available depending on the type of door you choose. Some of the considerations are outlined below.
---
Installing Sliding Shower Doors
Now that you've chosen your new bathroom upgrade, it's time to figure out how to get it installed. There may be some slight differences depending on the type of door, but we will cover the two most popular options; framed and frameless shower doors.
Framed Sliding Door Installation
Measure the top and bottom of the area where you plan to lay the tracks.

Cut the tracks to the exact length that you need using a hacksaw or table saw.

Drill holes into the surface of the track area. Mark the holes with the guides provided in the track assembly.

Layer the base of the track with silicone.

Install the tracks into place.

Place the doors in the tracks once the silicone has dried.
Frameless Sliding Door Installation
Install the upper track assembly for your frameless door. It looks similar to a curtain rod. Measure the width of your shower and cut the assembly accordingly with a hacksaw. Mark guide holes onto the wall so that you can screw the rod into the wall.

Install the support hardware onto the track assembly by placing the rollers on the track and screwing them in.

Attach the hardware to the glass door.

This is a tricky step and will likely require another person's assistance. Lift the glass panels and attach the door hardware to the track assembly hardware.
---
Sliding Shower Door Essential Parts & Accessories
---
People Also Ask (FAQs)
Are sliding shower doors outdated?
In our opinion, sliding shower doors are among the most modern types of doors that you can install. They are much more modern than shower curtains.
How do I determine the size to fit my shower?
You should take thorough measurements of your shower enclosure after the tilework is complete. Measure the width and height from wall to wall. Most sliding shower doors come with a small range for the width so that you can cut the track assembly to the correct size.
What's the best way to clean shower doors?
Even though most of the doors that we reviewed come with a coating to help prevent soap scum, you will still need to wash them occasionally. We recommend using vinegar, baking soda, or ammonia and a scrub brush. You can also buy a specialized product for bathroom cleaning from Amazon.
How do I fix a leaking frameless sliding shower door?
You should invest in a seal to place at the bottom of the track assembly. You can also buy plastic seals to close off any leaking connection points.
Where is the best place to buy sliding shower door replacement parts?
We recommend shopping on Amazon for all of your sliding shower door needs or accessories. Their range and quality is second to none.
---
Conclusion
In this buyer's guide, we have reviewed and tested all of the best sliding shower doors on the market. We have provided you with tips and tricks for installation and cleaning. With this handy guide, you'll be able to find the best sliding shower door to suit your bathroom.
In this roundup, we would like to point out our top pick as the Woodbridge MBSDC6076C. It offers a lifetime warranty on shatter retention glass as well as an anti-splash threshold.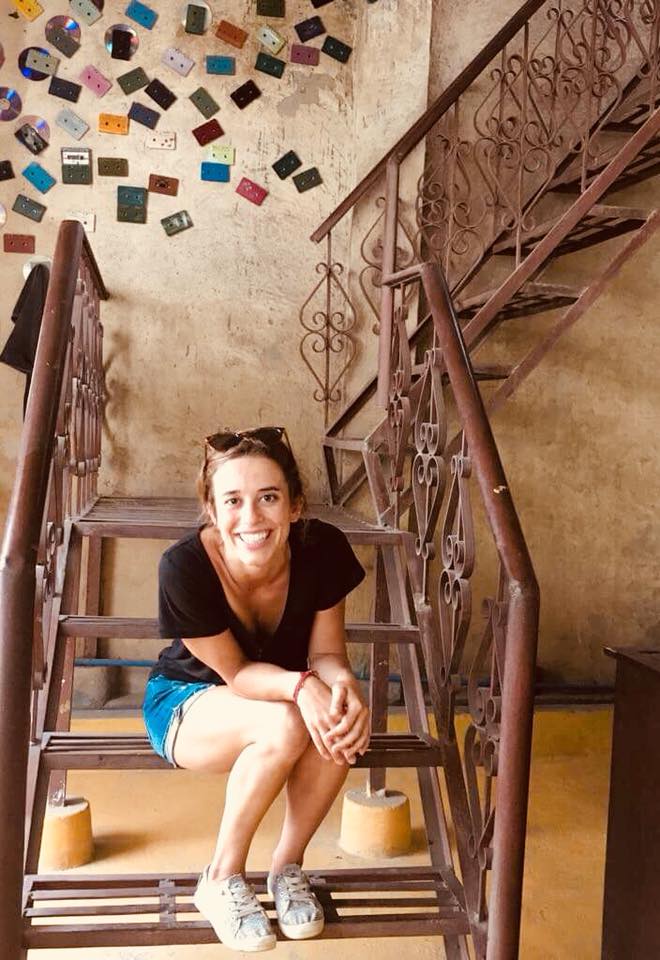 Caitlin Shaffer has been traveling & working as a content writer & SCUBA dive instructor since 2014. Having lived in Central & South America, Southeast Asia, India, & Australia, Caitlin has had many years of experience with a variety of kitchen, bathroom, plumbing systems & common household products. Other than writing about her plumbing experiences & knowledge, her main passions are yoga, ocean conservation, & sustainable development.