Choosing the right toilet for your home is essential. Luckily, there are so many toilets on the market these days there's one for every need, budget, and aesthetic taste. We've studied one particular brand, Gerber. Spoiler alert...we highly recommend them.
Gerber is an American brand which has been around since 1932, selling high-quality plumbing fixtures, thriving even through WWII. The past 10 years have seen many award-winning toilet models developed by Gerber, especially the Avalanche toilet (a powerful flush!).
They offer a range of styles such as one-piece, two-piece, wall mount and floor mount toilets, as well as ergonomic and inclusive seat designs.
Here you will find an in-depth guide to selecting a Gerber toilet, as well as reviews of four of the best Gerber models.
Page Contents (Click Icon To Open/Close)
All Gerber Models Compared
Dimensions
(inches) (HxWxD)

Avalanche, 3" flush valve, dual-fed siphon jet

Dual-fed siphon jet,
3" flush valve
---
Gerber Toilet Types
One-Piece or Two-Piece
Two-piece toilets have two separate components: the tank and the seat/bowl. A one-piece toilet is one cohesive unit.
Two-piece toilets are easy to maintain as you can replace the tank without replacing the seat/bowl and vice-versa. A one-piece toilet needs to be totally replaced if a fault happens. One-piece toilets are generally more attractive, modern and sleeker looking. Gerber offers both.
Wall-Hung or Floor Mounted
Gerber offers two main types of toilet designs in terms of application in your bathroom: wall-hung and floor-mounted. Wall-hung toilets have a seat/bowl which hovers above the floor, with the tank either concealed behind the wall or sitting above the bowl.
This creates a super sleek, space-saving, and modern look. Floor-mounted toilets are connected to the floor with the tank visible behind the bowl. Wall-mounted models are connected to a drain through the wall, floor-mounted toilets are connected to a floor drain.
---
What makes the Gerber Brand Popular?
Flush tech
Gerber is famous for the flush technology they use. The dual-fed siphon jets make the flush super fast for a quick and thorough flush (this is referred to as the PowerClean Flush by Gerber). More on these below!
They also often use a 3-inch flush valve (the part which sends the water into the bowl) which is a great size for fast and powerful water flow. The quicker the water, the stronger the force when pushing waste through the system. They also use the popular FluidMaster fill valve (the part which controls the filling of the tank after each flush).
The FluidMaster fill valve is durable, reliable, and easy to change if need be. A good fill valve is vital for a well-functioning flush as it makes sure the water tank is always operating properly. (You know if your fill valve is on the fritz if your toilet continually runs, the tank doesn't fill properly or the flush is super weak). Gerber's two key flushing methods are the Pressure Assist and the Gravity Fed, which we discuss further below.
Usability and inclusivity
Gerber is a great brand for anyone seeking an ADA (Americans with Disabilities) approved toilet in terms of seat height and shape. The ADA requirement for toilet seat heights is 17" minimum (from floor to top of seat), and Gerber ErgoHeight toilets are at least 16.75".
This is also known as a "comfort height" toilet, which is easier for the elderly, those with disabilities and knee issues to get up and down from. The standard toilet seat height (floor to top of seat) is about 15".
Energy-friendliness
One of Gerber's best-loved features is energy efficiency. WaterSense certifies them for their low water consumption. Most Gerber toilets use 1.28 gallons of water, much less than the standard 1.6 gallons. Gerber also offers toilets with much lower GPA ratings, as low as 0.97 and 1.0 GPF.
They are also labeled as a High-Efficiency Toilet (HET), which also refers to water usage. You save money and help to conserve water!
---
Buyers Guide to Choosing a Gerber Toilet
Toilet Type
Wall-mount toilets are the best for easy cleaning and saving space as there are no corners, joins or awkward areas to clean. The floor below the bowl is entirely bare and accessible. However, they're harder to install and harder to maintain due to the tank being tucked away.
Bowl Shape
Gerber offers round front, elongated and compact elongated bowl shapes. The shape does affect the comfort and user-friendliness of the toilet. Round toilet bowls take up less space while elongated bowls are more comfortable and accommodating for larger people or those with disabilities.
A compact elongated bowl is elongated in shape, but smaller in size. Consider how much space you have and what your family's needs are to determine the best bowl shape. Our full guide to the best elongated toilets can be found here.
Drain Location/Rough-in Measurement
The rough-in measurement is the measurement from the wall to the center of the toilet pipe. You can use the toilet floor bolts as your measuring mark (i.e., from wall to between the bolts). This is important because it will determine whether or not your toilet will fit and be in line with your floor drain.
The standard rough-in measurement is 12", which Gerber follows. For wall-mount toilets, the rough-in is a vertical measurement (the Gerber wall-mount toilets have a 4" rough-in) as the outlet is in the wall, not the floor.
Toilet Height
The standard toilet height is approximately 15", whereas ErgoHeight seats are 16.5+". A standard toilet height might not be comfortable or safe for the elderly or disabled. However, an ErgoHeight toilet seat is comfortable for all household users. (Small children can use a toilet helper step). Gerber offers many ErgoHeight toilets.
Design
Make sure your toilet choice blends in with your bathroom and matches the color scheme and overall style (i.e., a wall-hung style for super modern bathrooms). Gerber offers Biscuit, Bone, and White shades. Gerber uses Vitreous China for their toilets. Vitreous China is really durable, stain resistant, scratch-resistant and has a gleaming surface which resists waste sticking.
Water Saving Technology
Gerber impresses with their approach to eco-friendliness and responsible water consumption.
Because of their super strong flush system, less water is required. Gerber toilets use 1.28 GPF (gallons per flush), which earns them a WaterSense certification and HET toilet mark (High-Efficiency-Toilet). Look for the WaterSense logo on your Gerber products.
Flushing Mechanism
An effective flushing mechanism is essential because it will remove waste quickly and thoroughly with minimal mess left behind. It will be water-efficient (Gerber has WaterSense certified 0.97, 1.1, 1.0, and 1.28 GPFs). It won't run, leak, be noisy, or take forever to refill the tank.
A suitable flush mechanism will save money (less water usage) and time (less maintenance and repairs) in the long run. Gerber ticks all of these boxes with both the Pressure Assist (uses compressed air to accelerate the waste removal) and Gravity Fed methods (uses a long, slim tank to create a faster water flow down a wider flush valve).
Price
Gerber prices aren't too bad at all. Their pricing is similar if not cheaper than popular brands and competitors Kohler and American Standard.
They don't have the mega fancy, expensive options like other brands such as Toto, but they offer quality for reasonable prices. The four best models we have reviewed here are not super cheap nor are they really expensive (a range from $300 to $500approx.).
Warranty
Gerber offers either a 10-year warranty or 5-year warranty on the toilet unit (depending on the model), with a 1-year warranty on the seat itself.
Cleaning matters when it comes to the warranty: use of in-bowl cleaners or bleaching agents will void the warranty. Installation is also key: if you use a tool to tighten the coupling nut for the fill valve, your warranty won't be valid if the valve splits.
You don't necessarily need a plumber to install the toilet initially, but it would be worth it if you're inexperienced or unsure. We recommend registering your product on the Gerber website to make the process easier. Contact Gerber, your contractor, or the vendor from whom you bought your Gerber toilet to get the warranty process started.
---
Special Features of Gerber Toilets
---
4 Best Gerber Toilets Reviewed
1. Gerber Avalanche 21-014 1.28 1-PC Ada
First up is a fantastic Gerber one-piece toilet. There are other one-piece toilet options offered by Gerber, but we think this is the best of the lot. It has the famous Avalanche flush system with a FluidMaster fill valve for a fast, effective and economic flush.
The trapway is large and glazed, encouraging a clean and thorough waste removal. The Avalanche range also has a substantial water surface which helps to keep more of the bowl's surface area clean and rinsed.
The ErgoHeight, elongated seat complies with ADA specifications for ease, safety, and comfort for many mobility types. The one-piece design is sleek, attractive and compact enough for little bathroom spaces.
We especially love that the 21-014 model is WaterSense certified for economic, cost-effective and responsible water usage, with 1.28GPF.
This comment really sums up the user-friendliness of the Gerber 21-14: "I bought one and 3 years later decided to replace my 2 other toilets with the Gerber Avalanche model because it works so well! Flushes thoroughly and refills fast! Saves water consumption too!".
---
2. Allerton 2-Piece
Next up is our top choice for the best Gerber two-piece, floor-mount toilet. There are numerous two-piece options from Gerber, but we've chosen this as the top pick. This model is up to ADA standards, with a 17" inch ErgoHeight, elongated seat perfect for the whole family. The floor-mount design is easy to install and sturdy.
"The unique combination of clean lines and square edges makes the Allerton™ Suite of products an understated, elegant style choice. " - Gerber
The flush is accelerated by the extra-large dual-fed siphon jets which gets the job done quickly and thoroughly. The FluidMaster Fill Valve prevents irritating leakages, running and weak flushes, while the 3" flush valve allows for a gravity-fed, powerful flush. The glazed trapway helps to keep things clean. Choose from white, bone, or biscuit hues. WaterSense certification is a fantastic feature for saving money and conserving water.
We think the Allerton HE-20-007 is an excellent choice if you require a toilet which is suitable for the elderly, disabled or simply for more comfort.
This is a traditional toilet in terms of aesthetic, with a little touch of classic style thanks to the flush lever. This model would look great in all bathrooms.
---
3. Gerber Maxwell Wall Hung
Third up is a Gerber wall-hung, two-piece toilet as part of the Maxwell range. You can buy these parts separately (the bowl or the tank) or you can buy them as the set under the model number 20-021. Do be aware that the seat isn't included; you'd need to purchase that separately.
The wall-hung design looks super sleek and modern with clean lines, plus it's easy to clean as there are no gaps and nooks to clean around as with a floor-mount style. The compact size makes this a great option for small bathrooms
The height is adjustable due to the wall-hung nature, so you can have the toilet installed at the height you require. This is especially great for those with specific needs. The 1.28GPF is fantastic for saving water and money. The flush system is powerful and thorough as expected from Gerber, with the glazed trapway, dual-fed siphon jets, and 3" flush valve. This particular model only comes in white.
Customers love this model, as shown in reviews such as this one: "We choose this toilet over others. Based on the reviews we read, we felt it would be a better solution to replace a 53-year-old existing toilet. It has lived up to its reputation. Installation was easy, and it flushes well. I would highly recommend this product !!".
Remember that the installation for wall-hung toilets is a little more tricky and specific than floor-mounts. Your plumbing configuration needs to be suitable for the back outlet drainage.
---
4. Gerber Viper Complete Toilet-in-A-Box
Last but not least, we have the most affordable model on our list, the Gerber Viper Complete Toilet-in-a-Box. You get everything you need with this two-piece, floor-mounted elongated toilet, including the wax ring, gasket, and hardware.
The Viper range is very popular, (Marriot uses them for many of their hotels, for example).
It has all of those flush-related features we now expect from Gerber: tall, slim tank for extra pressure, fast water flow, dual-fed siphon jet, glazed trapway plus rim jets for a rinsed, clean bowl. It also has the FluidMaster fill valve for a well-functioning flush and easy replacement when need be.
The Viper 205-62 has a WaterSense certification with 1.28GPF. For a close-up look at how the Viper actually works, check out this video. Note that this doesn't have an ErgoHeight seat, it has a standard height instead (15-15.5") so keep this in mind for the elderly or disabled people in your life.
This is a good-looking toilet, fit for most bathroom designs. It has nice angles and lines, an elegant elongated bowl and a lever on the side of the tank. What's more, it's the cheapest Gerber toilet on our list.
---
Gerber Flushing Systems Explained
Across all toilet brands, models and makes there are two main flush types: the traditional, original gravity-fed type and the newer pressure-assist type. Gerber offers both of these.
Gravity Fed
The Gravity Fed design creates a super powerful flush by making the water tank taller, therefore creating more weight and pressure as the water falls through the valve. This is where that 3" flush valve comes in, to allow all that fast water to pass through easily.
It also has the dual-fed siphon jet which "forces the water through, with maximum power." Gravity-fed toilets are the most popular on the market, with pressure-assisted toilets creeping their way into popularity too.
Gerber Pressure Assist Toilet
Pressure-assisted toilets are newer to the market, but are well-liked for their explosively thorough flush. The Gerber Pressure-Assist flushing system (found in the Ultra Flush range) uses pressurized air from a pressure vessel in tandem with water to create a fast and thorough flush.
The pressurized air creates a powerful suction which helps to remove the waste using less water than with a gravity-fed system.
---
Comparisons with Other Brands
Gerber stands up well to other popular toilet brands such as Kohler, American Standard, and Toto. All three have WaterSense certified options with GPF ratings of 1.28 and lower.
All three brands have ADA-regulated toilets. We think Gerber has a superior flush technology than all three brands. In terms of cost, Gerber is the cheapest option.
---
Installation of Gerber Toilets
Installation requirements depend on the toilet type and the condition of the plumbing and existing parts. We recommend getting a plumber to do the job.
How much are Installation costs?
It depends on the amount of work which needs to be done to install the toilet. A basic, straight-forward installation could cost between $150 and $250, but more tricky or extensive work could reach toward $400 and above.
For example, if you're installing a wall-hung toilet to replace a floor-mount toilet, you're looking at a very expensive plumbing re-adjustment. Again, the cost does depend on the plumber, and the work at hand, so make sure to get a quote and be prepared for unexpected expenses.
Benefits of getting a plumber to do the job
We recommend getting a plumber to install your new toilet. The cost might seem steep up front, but imagine the price if you mess up the installation yourself and need to pay for even more work to be done.
Here's a video demonstrating the installation of number 3 on our list, the Maxwell Wall-Hung toilet so you can see what's required
---
Toilet Maintenance Tips
Keeping your toilet clean regularly is obviously the most important maintenance tip. A clean toilet is a safe, fresh-smelling, and user-friendly toilet. But there are other maintenance tips to remember too, to keep the toilet running in tip-top condition. Here are our suggestions:
---
People also Ask (FAQs)
What is the safest way to remove hard water stains & mold from my Gerber toilet?
Avoid bleaching agents and chlorine as it can damage the plastic components and void your warranty. Baking soda can be effective against water stains and mold. Otherwise, use a gentle toilet cleaner or natural all-purpose cleaning spray and a soft cloth.
Cleaning vinegar is also useful, but it has a pH of 2.5 (very acidic, Gerber recommends cleaning agents with a pH of 5 and above). You could use it very carefully, being sure not to let it come in contact with the plastic components.
What should I do if I smell an odor in my Gerber toilet?
Check out where the smell is coming from. If it's the tank, there might be mold or mildew developing (it will smell musty). If so, give it a thorough clean using non-bleaching cleaning agents.
If it's coming from the bowl itself, give the toilet a deep-clean using your usual toilet cleaning routine (a low-acidic toilet cleaner, a brush, disposable cloths, and disinfectant spray). This should do the trick. If not? Give your plumber a call and ask for their advice.
Where is a good place to buy new Gerber toilet?
Amazon is the best place to find a Gerber toilet. You'll find in-depth customer reviews and images to help you make the best choice.
---
Conclusion
We hope you found our Gerber toilet reviews handy! Even better, we hope you've got a clearer idea of which toilet you will choose for your reno, new home, or toilet replacement job. Our top pick is the Gerber Avalanche 21-014 1.28 1-PC Ada Elongated Compact Siphon Jet Toilet.
It has a comfortable ErgoHeight seat, a powerful, thorough flush, economical water usage, and an easier-to-clean one-piece design. Remember to check in with your plumber for installation if you're unsure!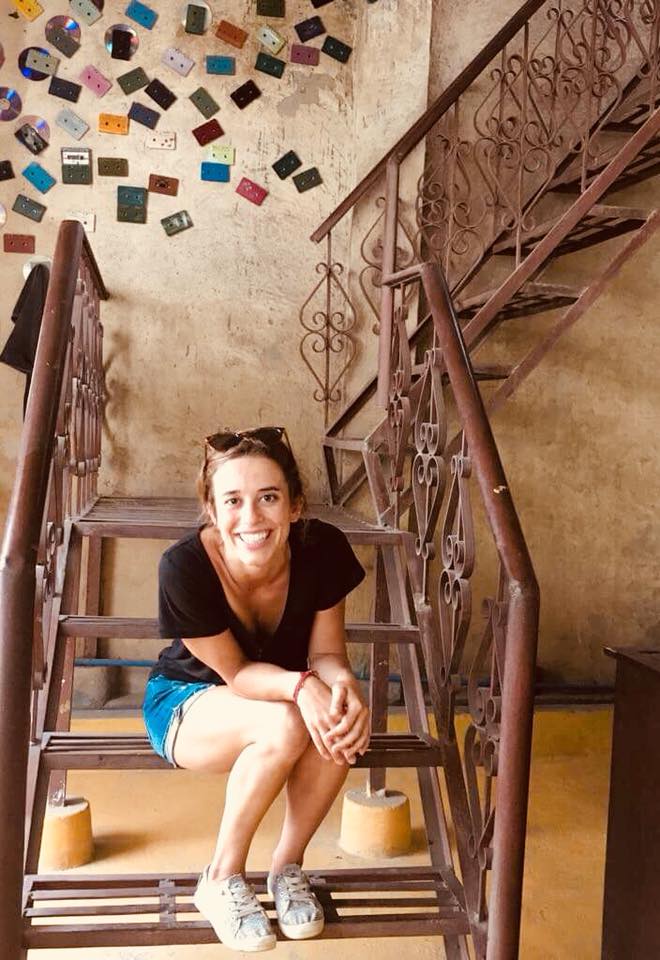 Caitlin Shaffer has been traveling & working as a content writer & SCUBA dive instructor since 2014. Having lived in Central & South America, Southeast Asia, India, & Australia, Caitlin has had many years of experience with a variety of kitchen, bathroom, plumbing systems & common household products. Other than writing about her plumbing experiences & knowledge, her main passions are yoga, ocean conservation, & sustainable development.