Toilets are an integral part of our lives, and we rely on them every day. There are two styles of toilet: two-piece and one piece. Macerating toilets are toilets that blend human waste into slurry to make it easier to pass through the plumbing.
An up flush toilet system flushes the slurry upwards, making it possible to have toilets in the basement. If you are considering purchasing a macerating toilet, please use this review to help decide.
Page Contents (Click Icon To Open/Close)
Macerating Toilets Compared
Buying the right Macerating Toilet For You
Blade Quality & Pump Power
The main qualities of macerating toilets are the powerful pump and sharp blades; these two parts, in particular, need to be high quality. Lesser quality blades and pumps will only cause more problems in the future. Make sure to carefully read the customer reviews and product description to get the best upflush toilet for you and your home.
Ease of Installation & Maintenance
Macerating toilets are typically easy to install with the right equipment and clear instructions. Having the right gear, the product manual, and a video tutorial go a long way, but also confirming that your home can support an upflush toilet beforehand will save you a lot of potential headaches in the future. However, if installing a toilet seems overwhelming, we recommend bringing in a professional to help.
Wattage & Rated Voltage
While some macerating toilets run on battery power, a lot of them have various wattage or voltage levels. Each model has a different power level, so make sure to confirm what your home can support and read the product description carefully beforehand. This is the best way to ensure that you get the best upflush toilet for your money.
Water Consumption
Typically, macerating toilets are better at conserving water during use than standard toilets, but it is possible to adjust the water levels on some models.
Look carefully at the parts and manual to see if your macerating toilet's water consumption can be adjusted. If you are unsure what GPM to get, 1.6 GPM is a great place to start.
Dimensions
There is not really a standard size for toilets, but they often range between 23 and 28 inches deep, 13 and 20 inches wide, and 15 to 18 inches high. The exact specifications will change depending on the shape of the bowl, whether it is a comfort or standard toilet, the brand's personal preferences, and more. Measure your bathroom carefully and use your existing toilet as a guide when choosing a new toilet.
Bowl Type & Style
In America, there are two styles of toilets; round and elongated. Round toilets are the more traditional and 'standard' style, whereas the elongated toilets are a modern innovation that increases comfort while the toilet is in use. The size of your bathroom and personal preferences will let you know which style is best for your home.
Aesthetics & Design
When renovating a bathroom, we know that you choose every piece and item carefully to fit your design aesthetic. Do some research online to find your perfect toilet style and hunt around to see if a macerating version of that dream exists. A toilet that compliments the style of your bathroom will really tie the room together nicely.
Price & Warranty
Macerating toilets are designed to last as long as standard toilets, meaning that with proper care, they can last for up to 10 years. In terms of warranties, this will vary depending on brand, model, and store, but they typically last between one year and a lifetime.
Make sure to read the product descriptions and company warranty policy carefully before purchase. It is also worth remembering that, as with all toilets, there is both the upfront cost to consider as well as the maintenance and repair costs in the future. Typically, macerating toilets are more expensive upfront and then cheaper to maintain in the long run, but this can vary.
---
6 Best Macerating (Upflush) Toilets Reviewed
1. SANIFLO SANIACCESS 2
Our top pick for the best macerating toilet, the Saniflo Saniaccess 2, is an excellent option for customers looking to upgrade from a standard toilet. The sharp blade used to turn waste into a slurry is made of metal and is incredibly sharp.
This two-piece and round toilet has a basic design and looks very similar to a standard toilet, with some users noting that friends and family members often do not notice the extra parts at the back of the toilet. Running at 400 watts with no batteries required, this toilet has a quiet pump that can push waste up to 5 meters vertically and 100 meters horizontally, making it easy to configure with your existing piping system.
This Saniflo upflush toilet is easy to install, clean, and maintain, and its simple design does not clash with existing bathroom décor. The two-year limited warranty has you covered should breakage occur or parts need to be replaced.
Many customer reviews have praised its smooth function and easy installation. If you feel that you may need help with installation, contact a professional for a consultation. Overall, this is a great macerating toilet that will upgrade your quality of living for an affordable price.
Our complete guide to Saniflo toilets can be found here.
---
2. Liberty AscentII-RSW
Best Rated upflush toilet
The best-rated upflush toilet, liberty macerating toilet reviews regularly praise the Liberty AscentII-RSW for its smooth installation, affordable price, and great function. The flush is both quiet and powerful, making for a relaxed bathroom experience. While the 1.28 GPF is a decent water consumption level, some homes may need a more powerful flush.
The 115 voltage and the macerator pump provide more than enough power. This round toilet has a basic design that fits into any bathroom décor; while some may want a more modern or fancy style of toilet, this is a nice clean design that suits any bathrooms, saving you money on redecorating.
Many Liberty upflush toilet reviews praise its fast shipping and easy installation along with its excellent function. However, other reviews have noted that certain parts can be fiddly or may not be suitable for their home's plumbing. The three-year limited warranty has you covered in case parts wear down or a malfunction occurs.
With all of these great features, it is easy to see why the Liberty AscentII-RSW is one of the best on the market. Try it for yourself and see how this macerating toilet can transform your at-home bathroom experience.
---
3. Saniflo SaniPLUS
Best upflush toilet for basement
Having a basement in your home provides so many opportunities; one common choice that homeowners make is putting a bathroom in their basement to maximize their home's space. The Saniflo Saniplus is our best upflush for basements primarily due to its compact size and robust system.
With a water consumption rate of 1.6 gallons per flush, this toilet provides a lot of bang with every flush, working with the motor to push your waste vertically. 110 volts of power is perfect for powering this great macerating toilet system, removing the need to replace batteries. Many people think that with great power comes great noise, but this is not the case here; the Saniplus is quiet and easy to install.
Many Saniflo upflush toilet reviews state that they like not having to cut through concrete for this toilet and that they love having a second toilet in their home. It is also worth noting that some customers needed an extra hose clamp or other small parts to fit this model into their piping system. Others have pointed out that the toilet seat can shift, but this is easy enough to fix. If you are looking to renovate your basement, consider adding this macerating toilet system into your home.
---
4. Jabsco 37010
Best marine macerator toilet
These days, modern marine vessels are doing their best to be as comfortable, current, and convenient as possible – bathroom design included. Knowing that your bathroom is top-notch can help you relax while enjoying the open water. This basic round style toilet fits into compact marine bathrooms of any style, and this model does not use too much power.
As a marine macerator toilet, this model is regularly praised for functioning well and having a powerful flush. The manual provides clear instruction, and the parts are easy to install into most vessels, with this model often used to upgrade from original or older toilets that came with the boat. However, some reviews do note that this toilet's flush is on the louder side and that the seat could be bigger.
All in all, Jabsco's 37010 is an excellent option for your marine adventures, just make sure that your boat's pipe system is compatible. Not all boat systems will be able to function with this model, so consider consulting a professional or Jabsco itself to make sure that it fits in before purchase. If you're in the market for a toilet upgrade, the Jabsco is a great option for your marine vessel.
---
5. TMC Electric FO-1560
Best cheap boat macerator toilet
If you are still looking for a boat macerator toilet but want to get an even more affordable option, the TMC Electric FO-1560 is for you. Another round and basic white style macerating toilet, this toilet is considered to be a similar size to standard household toilet bowls. Rather than a handle or pull system, this toilet has a button that controls it. This model is both durable and quiet during use, which is perfect for those looking for a quality investment.
The TMC Electric FO-1560 is regularly praised for being easy to install and clean, meaning that maintenance should be easier than with other models. A one-year motor warranty is perfect for a motor fault or breakdown. While these features are all excellent, customer reviews have noted that the customer service team can be hard to get a hold of or deal with and that the toilet seat could be sturdier.
Both of these can potentially be solved with DIY or researching online, but they are important to consider before purchasing a new macerating toilet. Overall, we would recommend this model for marine enthusiasts on a smaller budget and the above for those with a larger price point.
---
6. Saniflo SaniPlus
For those who want the top of the range macerating toilet, the Saniflo SaniPlus is a wonderful addition to any home. Not only is the design sleek and clean enough to fit into most bathroom décor, but the elongated toilet seat is notably comfortable.
If you struggle with grey water buildup in your sink, shower, bidet, or other areas, this model can help you discharge this water buildup easily. Many user reviews note that this two-piece model was easy to install thanks to the included SaniPLUS macerating bathroom pump, tank, and toilet bowl.
The Saniflo SaniPlus has a healthy flush that uses around 1.6 gallons each time. Saniflo's two-year limited warranty has you covered should a fault or breakage occur. However, because of all of its excellent features, this particular model is on the expensive side and may be out of budget for some customers.
Others have noted that while it is easy to install for those who have installed toilets before, first time DIY fans may become overwhelmed and should consider consulting a professional beforehand. Overall, this macerating toilet is a worthy home investment that can help transform your bathroom and the quality of your daily life.
How Does a Macerating Toilet Work?
Unlike standard toilets, a macerating toilet works by blending waste into a slurry with metal fans for around 15-30 seconds. Once that is complete, a drain pump pushes the slurry up to the nearest drain line.
Some great features of macerating toilets include:
It is worth noting that some models can be used in RVs and boats, as well as in homes and apartments.
---
Pros & Cons of Upflush Toilets
Benefits of upflush toilets include:
Some of the drawbacks of macerating toilets include:
---
How to Install a Macerating Toilet System
Once your macerating toilet arrives, it is essential to place the box in a roomy area near or in the bathroom. Confirm that you have all of the pieces and tools that you need along with a clean cloth and a bucket before starting to fit the toilet manually.
Once you are ready, read the manual carefully and follow those instructions. For reference, here is a general upflush toilet installation guide to use alongside your manual:
Removing your old toilet
Clean the toilet thoroughly before handling it.

Place a bucket and an old towel underneath yourself and the toilet before beginning.

Switch off the water supply and drain the toilet bowl. A towel can be used to wipe up any remaining drops.

Disconnect the water pipe with a wrench.

Remove the fixing bolts and any sealing silicone.

Detach the toilet from the soil pipe at the back and cover the soil pipe with a cloth or plastic bag to prevent harmful gas or waste from entering your bathroom.

Inspect the bolts and other fixings for damage or rust and replace them as needed.
Installing a new toilet
Measure up and add a wax ring.

Remeasure and fit your drill holes.

Reconnect your toilet to the soil pipe.

Secure the toilet to the floor

Connect the water pipe to the cistern.

Turn on the water and inspect for leaks.
With macerating toilet installation, it can feel overwhelming to do alone. If you are stuck or unsure, it is worth contacting a local professional for a consultation or to simply install the toilet for you. This should be a quick process and therefore not so expensive.
---
Common Upflush Toilet Problems & Fixes
Why won't the toilet turn off?
Constant flushing means that there may be damage or blockage within your macerating system. Turn off the water supply and look for blockages in the macerator, pump, and waste outlet pipe. Alternatively, the return valve may be faulty and need to be replaced.
The toilet is running but not pumping out
The waste pipes may be frozen or damaged. Warm-up and insulate the pipes thoroughly and be prepared to remove part of the waste if necessary.
Why does the macerating toilet smell?
This could be caused by limescale or human waste buildup. Clean out your toilet and descale it a couple of times.
Why is the toilet making a horrible noise and vibrating?
Usually, this is caused by something lodged in the blade itself. Remove the blockage with pliers immediately.
Why is my toilet leaking?
Typically, this is caused by a substantial buildup of waste, a worn rubber membrane, an old motor, or a shrunken rubber waste outlet. The first cause can be cleaned up, but the latter three should be replaced as soon as possible.
---
How to Maintain Macerating Toilets
Cleaning and maintaining a macerating toilet is key to ensuring that it continues to function flawlessly for as long as possible.
Choosing a model with a powerful flush helps with passive cleaning, but inspecting and cleaning your toilet thoroughly every week is essential. Descale your toilet and check the fans every month to prevent blockages or other issues.
---
People Also ask (FAQs)
How long do macerators last? How long do the pumps last?
Macerators are designed to last as long as toilets, which can last 10-15 years with regular care and maintenance. The pumps can last around 5 years or so.
Are Saniflo toilets any good? Do they smell?
Macerating toilets are not designed to smell. If they do, this is typically caused by waste or limescale buildup. This can be avoided with regular descaling and cleaning.
Are batteries always required?
Not necessarily. Read the product description and instructions carefully before purchase.
What is the best Macerator pump for RVs?
While there are plenty of good macerator pumps for motor homes and RVs, we would recommend this particular model from Amazon.
Do I need to hire a plumber to install a macerating toilet? What's the average installation cost?
The cost to install a macerating toilet varies depending on the time taken, your area, and how complicated the installation for that model is. That being said, it can cost between $150 and $800.
How can I unclog a macerating toilet?
Where is the best place to buy upflush toilets?
While the brand store or your local hardware store are good places to look, we would recommend Amazon for its large selection, regular deals, and a wealth of customer reviews.
---
Conclusion
While we do love all of the products on this list, we would have to recommend the Saniflo Saniaccess two due to its excellent features, customer reviews, and affordable price. This is the best macerator toilet on our list.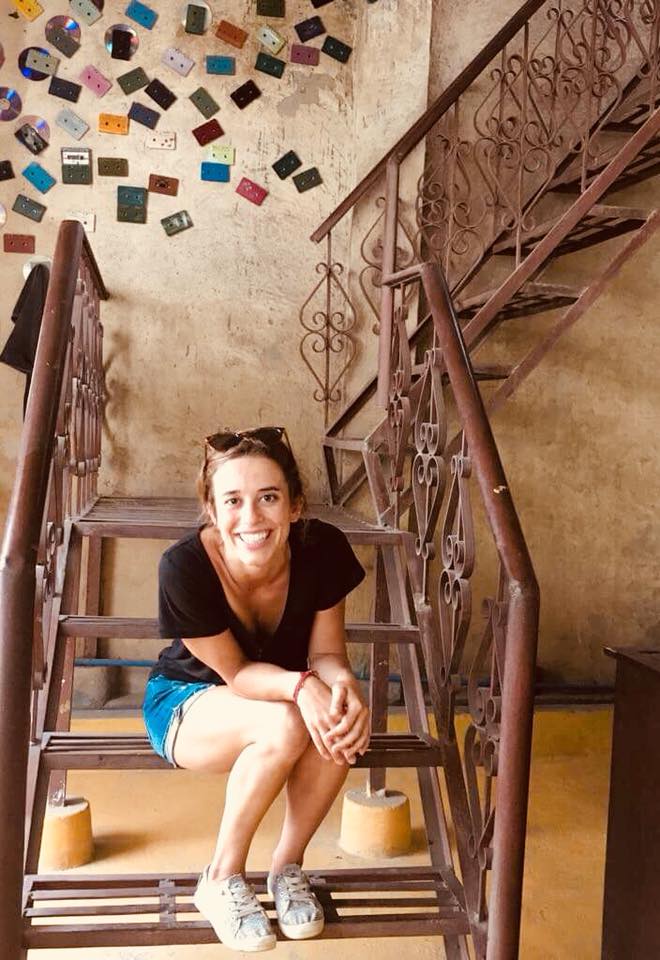 Caitlin Shaffer has been traveling & working as a content writer & SCUBA dive instructor since 2014. Having lived in Central & South America, Southeast Asia, India, & Australia, Caitlin has had many years of experience with a variety of kitchen, bathroom, plumbing systems & common household products. Other than writing about her plumbing experiences & knowledge, her main passions are yoga, ocean conservation, & sustainable development.