A shower head is an important bathroom feature as it can make or break the quality of your shower experience. There are many brands on the market, but here we are reviewing Waterpik.
Waterpik was founded in 1962 in Colorado, under the original name of Aqua Tec Corp., a company that started out creating oral hygiene products. In 1973 they invented the first massaging showerhead, and in 2003 produced their first water-saving showerhead.
We have picked the best Waterpik showerheads to explore so you can find the very best one for you and your shower.
Page Contents (Click Icon To Open/Close)
Waterpik Shower Heads Compared
| | | | | | |
| --- | --- | --- | --- | --- | --- |
| | | | | | |
| | | | | | |
| | | | | | |
| | | | | | |
| | | | | | |
| | | | | | |
| | | Dual (hand-held and fixed) | | | |
---
What Makes Waterpik Shower Heads Different from other Brands?
Waterpik shower heads stand out from the crowd because they have an extensive range of options for different aesthetics and user needs at super-low prices.
---
Waterpik Shower Head Buying Guide
User Needs
what's the height range of the people using the shower? Will you be washing pets (therefore, a hand-held with gentle spray options)? Will elderly people or those with difficulties reaching or handling small items be using the shower?
Water Pressure vs. Water Flow Rate (GPM)
is the water pressure in your home on the weak side? If so, consider OptiFLOW to maximize the pressure
Efficiency
Waterpik's EcoFlow products maximize pressure even with a low flow, to use less water and energy without suffering through a weak shower. Certified by EPA WaterSense.
Shower Head Type
What type of shower head is preferable? Handheld for more control? Fixed for consistency? Rainfall for wide, luxurious water flow?
Spray Patterns/Settings
explore features such as wide coverage areas, massage, tension release, water-saving mode, pulsating, mist, whole-body, power duo-combo options, adjustable heights, and pet wands.
Convenience
Note the hose length versus user height, installation and mounting methods and requirements, and maintenance routine.
Quality & Design
Do the color, shape, and style complement the rest of your bathroom design?
Cost, Certification & Warranty
WaterPik offers a limited lifetime warranty on all of their shower heads, as long as you can present proof of purchase.
Note that Amazon cannot send some WaterPik shower heads to New York, California, or Colorado because of strict water flow rules.
Shower heads in California can have a maximum of 1.8 GPM only, and most WaterPik shower heads are rated at 2.5 GPM (with a few 1.8 GPM options)
---
7 Best Waterpik Shower Heads Reviewed
1. Waterpik TRS-559
At number one, we have the most popular Waterpik handheld shower head, the TRS-559 showerhead in modern-looking brushed nickel finish. We like that this has a 5-foot hose so you can easily get down and wash pets, little kids, and those who require assistance.
This model has OptiFlow technology for consistent pressure, even with low water flow. For such a low cost, you get some great features such as 5 different spray modes: full body, full body massage, mist, pulsating massage, and slow massage. It doesn't feature the EasySelect Spray Selector, but the head has ridges and a handy tab for fast and simple spray selection.
The TRS-559 is super easy to install yourself in a few minutes, (as long as your old shower head is easy to remove!). The bracket is easily adjustable so you can angle the shower head wherever you require it to go.
This is an excellent choice for you if you need something very cost-effective, easy to install, and versatile in terms of movement and placement. If you want the novelty of different flow options but don't want to shell out for a fancy model, this is the perfect pick.
---
2. Waterpik NML-603
Waterpik High Pressure Flexible Neck Best...
Patented 18-inch flexible shower head neck to...
Accommodate any height, short or tall -- low...
Shower head automatically stays where you put...
Chrome finish and 6 spray settings, including...
Next up, the NML-603 FlexNeck showerhead with PowerSpray+ for strong pressure and a sleek chrome finish. Note that this is a fixed-mount shower head as opposed to handheld, so you won't be able to give pets an up-close wash with this one.
However, it has a generous 18" neck that can be bent to reach high or low and stays in place. This is excellent for multi-height households; your 6'4 husband won't have to awkwardly crouch, and your 3'5" child can get a close-up wash.
True to WaterPik style, the NML-603 features OptiFlow for a consistently strong pressure even despite low water flow. What's more, you get 6 spray options: full body, full body/PowerSpray, full body/massage, PowerSpray, pulsating massage, and water saver. The water saver setting is excellent for saving water during dry seasons and for keeping your bills down.
This is an excellent pick for you if you'd rather keep your shower head fixed to the wall (perhaps to prevent the kids from going rogue with water fights). If your budget is small, you'd like easy DIY installation, and plenty of spray options, you can't get much better than this for such a low cost.
---
3. Waterpik SM-653CG
Next up, the SM-653CG Waterpik shower head with 6 settings and a sleek chrome finish. This hand-held option is similar to the TRS-559 in that it has a 5-foot hose, OptiFlow, and easy DIY installation. However, it's a step up as it offers 6 spray settings: full body, full body/massage, PowerSpray, pulsating massage, slow massage, and water-saving trickle.
A few customers have noted that it can be a little tough to change the spray settings by turning the head, as it doesn't have the EasySelect feature. Others have mentioned that the hose is a bit stiff and doesn't hang as loose as they'd like.
However, considering the meager price and the wide array of options, a few little issues can be forgiven. This would suit homes with different-sized users, pets, and those who require various spray settings from a pressurized massage to a little trickle for a light rinse.
*Note that there is a 1.8 GPM option for this model, so those in California, Colorado, and New York can enjoy it.
---
4. Waterpik CF 201
Waterpik CF-201 FlexNeck Rain Shower Head,...
FLEXIBLE SHOWER HEAD: 12 inch flexible shower...
ADJUSTABLE HEIGHT: Accommodate any height,...
RAIN SHOWER HEAD: Large, 7.5 inch wide rain...
DIY EASY INSTALLATION: This shower head...
At number four, we have the CF 201, a top-rated shower head with a fixed-mount design and rain-style spray. Like the NML-603, this model features the FlexNeck arm that can be adjusted to be positioned wherever you like it. This is great for accommodating different heights of your family and guests.
The RainFall-style head means you can get a full-body drenching from overhead, falling directly down onto you (as opposed to at an angle like other heads). Or, you can switch the spray mode to PowerSpray, a more narrow stream shooting out from the center of the head with high pressure.
There are no massage or pulsating spray options, so it's best for people who enjoy a classic continuous spray with OptiFlow pressure.
This is a plastic model (hence the very low price), which some have found to prove difficult when installing and hinders overall longevity. However, for such a low cost, it's absolutely a worthy choice for very small budgets and those who prefer a wide area of water flow.
---
5. Waterpik XET-633-643
Now we turn to something a little different and slightly more expensive (but not by much). The XET-633-643 is the best Waterpik dual shower head with a fixed-mount head and a hand-held head, each with 6 different spray options.
We love that you can use both shower heads at once, or use the 3-way diverter to select just one. Each shower head features these spray options; full body, full body/massage, PowerSpray, PowerSpray/massage, water-saving trickle, and PowerPulse massage (uses 2 times more pressure than other brands).
This is a great option if you have pets at home, or if you're on a "no hair-wash shower day" so you can control where the water goes with the hand-held head.
---
6. Waterpik VSS-563MT
At number 6, we change tack again with the VSS-563MT slide bar hand-held shower head. A stainless steel panel sits flat against your shower wall, with the hand-held head bracket attached. You can then slide the head bracket up or down to get the best height for you.
This is great for if you need to skip your head (for those dry hair days), or to accommodate different user heights. Interestingly, the strip is installed using a provided adhesive strip and doesn't require any drilling.
The 5-foot hose makes washing pets, feet, and little ones a whole lot easier and tidier. Plus, the hand-held head features 5 different spray modes: full body, full body/PowerSpray, full body/massage, PowerSpray, and Pulsating Massage.
This model is a few steps up in price from the previous 5 models as it features more durable materials such as stainless steel and metal (hose) and has less plastic. However, as you may imagine, several customer reviews state that the metal strip doesn't adhere to the wall properly.
---
7. Waterpik YHW-433E
Currently On Sale
Last but not least, something a little more luxe, the best-rated bodywand shower head combo YHW-433E. Anyone with long hair understands how time-consuming it is to wash and rinse, which is why this is an excellent model for such users.
The BodyWand is a long, hand-held wand inspired by a hair comb that penetrates to the scalp, quickly and thoroughly rinsing the hair (while giving a satisfying massage). It also has a fixed-mount shower head that can be tilted slightly to suit different heights, (you can use both shower heads at once, or one at a time by using the diverter).
This duo-head has an impressive 7 different spray types: full body, misting spray, PowerSpray, PowerPulse massage, PowerComb, SoftComb, and gentle rinse. We like the PowerComb option as it promises a fast hair rinse and hard pressure.
This model will be ideal for you if you're after the sturdiness of a fixed-mount with the versatility of a hand-held so you can wash pets, and get an up-close hair rinse. Note that many customers report that they expected an all-metal construction as suggested by the photos, but much of the construction is actually plastic.
---
Comparing Waterpik to Other Brands
Oxygenics
Oxygenics shower heads are similar in price with super-cheap shower heads, but with a few more pricey, luxe options such as duo-head body bars. Oxygenics heads have a lower GPM than WaterPik, at 1.8 GPM, but have similar spray options. Both brands use a mixture of plastic and metal.
Kohler
Kohler is a much higher-end brand with high prices and excellent spray settings for wall-mount, hand-held, and rain styles. They use higher-quality materials such as tarnish-resistant metal and durable plastic. Kohler shower heads are more sophisticated looking and offer a range of GPMs from 1.75 to 2.5 GPM.
Moen
Moen has a vast range of shower heads at a higher price range than WaterPik and with more aesthetic options (i.e., gold or matte black) and cool features such as magnetic fixtures. They offer GPM from 1.75 to 2.5, and very similar spray options to WaterPik.
Moen prides itself on being the #1 faucet brand in North America, and their products are often used in new home construction for both kitchen and bath.
Delta
Delta is at the other end of the spectrum, making luxury shower heads with very high prices, and creative options such as pendant shower heads with LED lights. They use high-end materials such as stainless steel, have GPMs from 1.75 to 2.5, and similar spray options (massage, full-body, etc.).
---
Waterpik Shower Head Installation
Do you need a plumber to install a new shower head?
No, most of the time, you can do it yourself as it's just a matter of changing the head and doesn't require any dealings with the plumbing itself.
Removing an old fixed-mount shower head
Installing a new hand-held shower head
Installing a new fixed shower head
Tools and materials needed for replacing a shower head
Handy videos
---
People Also Ask (FAQs)
How long should Waterpik shower heads last?
It depends on how you maintain the shower head, as unattended build-up can reduce longevity. However, you are covered by a limited lifetime warranty if anything should go wrong outside of deliberate misuse.
Can I clean Waterpik shower heads with baking soda?
Yes, you can use baking soda to remove any stubborn blockages that a soak in vinegar cannot solve. Use a small amount, and be sure to flush the showerhead before reinstalling it thoroughly.
What can I do to clean and maintain showerheads?
Regularly rub the shower head, focusing on the nozzles to remove mineral deposits. Give the head a more thorough clean by soaking it in white vinegar for 2-3 hours to remove more hardened deposits, kill bacteria, and preserve the pressure.
How do I remove the flow restrictor from a Waterpik shower head?
WaterPik shower heads have a flow restrictor embedded inside that ensures that the water flow is regulated. However, some people like to remove these to increase the water flow. Check out this video for step-by-step instructions.
What is OptiFLOW technology?
OptiFLOW is a registered, patented technology created by WaterPik to ensure a firm, consistent water pressure even when water flow is weak. It also ensures the water covers a specific distance to cover the body while maintaining pressure.
How do I get in touch with Waterpik shower head customer service?
You can use the online question service for general questions here, or call 800-525-2774 if you are in the USA and 888-226-3042 if you are in Canada.
Where is the best place to buy these shower heads and Waterpik shower head replacement parts?
Amazon offers great prices, as do Walmart, Costco, and Home Depot, if you want to view the product in-store before buying. Check with WaterPik for replacement parts.
---
Conclusion
WaterPik offers excellent shower heads for small budgets and picky shower users who want plenty of spray options from a hard massage to a low trickle.
Our top pick is the Waterpik TRS-559 hand-held shower head with 5 spray modes and a super-low price tag.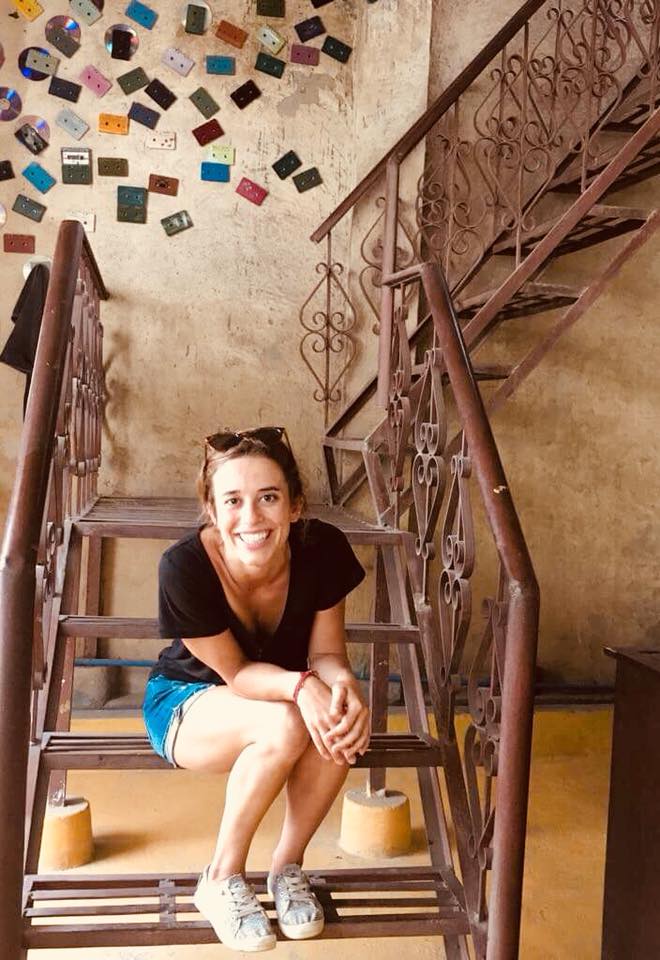 Caitlin Shaffer has been traveling & working as a content writer & SCUBA dive instructor since 2014. Having lived in Central & South America, Southeast Asia, India, & Australia, Caitlin has had many years of experience with a variety of kitchen, bathroom, plumbing systems & common household products. Other than writing about her plumbing experiences & knowledge, her main passions are yoga, ocean conservation, & sustainable development.