Shower heads are an integral part of our daily lives. Choosing a shower head for your home and your family is an important decision. A great shower head can give you more than a great shower.
It can give you a relaxing massage or tension relief with a powerful pressure point spray setting. Kohler makes luxurious shower heads with high-quality build parts and unique features.
We have compiled our favorite Kohler shower heads to show you what options you have when purchasing a new shower head for your bathroom.
Page Contents (Click Icon To Open/Close)
Kohler Shower Heads Compared
Kohler

K-15996-CP Flipside

KOHLER Flipside

K-17493-CP
What Makes Kohler Shower Heads unique
Kohler is a luxury shower head brand that offers both affordable and expensive products with the highest quality build parts. If you want a brand that is durable and has numerous features, we recommend installing a Kohler shower head.
Katalyst air-induction technology is another premiere feature offered by Kohler. This air induction technology adds air to the water flow and mixes it to create a more balanced flow as well as oxygenate the water. A balanced flow provides even pressure and gives users a better shower experience. Oxygenated water delivers additional oxygen to hair and skin.
Kohler has been in business since 1873 and is committed to creating extraordinary products for homeowners. The Kohler brand focuses on using high-quality parts for an aesthetically pleasing and reliable appliance experience.
---
Finding a quality Kohler Shower Head
User Preference
When buying a Kohler shower head, consider the different users that will use your shower head. Do you have elderly individuals living in your home? What about children or pets? Consider the height of each shower head and whether or not you need a handheld option. Consider whether or not a luxury rainfall experience is desired, or your household desires a wand with a powerful massage setting spray options.
Water Pressure vs. Water Flow Rate (GPM)
The water pressure available in your home is predetermined by your local water hookup. You cannot speed up the existing water pressure rate. However, the water flow rate (GPM, or gallons per minute) on the shower head model you purchase will determine how fast water comes out of your shower head. If you choose a shower head with a GPM of 1.5 to 2.0, you will experience low water pressure.
This shower head model choice will help you conserve water as well as save money. However, 2.0 to 2.5 GPM shower head models will deliver high water pressure streams but cost your household more money as a result.
Efficiency
Kohler primarily offers water-saving features to homeowners in their low flow rate shower head models. These models are designed to provide 1.5 to 2.0 GPM water flow and, as a result, save both water and money. Kohler's low flow rate models slow the flow of water. Many of these units use Kohler's Katalyst induction system to oxygenate the water as well as slow down the flow rate. This gives users a comfortable full -coverage showering experience while conserving water.
Shower Head Type & Mounting Type
There are several different types of shower heads and mounting systems for homeowners to choose from with Kohler appliances. The standard shower head type is mounted directly to the shower arm and features a simple small shower head.
The rainfall shower head requires its own unique shower arm so that the shower head is parallel to the ground (and rain can "fall" onto homeowner's heads). The dual shower head option includes two different shower heads so that homeowners can experience dual water streams. Kohler also offers shower heads with Bluetooth speakers that make it possible to listen to your favorite music, podcasts, or news stations while showering.
Spray Patterns/Settings
Each shower head has its own spray settings that offer different shower experiences. Some of these shower settings include massage, pulsating, tension release, wide-coverage, focused coverage, water-saving, and rainfall. Consider which settings are important to you when looking for a shower head.
Convenience
Consider convenience when choosing a shower head model. How easy is it to install? What are the general cleaning and maintenance requirements?
We also recommend considering the hose length and how easy it will be for everyone in the home to use. When washing pets, for example, a handheld shower head system with a long hose is more convenient than a fixed mounted shower head.
Quality & Design
Kohler is one of the best brands for bathroom design and overall bathroom aesthetics. They offer numerous colors and finishes on all of their shower head designs, such as rose gold and brushed gold, as well as titanium, oil-rubbed bronze, and matte black.
Cost, Certification & Warranty
Kohler offers a limited lifetime warranty on all of its shower head products. However, shower heads with electronic devices (Bluetooth devices) typically have a one-year limited warranty instead. Kohler products are top-of-the-line products. Although they tend to be more expensive than competitors, they also use higher quality materials and last longer.
---
7 Best Kohler Shower Heads Reviewed
1. Kohler K-15996-CP Flipside
Kohler K-15996-CP Flipside 2.5 gpm...
By flipping the sprayhead on its axis, switch...
Advanced ergonomics revolutionizes the shower...
Elegant transitional design with smooth...
2.5 gpm (gallons per minute) flow rate
The Kohler K-15996-CP Flipside is the best overall shower head model on our list. We love this Kohler shower head because it has the maximum U.S. flow rate, 2.5 GPM, and has four different spray settings. This model is easy-to-use, and even with wet hands, users can quickly flip between settings.
A simple twist of the shower head changes the spray setting. Spray settings include coverage spray, massage mix spray, circular spray, and targeted massage spray. This model is 5 ⅜ inches across and fits in most showers. This shower head also comes with Kohler's limited lifetime warranty. If you want a powerful fixed mount shower head, this model is a great choice.
This shower head also comes in four different finishes as well to fit any bathroom interior design decor. Choose from brushed nickel, polished nickel, chrome, and oil-rubbed bronze. Users have noted that this model does not work as well in hard water areas and requires frequent maintenance to avoid clogged pipes.
Others noted that the spray is often too wide for small showers. You will need to make sure that you have an enclosed shower to avoid water outside of the shower area.
James wrote on Wayfair, "Best showerhead I've ever owned…Great flow so you don't feel like you need to dance under it to get wet or rinsed off."
---
2. KOHLER 10282-Ak-Cp
Currently On Sale
KOHLER K-10282-AK-CP Forte 2.5 GPM...
Single Function Shower Head With Katalyst...
Easy to Use, Easy to Clean: Kohler Katalyst...
Easy to Install Shower Head: Upgrade your...
Additional Hardware and Equipment Needed:...
The Kohler 10282-Ak-Cp is the best Kohler forte wall-mount option. This shower head model has a single spray option for simplicity and to take full advantage of Kohler's signature Katalyst Spray technology. Katalyst Spray is an air induction technology that Kohler uses to maximize the mixture of water and air for a more even flow. This technology also oxygenates the water, which provides hair and skin health benefits.
The large 5.5" shower head has 66 nozzles to deliver a strong, broad stream of water for maximum water pressure as well as maximum water coverage. This shower head also comes with a limited lifetime warranty from Kohler. This shower head model comes in a chrome finish, which will blend in with most bathroom decors.
Bernard wrote on Lowe's, "Not too strong (and wasteful) but not too weak so you don't enjoy the shower. Very pleased."
Users have reported that they wish there were multiple spray settings so that they could enjoy a massage spray setting or tension relief setting. Others have noticed that the pivot point is weak and would prefer a stronger pivot connection. Overall, if you are looking for a powerful single spray fixed mount shower head, this is an excellent choice.
---
3. KOHLER K-76472-BN
Currently On Sale
The Kohler K-76472-BN HydroRail Artifacts is the top of the range shower head choice. This model has a dual shower head with a handheld shower head as well as a fixed mount shower head. This gives users two dual streams of water. This model comes in four different finishes to match your bathroom interior, including brushed nickel, chrome, polished nickel, and oil-rubbed bronze.
The hydrorail shower column offers a slide bar that allows the users to select different heights. This is great for families with a variety of heights and can make for a more comfortable shower experience for everyone. We also like that this model has a strong 2.0 GPM flow rate. This shower head also comes with a 60" metal hose that is durable and flexible for ongoing showering.
Some people have noted that this shower head can be challenging to install, and it would be smart for homeowners to consider professional installation. This model is also expensive and may not fit in all budgets. If you want a high-quality shower head with dual shower streams and strong pressure, this is a great option.
---
4. KOHLER K-72419-Cp
Currently On Sale
The Kohler K-72419-Cp Awaken G110 is the best value for money option on our list because it is an affordable shower head but still offers the most critical features. This model comes in a low flow 1.75 GPM model and a 2.0 GPM model. Three different spray options give customers the ability to choose a wide coverage spray, sore muscle tension relief spray, and a high-pressure drenching spray for easy shampoo rinsing.
This is perfect for customers with long hair. This inexpensive shower head model also gives customers several finish options to choose from, including chrome, brushed nickel, oil-rubbed bronze, and matte black. The design is sleek and straightforward, which will work with both traditional and modern home decor designs.
This Kohler shower head model has a MasterClean shower head face, which is Kohler's signature technology that keeps the shower head face free from hard water mineral deposits. However, customers have noted that if you do not wipe the shower head with a clean rag each week, build-up does occur and can clog the spray nozzles.
Customers have reported that this model is not as durable as most Kohler models, which is most likely due to its overall affordability. High-quality build parts are lacking on this model. We recommend this shower head for homeowners who want a cheap shower head option with 3 unique spray features. This shower head is covered by Kohler's faucet limited lifetime warranty in case factory defects occur. The warranty does not include regular wear and tear.
---
5. KOHLER Flipside K-17493-CP
KOHLER 17493-CP Flipside handshower, One...
Elegant yet transitional design with smooth,...
Utilizes Flipstream technology for innovative...
Each spray experience has a dedicated face,...
Advanced ergonomics revolutionize the user's...
The Kohler Flipside K-17493-CP is the best Kohler handheld showerhead. This shower head comes in three flow rates: 1.75 GPM, 2.0 GPM, and 2.5 GPM. If you want to conserve water and save energy, we recommend choosing the 1.75 GPM flow rate. However, if you want a high-pressure shower experience, then we recommend choosing the 2.5 GPM model. There are four different spray settings to use while showering.
To switch between them, homeowners simply flip the shower head. The targeted massage spray is great for long days at the office, while the circular spray is powerful for rinsing shampoo out of your hair. The wide coverage spray mimics rainfall, and the mix spray gives a great balance of hard and soft spray areas.
We also appreciate that this model has four different finishes to choose from, so homeowners can choose the best option for their home decor. This Kohler showerhead can be purchased in brushed nickel, chrome, polished nickel, or oil-rubbed bronze.
Customers have noted, however, that this model does not come with its own shower hose, and that will need to be purchased separately. Other customers pointed out that the shower head is heavier than other models and needs to be placed into the mount holder perfectly to avoid falling to the floor.
Kevin wrote on Wayfair, "Bought my second flipside for kids/guest bathroom. They like the different spray patterns. Very satisfied with the product."
Kohler's limited lifetime warranty also covers this shower head.
---
6. KOHLER K-9245-CP Moxie
The Kohler K-9245-CP Moxie is the best Kohler Bluetooth/speaker shower head we've found. This shower head unit is designed for the homeowner who loves listening to music or podcasts while they shower. The shower head has a wireless speaker that attaches to the middle of the shower and lets users play music, news, and podcasts with ease. The speaker also functions independently and can be used on its own in different rooms of the house.
It's speaker has a built-in rechargeable Lithium-ION battery. Each charge lasts approximately five to ten hours. The shower head has sixty nozzles surrounding the speaker for strong, full-coverage spray. This model comes in four finishes: brushed nickel, white, chrome, and oil-rubbed bronze. Customers can also choose between three flow rates: 1.75 GPM, 2.0 GPM, and 2.5 GPM. We recommend the 2.5 GPM for customers who want a high-pressure spray and the 1.75 GPM for those who prefer an eco-friendly, water conservation model.
Some have reported that they missed multiple spray settings and wanted a massage option. Other customers noted that they were frustrated that they could hear notifications from their phone while in the shower, but had no way of responding.
A simple trick to enjoy your shower would be to turn off notifications before hopping in so that you only hear the music, news, or podcasts you want to listen to during your shower. This shower head has a one year warranty because of its electronic component compared to the typical lifetime limited warranty on other Kohler shower head models.
---
7. Kohler 13688-BL
The Kohler 13688-BL shower head is the most popular Kohler rain shower head. This model offers a wide variety of colors and finishes for custom bathroom decor, including brushed nickel, rose gold, titanium, brushed bronze, chrome, brushed gold, matte black, polished nickel. Kohler's Katalyst air-induction spray technology mixes air and water to create a luxurious, oxygenated experience with each "rainfall." This model has one spray option, rainfall, which was designed to recreate a relaxing summer rain. A healthy 2.5 GPM flow rate provides plenty of pressure.
This shower head is built with high-quality parts and durable. Homeowners won't need to worry about replacing this model. The easy-clean spray nozzles can be cleaned quickly and were built to prevent hard mineral deposits. Customers have complained that this model is expensive and not an option for most budgets.
Others have noted that the product does not come with its own shower arm. This shower head will not work with most shower arms (too low hanging) and requires a specific shower arm (K-7392, K-7394, or K-7396 are the best options).
Michelle wrote on Build, "We bought the entire Kohler shower set up. It is amazing! It looks beautiful too."
If you want a luxury rainfall shower experience, you want this rainfall shower head.
---
Comparing Kohler to Other Brands
Kohler is considered one of the premiere, high-quality shower head brands available on the market today. Since 1873, the company has been creating top-of-the-line, modern, high tech appliances with durable, quality build materials. Kohler is a brand that consumers can trust and whose products fit well in standard homes as well as luxury homes.
You will not find a higher-quality brand; however, Kohler products tend to be more expensive compared to other mid-range brands and economy brands. Moen, Delta, Methven, and Hansgrohe are similar premiere luxury brands with high-quality shower heads and shower head accessories. For more affordable, mid-range shower heads and shower head accessories, we recommend Waterpik, Speakman, and Oxygenics.
---
Kohler Shower Head Installation
Most Kohler shower heads can easily be installed at home by homeowners. Start by unscrewing the existing shower head. Remove any existing plumber's tape on the shower arm's thread. Then, place new plumber's tape around the threads on your existing shower arm. Now you can gently screw the shower head mount onto the shower arm.
If you purchased a handheld shower head unit, you will need to attach the hose to the mount and then the hose to the shower head. Once you have screwed everything into place, run the water, and make sure that you do not have any leaks. This video from For Dummies covers the standard shower head installation process.
---
People Also Ask (FAQs)
How long should Kohler shower heads last?
Your Kohler shower head will last approximately three to five years.
Tips to help maintain Kohler shower heads?
We recommend maintaining your Kohler shower head by washing the exterior surfaces once per week with a simple cleaning wipe such as these Clorox disinfecting wipes. You can also maintain your shower head by simply handling it carefully. For example, try not to repeatedly drop or "bang" a handheld version against the wall. We also recommend cleaning your shower head with a baking soda solution (see below) once per month or every other month.
Can I clean Kohler shower heads with baking soda?
Yes! You can clean your Kohler shower heads with baking soda. Take a large plastic bag and fill it with 1 cup water, 1 cup white vinegar, and ⅓ cup baking soda. Next, unscrew your shower head and place it in this bag. Let the mixture soak overnight with the shower head inside the bag. This process will help to unclog stuck spray holes and loosen hard water mineral deposits. This is a gentle way to clean your shower head and lengthen its life.
How can I increase shower head pressure?
To increase shower head pressure, consider first what type of shower head you are using. Do you have an old shower head or a low flow rate (under 2.0 GPM) shower head? Try upgrading to a high flow rate (2.1 GPM to 2.5 GPM) shower head. You also may experience a decrease in shower head pressure if hard water minerals begin to clog up your shower head. Cleaning your shower head with a baking soda and vinegar solution (see above) can help remove hard water deposits and increase shower head pressure.
How to remove flow restrictor from Kohler shower head?
We do not recommend removing the flow restrictor from your Kohler shower head. The flow restrictor in a shower head is part of the aerator process. When you remove the flow restrictor, you void the Kohler warranty, and you may break the shower head. If you do plan to remove the flow restrictor, proceed with caution.
Why is my Kohler shower head leaking and what can I do to fix it?
Most often, your Kohler shower head will be leaking due to a faulty seal. This faulty seal can be fixed by purchasing new plumber's tape and a new washer. Remove the shower head and check the connector to the shower arm and to the hose (if you have a handheld shower unit). Then, replace the washer in each connector hole with a new washer. Take your plumber's tape and place it over the threads on the shower arm as well as the other connector spots. Remove the old plumber's tape first. Then screw each component back together for a tight seal, free of leaks.
Where is the best place to buy Kohler shower heads?
The best place to buy Kohler shower heads is Amazon.com. Amazon has a variety of Kohler shower heads as well as Kohler shower head accessories. We recommend purchasing your Kohler shower heads through Amazon for the best deals.
---
Conclusion
Kohler shower heads are high-quality bathroom products that we highly recommend. Kohler is a premiere shower head brand with state-of-the-art shower heads featuring high water pressure, numerous spray setting features, and the latest shower technology.
If you want a fixed shower head with powerful spray options and a 2.5 GPM flow rate, we recommend the Kohler K-15996-CP Flipside. However, if you want a Bluetooth option for your shower head, we recommend the Kohler K-9245-CP Moxie. Need a handheld version? Choose the Kohler Flipside K-17493-CP.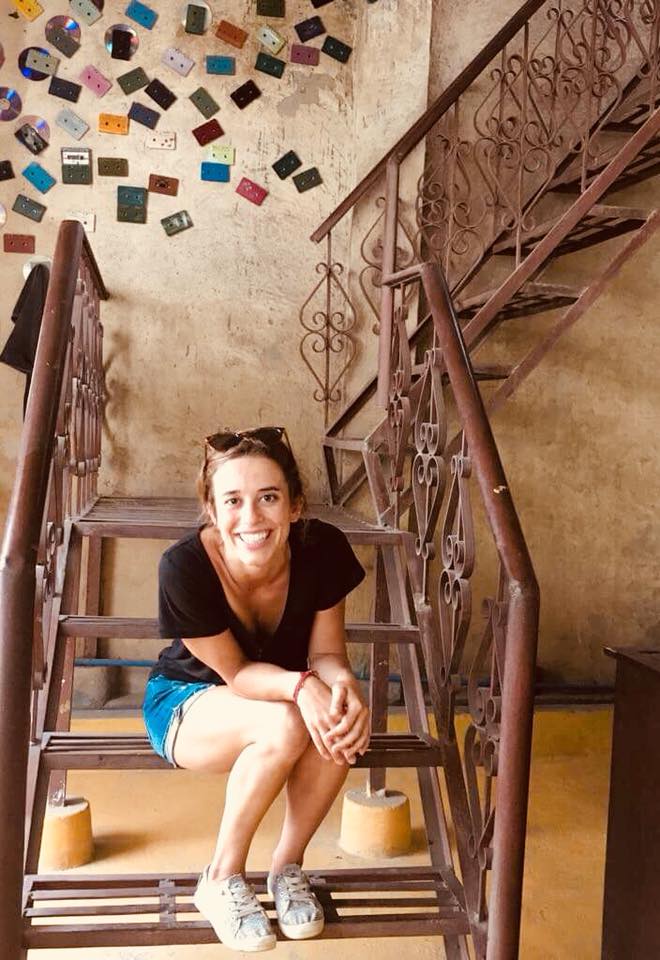 Caitlin Shaffer has been traveling & working as a content writer & SCUBA dive instructor since 2014. Having lived in Central & South America, Southeast Asia, India, & Australia, Caitlin has had many years of experience with a variety of kitchen, bathroom, plumbing systems & common household products. Other than writing about her plumbing experiences & knowledge, her main passions are yoga, ocean conservation, & sustainable development.