When it comes to choosing a new toilet for your home, you have a vast number of options before you. When you're working with a compact bathroom environment, though, you may feel that your options are more limited. However, a wall-mounted toilet may be exactly what you need to solidify your bathroom amenities without wasting any valuable space.
Not just any wall-mounted toilet will do, of course. You'll want to pick out a model that meets your needs and budget while hopefully providing some water-saving features.
You may not know precisely what to look for in a top tier wall-mounted toilet, which is why we put together several buyers guides to help you along. We've also reviewed 8 of the most popular models so that you can get a jump start on shopping for your new wall-mounted toilet.
Page Contents (Click Icon To Open/Close)
Wall Mounted Toilets Compared
| | | | | |
| --- | --- | --- | --- | --- |
| | | | | |
| | | | | |
| | Swiss Madison Well Made Forever Ivy SM-WT450 | | | |
| | | | | |
| | | | | |
| | | | | |
| | American Standard 2257101.020 | | | |
| | | | | |
---
Reasons to Choose a Wall Hung Toilet
Above all else, you should choose a wall hung toilet because it can potentially save you a lot of valuable space within your bathroom environment. This is because they lack the bulky base that must be bolted to the floor, which itself makes it difficult to place anything in the unit's proximity. Wall hung toilets are also surprisingly easy to clean, especially those that are glazed to prevent stains and build up.
Many wall hung toilets are also customizable when it comes to installation height. This can be crucial if you or someone in your home has specific mobility requirements that would make it difficult to safely use the unit at a standard mounting height.
---
Choosing a Quality Wall Mount Toilet
Bowl Type
Wall mounted toilets come in two different bowl types, elongated and round. Both types have their own advantages, though elongated is usually favored because it is more ergonomic. However, round bowl units are also very practical, especially when spacing constraints make using an elongated unit impractical.
Water-Saving Features
Toilet manufacturers today are focused on saving water to cut down on their customer's environmental impact. In fact, they know that shoppers like you will want to know which models include water-saving features. To communicate this, some models will come out and explain how much water they use per flush (measured in gallons per flush or GPF). Others will list if their unit has received any water-saving certification, such as the EPA's WaterSense.
Flushing Mechanism
Wall-mounted toilets can utilize any number of flushing mechanisms, including single, dual, and gravity flush systems. Single flush toilets are your standard toilet style, with just one flushing lever. Dual flush models usually include two flush buttons that utilize a greater and lesser water volume, respectively. Dual flush models are becoming more popular now because they provide users with a direct method for saving water.
Design & Material
Many toilet shoppers are looking for a model to match their bathroom décor. While this is important, it is far more essential to pick out a model that is made out of durable material that will last through years of use.
Vitreous china is among the most popular and affordable options on this front, though most major brands also offer porcelain and ceramic models.
One of the benefits of purchasing a wall mounted toilet is that the design allows you to easily clean under and around the bowl.
Ease of Installation
If this is your first time installing a wall-mounted toilet, then it is crucial that you pick out a model with an easy installation process. Ideally, this kind of low-stakes installation should only require a few screws and bolts. A lighter unit may also provide some ease during the installation process. Otherwise, you may need to call in a plumber to finish the job.
Extra Features
Some newer wall-mounted toilets include unique features that make them easier to maintain. One example is a self-cleaning module that uses just a little bit of water to ensure that the unit's bowl is always clean and sanitary. Other high-end models may also come coated in an antibacterial coating that prevents stains from setting in.
Price & Warranty
As with all of your bathroom amenities, you should be on the lookout for a well-priced wall-mount toilet. These units can vary dramatically in price, so be sure to compare similarly equipped models to ensure that you are getting a good deal. That cost-benefit analysis should also take into account any warranty which could save you a lot of money down the road.
---
8 Best Wall Hung Toilets Reviewed & Rated
1. Toto Aquia CT418FG#01
Stunning, clean design, shipped quickly. Used with Toto seat (it is the coolest to see it move down slowly, and nice high quality as well) - Johan
First up, I want to introduce you to my top pick, the Toto Aquia CT418FG#01. This model has just about anything you could ask for if you're in the market for a wall-mounted toilet. For example, this model's dual-flush system provides users with water-saving options that can minimize each use to a mere 0.9 GPF. Even this model's top-level 1.6 GPF feels like and efficient, unlike some other low-flow toilets that simply can't cut it with less water flowing into the bowl.
This Toto wall hung toilet also comes standard with a true innovation that other toilet brands wish they had thought of first. That innovation is the CeFiONtect bowl glaze, which covers this unit's entire vitreous china surface in a clear coat that prevents build-up and staining from degrading your unit's appearance. As a result, this model's sleek interior and exterior are easy to clean with the porcelain-safe cleaning solution of your choice.
The Toto Aquia CT418FG#01 has also received a fair number of certifications. This includes a CSA certification, as well as an EPA WaterSense award for its ability to minimize its water consumption with every flush. This model also comes with a SoftClose seat, so you won't need to run out to the store for a seat once you've got this unit mounted and operating correctly.
More of our favorite toilets from the Toto brand can be found in this guide.
---
2. TOTO CT418F#01 Aquia
Easily installed on existing in wall carrier. Flushes much better than Villeriy and Bock toilet it replaced - Fred
After looking over this collection, I have to say that the TOTO CT418F#01 is the second best wall hung toilet frame with a dual flush. Of course, that may come as a surprise given that this model's 0.9 GPF low flow flush is just slightly higher than other models in its class. But as it turns out, this model's ability to maintain low-level water consumption will last throughout its effective lifespan as long as it is installed with a compatible Toto in-wall tank system.
Stability is also another major virtue that the TOTO CT418F#01 has to offer. In fact, this model's elongated form factor (bother vertically and horizontally) allows it to remain wobble-free, even after a decade or more of use. Should you need it, you'll also be pleased to see that this model has flexible mounting height options from 15 to 19 inches. As such, this unit can even be used in spaces where ADA compliance is required.
Though it is often overlooked, this model's IAPMO certification also deserves some recognition. This certification comes directly from the International Association of Plumbers and Mechanical Officials. As such, you can bet your bottom dollar that this model will meet your operational expectations year after year.
---
3. Swiss Madison Well Made Forever Ivy SM-WT450
I'll be honest – I hadn't heard of the Swiss Madison Forever Ivy SM-WT450 until very recently. Even though this brand doesn't have as much name recognition with even someone as seasoned as me, I do believe that this model is one of the best values for your money in this collection. In fact, for a fully porcelain unit, I was surprised that this model and its soft-close quick-release seat came at such a bargain.
Of course, there's more to this toilet than price alone. It also features a dual flush system that folks looking to cut back their regular water consumption should be interested in. While I will admit that the Swiss Madison Forever Ivy SM-WT450 does use just a little too much water on its top-level flush (1.28 GPF, usually), its lower flush level (0.8 GPF) still manages to provide more reliable water usage management options.
Installing the Swiss Madison Forever Ivy SM-WT450 won't be a major headache, either. First off, this unit's streamlined design really makes it easy to slot it in, among other important bathroom amenities. But more importantly, this unit comes packaged with all of the bolts and screws needed to mount it safely. As such, you only need to provide the tools to DIY this toilet into your newly remodeled water closet.
---
4. KOHLER K-6299-0 Veil
Best Kohler Wall Hung Toilet
For bathrooms with constrained space, the small profile of this unit is a life saver. As for the unit, it has worked very well. - XtremeDIY
You probably know the Koehler brand name already. In fact, you may already have a Koehler toilet in your home that you are looking to replace. Well, what if I told you that the KOHLER K-6299-0 is the best Koehler wall hung toilet in this collection? I could certainly back up that claim by demonstrating how this model's mounting equipment is entirely concealed. That same mounting frame includes durable steel brackets that allow for flexible mounting anywhere between 15⅜ inches and 28½ inches.
When it comes to the KOHLER K-6299-0's operation, you won't be disappointed. In fact, this model's dual flush system is so reliable and effective when it comes to decreasing wasteful water consumption that it has earned the coveted EPA WaterSense certification. This productive performance standard is made possible by a built-in flush actuator plate, which is entirely absent in lessor wall-mount toilets.
The KOHLER K-6299-0 can also meet your desire to pick out a toilet that matches your new or existing décor. That's because it comes in five designer colors (black, white, biscuit, almond, and dune) that are sure to pique your interest. After factoring this model's smooth form factor, you can see why this wall-mounted toilet is attracting both practical and design-focused shoppers.
---
5. EAGO WD333 Square
All and all I would defiantly use this company again. 2 thumbs way up for their customer service. – Ronald
I've noticed that so-called "modern" design toilets are growing in popularity with new homeowners. As such, I think it's worth considering the EAGO WD333 Square, which I believe to be the best modern style toilet for your money. I'm even a bit impressed that manufacturer Eago has managed to create a squared-off wall-mounted toilet that is still as ergonomic and streamlined as its rounded competitors. This model is fully ADA compliant, too, which was often a short-coming for previous square wall-mounted toilets.
Eago has made a point to publicize the "ultra-low flow" qualities of the WD333 Square and its 1.6 GPF dual flush system. But in reality, this GPF rating is actually a bit higher than the competition. Instead, I chose to focus on this unit's enhanced water distribution, which allows for an increased exit velocity as each flush of water travels over this model's fully glazed interior. This includes the trap way, which is so often left un-glazed on other porcelain units.
Oh, I have to mention this model's 5 year extended warranty as well. Few, if any, other wall-mounted toilets in this class offer even half this long of a warranty, so it really allows your investment in this model to pay off down the road. Registering this model's warranty won't take you long, either, so you can rest assured that this toilet will be well protected for the first several years of its use.
---
6. Saniflo 012
Best Self-Contained Wall Mounted Toilet
When I'm out on the job, I'm often asked about which wall-mounted toilet is the best choice for an RV, boat, or tiny home. While I'll admit that I'm not an expert in those kinds of installations, I do know that they typically require a self-contained operational style. If you're looking for a toilet for one of those installation locations, then may I direct your attention to the Saniflo 012. As the best self-contained wall mounted toilet around, I believe that this unit and its mounting options between 15 and 18 inches will serve you well.
When it comes to serving your needs, you should expect the Saniflo 012 to provide you with some added value at every turn. For example, after every 1 gallon or 1.28-gallon flush initiated by this unit's dual flushing system, this model holds back a bit of water that is used to rinse your bowl post-flush. That makes this model far easier to maintain because it is less likely to cling to stains and debris that would otherwise require brushing later on.
It's worth noting, too, that the Saniflo 012 comes standard with several built-in components that go the extra mile for the toilet's overall performance. For example, this model's non-return valve simply and reliably prevents backflow. Similarly, this model's built-in macerator pump makes it easier to install this unit in a location where a standard in-wall toilet tank system would be less feasible. We have reviewed more macerating toilets in this article.
Additionally, you might wish to check out our complete guide to the best Saniflo toilets.
---
7. American Standard 2257101.020
Best Commercial Wall Hung Toilet
If you're a business owner who needs to outfit several bathrooms before opening your business, then you may be in the market for the best commercial wall hung toilet. If that's the case, then it should come as no surprise that the American Standard 2257101.020 remains the standard in this class. Though its 1.6 GPF rating could certainly be lower to make it eco-friendlier, you will still be sufficiently impressed at how all of that water is used in this unit's powerful direct-fed siphon jet.
Speaking of powerful flushing actions, it should come as no surprise that this American Standard wall hung toilet has earned a top score on its MaP evaluation prior to hitting the market. This evaluation (which is performed by the IAPMO R&T Lab) tests a toilet's reliability, especially when it comes to water pressure and trap way operation. This model passed that test with flying colors, so you can know for sure that it will perform as advertised.
For some reason, more and more wall-mounted toilet makers forget to list how much their units can hold when it comes to static weight. That's why it feels like a breath of fresh air to see that the American Standard 2257101.020 can hold up to 1,000 lbs at one time. This model isn't recommended for bariatric use, though, so be sure to only install it according to the manufacturer's recommendations.
More top picks from American Standard can be found here.
---
8. Duravit 2550090092
Best Rimless Wall Hung Toilet
We are very happy with this toilet in our new bathroom…The smooth styling and the rimless aspect make cleaning super simple - Julianne
Finally, folks who are interested in really maximizing every last inch of their compact bathroom may consider picking up the Duravit 2550090092. I find this unit to be the best rimless wall hung toilet for several reasons, including its ability to make use of both a square and a round form factor at the same time without suffering from the negatives of either bowl type. In fact, this type of rimless form factor may just become the norm if the trend of modern style bathroom design continues.
The Duravit 2550090092 only comes in white currently, which may be a letdown for folks who wanted something more stylish to match their bathroom décor. But fortunately, this model makes up for this shortcoming by offering an optional clear coating called HygieneGlaze. This is a proprietary glaze that manages to remain crisp and hygienic by maintaining an antibacterial layer across the entirety of this vitreous china throne.
The Duravit 2550090092 has some downsides, too, which I must mention. First off, it appears to lack a warranty, which makes it a bit more challenging to invest in this model with confidence. Also, it doesn't come with any toilet seat, so it is hard to justify its price point. You're not likely to find it in a retail store, either, so you had better hope that your preferred online retailer has it in stock.
---
How to Install a Wall Mounted Toilet
Installing a wall-mounted toilet on your own need not be a labor-intensive task. That being said, you should take some time to understand the steps associated with this kind of installation before you start working on your plumbing. Your preparation should begin by reading over your unit's installation guide.
From there, you should look through your package and ensure that all parts and tools necessary to complete the installation are present. There are numerous other steps to take before your wall-mounted toilet is ready to roll. For a step-by-step visual guide to many of these important steps, check out this handy video from Koehler.
---
Toilet Cleaning & Maintenance Tips
As you might expect, there are lots of easy ways to maintain your new wall-mounted toilets operation capacity without ever needing to call in a plumber. For example, don't treat your toilet like a garbage can.
These units can only flush some items, so they can become internally damaged if they are pushed past their capacity. Also, be sure always to use a porcelain-safe cleaner when scrubbing out the bowl. More helpful tips for cleaning and maintaining your toilet can be found here.
---
People also Ask (FAQs)
Can a wall mounted toilet save space?
Absolutely. Many people choose to install a wall-mounted toilet because they can save a noticeable amount of space when properly installed. If you are looking to save space in this manner, consider measuring your intended installation space before shopping around so that you can pick a model that maximizes that space.
What are the most common wall mounted toilets problems?
Due to their base-less form factor, some wall-mounted toilet users will complain that their unit feels loose or jiggling. Usually, this can be resolved by retightening the mounting bolts that hold the unit to the wall. Leakage can be another problem, though it is a bit harder to diagnose. If your unit is regularly leaking during a flush, then your best bet is to call in a plumber.
What is the best height for a wall hung toilet?
This depends on your mobility needs, with lower installation heights being better suited to folks who have more trouble moving freely. In such a case, you'll likely want to follow ADA recommendations and mount the unit 17 to 19 inches off of the ground. However, if your mobility is not an issue, some DIYers choose to mount their unit as low as 16 inches.
What are the costs of hiring a professional plumber to install a wall-mounted toilet?
The costs of hiring a plumber for this kind of job will depend primarily on their hourly rate. In most cases, a plumber will likely charge between $40 and $65 per hour for this kind of job, and potentially more if they run into issues that delay the installation. Keep in mind, too, that some plumbers charge a flat labor fee that adds onto these per hour rates.
Where is the best place to buy these toilets?
Often, you can get a good feeling for the style and features of a wall-mounted toilet by checking them out in person at a local hardware store. However, when it is time to buy, Amazon is the place to make your purchase. Their shipping rates are unbeatable, meaning that you can get your chosen unit at a price lower than what the original manufacturer offers.
---
Conclusion
Now that you know what it takes to find a wall-mounted toilet that's right for your bathroom, it's time to get out there and invest in this all-important amenity. As you've seen in my reviews, there are lots of top-tier models to choose from, many of which were engineered by trusted brands that continue to make significant innovations when it comes to water use efficiency.
Before I go, though, I want to make one final mention of the Toto Aquia CT418FG#01. I chose this model as my top pick for a number of reasons, not least that it is widely available and can be mounted at any height. This model also comes standard with this brand's CeFiONtect bowl glaze, which really does wonders when it comes to reducing stains and cutting down odors.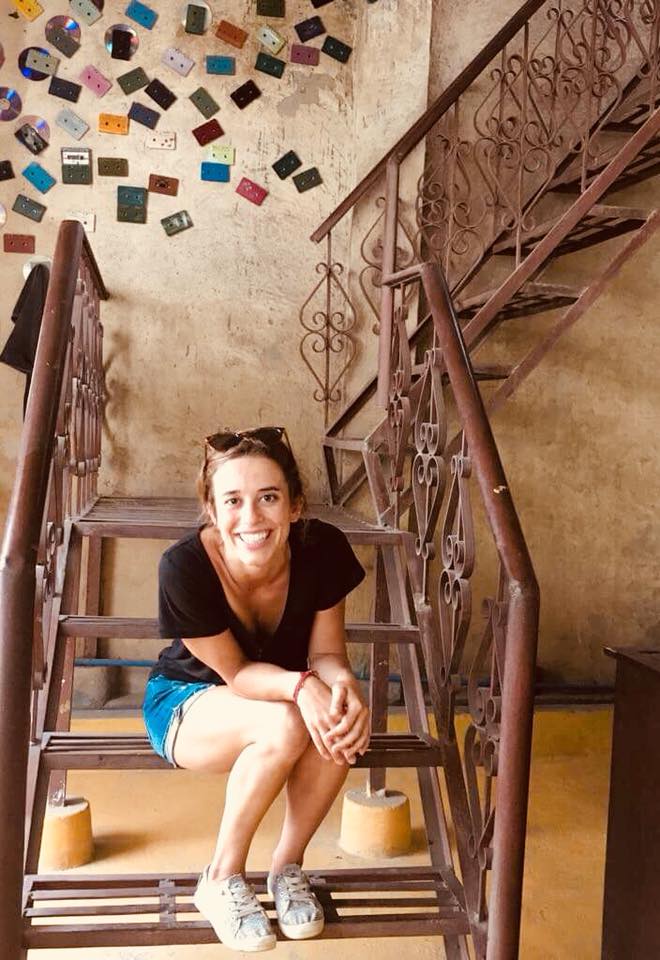 Caitlin Shaffer has been traveling & working as a content writer & SCUBA dive instructor since 2014. Having lived in Central & South America, Southeast Asia, India, & Australia, Caitlin has had many years of experience with a variety of kitchen, bathroom, plumbing systems & common household products. Other than writing about her plumbing experiences & knowledge, her main passions are yoga, ocean conservation, & sustainable development.