Whether you are looking for a great shower at home or want to bring the highest quality product to your next job site, the Speakman brand has delivered only the best since 1869.
The Speakman brothers began their journey in Wilmington, Delaware, and since then, the company has kept things pretty close and engineer their parts now in Glen Mills, Pennsylvania. Here we dive into the best Speakman models for a variety of situations.
Page Contents (Click Icon To Open/Close)
Speakman Shower Heads Compared
Intense, Massage, Combination

Speakman

S-2252 Signature Icon Anystream

Massage, Intense, Flood, Rain, Pause

Intense, Massage, Combination

Intense, Massage, Combination

Speakman

S-3021-BN-E2 Kubos

Intense, Massage, Combination
How to find the right Speakman Shower head
User Preference
Every person has something that makes them who they are, and everyone likes their shower a bit differently.
When deciding on the Speakman shower head that is right for your situation, make sure to think about who stands under the shower head. The user's height can mean needing more angles to reach high or low. The user's age may make them require something gentler or with more options on spray types. Sometimes it's not the human who needs the shower, but man's best friend so something with a bit more flexibility in use is necessary.
Water Pressure vs. Water Flow Rate (Gallons Per Minute)
An apartment building and a home are not likely to be set up the same way in terms of pipe layout or access/proximity to the water main. The journey the water takes to get to the shower head and the pipes that make up that path will be significant factors in how much water pressure is actually available in the shower.
Ideally, you can find a balance between the water pressure provided and the water flow rate that the shower head can deliver so that nothing is underutilized or trying to work with more than it can handle.
Efficiency
An efficient shower head is one that is going to be able to use less water per minute while still delivering enough pressure to provide an adequate stream. Speakman has designed many of their models in a 2.0 GPM configuration that saves 0.5 GPM than the typical 2.5 GPM shower heads. The US Department of Energy regulates that shower heads must be limited to 2.5 GPM.
Shower Head Type & Mounting Type
There has been a lot of innovation since 1869 in shower heads, and new methods of mounting a shower head and locations for mounting have created new ways to shower.
Most shower heads are still mounted to a wall, but many are choosing a ceiling mounted shower head for a rainfall type shower.
Wall-mounts have many options in spray patterns, handheld or fixed heads, and different nozzle sizes and shapes.
Spray Patterns/Settings
Many people are familiar with the typical spray pattern that allows many streams of water to flow out, but Speakman offers heads with other functions. Mist sprays are gentler and are designed for sensitive skin. Massage or tension release patterns use pulsing water patterns to relax muscles. Water-saving spray patterns go for more coverage and less volume when producing water.
Convenience
Speakman offers many shower heads that have self-cleaning capabilities to help deter the build-up of limescale, rust, and other issues that can impede water flow. Installation is designed to be quick and easy with just a wrench to get a watertight seal. For those looking for a handheld model, there are different hose length options depending on what is best for the situation.
Quality & Design
No matter the bathroom or shower setup, there is a Speakman model that can fit right in and blend in with the room. Several models offer different color options to complement their surroundings. There are a variety of options in terms of shape and size as well to fit with any décor.
Cost, Certification & Warranty
Depending on the top of shower head you purchase, Speakman offers a range of warranties. Residential shower heads have a limited lifetime warranty while commercial shower heads are given a one-year warranty. Speakman products are designed to be cost-effective and work within the means of many budgets, depending on the project.
---
8 Best Speakman Shower Heads Reviewed
1. Speakman S-2005-HB Hotel
Speakman, Polished Chrome S-2005-HB Hotel...
CONTEMPORARY DESIGN: This premium high flow...
ANYSTREAM TECHNOLOGY: The adjustable shower...
HIGH PRESSURE: Shower heads control the...
LOW MAINTENANCE: Self-clean plungers within...
When a luxury hotel looks for the best quality shower head for guests, they turn to the Speakman S-2005-HB Hotel because it not only offers a variety of finishes to fit with any décor, but it also features three different spray patterns that are powered by over 50 sprays.
For those looking to relax, the massage spray pattern relaxes sore muscles while the intense spray pattern is great for cleaning up after a hard day. If you need a balance, the combination spray pattern offers the best of both worlds. No matter what spray pattern you choose, a fully 360-degree side handle makes swapping between spray patterns as easy as possible.
The best Speakman shower head comes in polished chrome, brushed nickel, polished nickel, polished brass or brushed chrome, and in a 1.75, 2.0, and 2.5 GPM model. The 1.75 and 2.0 GPM models are WaterSense certified, meaning they have passed qualifications as low-flow showerheads.
While there are several great features and finishes, the S-2005-HB Hotel is best used in a traditional mounting location. It is not equipped to provide adequate coverage as a ceiling-mounted fixture. Be sure to bring the luxury from hotel to home with the S-2005-HB Hotel shower head from Speakman.
---
2. Speakman S-2252 Signature Icon Anystream
When something gets dubbed an icon, it means it has a timeless quality and charm that makes it stand out among the rest. Speakman has worked hard to develop the S-2252 Signature Icon Anystream and, with each iteration, made their design better than ever.
Our runner up, the S-2252, is designed to deliver a higher-pressure experience than previous models with slightly reduced coverage. Forty-eight sprays are grouped in six jets to provide various spray patterns that are switched between using the Anystream technology developed by Speakman.
The intense spray pattern makes it, so no spray intersects with another, so the water is delivered in long, focused streams designed to emphasize the impact and provide a deep clean. The rain spray pattern is developed to allow for larger single drops rather than streams that hold their heat a bit better, mimicking a warm spring rain. The flood spray pattern leaves nothing to chance and focuses the water to intersect and rush over the skin in a deluge.
The S-2251, the predecessor to the S-2252, had eight jets and 64 sprays but did not deliver the pressure that the S-2252 is capable of. With the reduction in jets and sprays, Speakman was able to deliver a more invigorating experience that users have noticed and loved, solidifying this as the Speakman icon for years to come.
---
3. Speakman S-4002 Reaction
Currently On Sale
Even the most budget-friendly Speakman shower head is crafted with the user in mind, and the S-4002 Reaction is designed to offer a powerful clean, smooth finish and not break the bank. Although this shower head only features one spray pattern, it has very intentionally positioned openings to allow the spray to have no intersecting streams.
This spray pattern ensures that the user feels every drop of water in a meaningful way that is a balance between strength and coverage. This model has four different flow rates ranging from 1.5 GPM to 2.5 GPM, so it will work for a wider variety of users and locations depending on what works best.
This particular shower head features a transparent portion of the head that comes in three different finishes and makes cleaning quick and easy. A turbine-powered engine within the shower head really makes the S-4002 Reaction feel complete as it mimics the design of the jets and their whirlwind setup.
Like most Speakman models, this shower head can be installed quickly with minimal tools needed, simply attach the plumber's tape, begin installing by hand and then finish tightening with a wrench. Quality, simplicity, and a price that is sure to get a reaction from any user.
---
4. Speakman SR-124 Assana
When you need to make sure that you can have a little something for everyone, the Speakman SR-124 Assana features five distinct spray patterns that all deliver a powerful clean but are sure to suit any mood. A nice relaxing session with the massage spray pattern will deliver pulsating streams to loosen sore muscles. The intense spray pattern makes sure that no speck of dirt sticks and offers a deep clean.
The flood session is for those that enjoy a soaking spray and a wide coverage area. The rain setting will wash away tension with large drops instead of streams. The final setting is the pause mode that offers a water-saving alternative to the other options and is great for those looking to be more eco-friendly.
Like many of the other top rated multi-function models featuring different spray patterns, adjustments are made via the spray adjusting tab located on the side of the head. A small click lets the user know that they are within the new spray pattern and can select between the five options. With 149 individual sprays, there is no shortage of quality ways to get clean with the SR-124 Assana, and this shower head is sure to have something for even the pickiest user.
---
5. Speakman VS-232007 Napa
Currently On Sale
Speakman VS-232007 Napa Anystream 2-Way...
TRANSITIONAL STYLE: Featuring the Napa fixed...
ANYSTREAM TECHNOLOGY: The adjustable shower...
HIGH PRESSURE: Shower heads control the...
EASY INSTALLATION: The shower head system is...
A dual shower head features a fixed head generally in the same location as a single fixed option as well as a handheld head that is mounted on the same fixture. The Speakman VS-232007 Napa has the handheld shower head affixed to the side and slightly above the fixed shower head.
A diverter switch allows for switching between fixtures with ease and offers more versatility in how a user shower. The 60-inch metal hose will easily reach anywhere in a standard-sized shower enclosure for those wishing to use the handheld option.
The twin shower heads on the Napa allow for three spray patterns (intense, massage, and combination) on each head, and the same Anystream technology allows for seamless switching. Several different flowrate options (1.75 GPM to 2.5 GPM) add to the variety of optional ways to use the Napa.
With options for both fixed and handheld, the Napa can be used easily in many ways, so it is ideal for families with younger or older members that may have difficulty with traditional fixed shower heads. Three different finishes for the piece allow it to blend in better with different decors but are all built with corrosion-resistant metals to last as long as possible.
---
6. Speakman VS-3014 Caspian
Currently On Sale
Speakman VS-3014 Caspian Anystream...
CONTEMPORARY STYLE: Sleek lines and an...
ANYSTREAM TECHNOLOGY: The adjustable shower...
SELF CLEANING SPRAYS: The pressure boosting...
EASY INSTALLATION: Fitting effortlessly on to...
New parents, pet owners, or those with difficulty moving can appreciate the flexibility a handheld shower head can offer as you have the option to move the spray instead of moving the user.
The Speakman VS-3014 Caspian is a contemporary take on a traditional handheld shower head that offers three different spray patterns (intense, massage, and combination), the option to be used handheld or in a fixed mount and 40 self-cleaning spray nozzles backed by 12 massage jets.
This design offers strength even with low-pressure systems to save water but not skip out on the clean. The handle of the shower head is designed to fit naturally into the curve of the hand and allow for a tight grip during showering.
Installation on the Speakman handheld system is a lot like a fixed system except with the addition of the hose. After installing the mount like you would a fixed shower head (plumber's tape, tighten by hand, finish with a wrench as needed) a quick turn of the hose to the mount and then the shower head to the other end of the hose has the system set up in minutes.
Whether in the polished chrome or brushed nickel, the Capsian is sure to fit right into any home.
---
7. Speakman S-3021-BN-E2 Kubos
Currently On Sale
For those who think outside the box and want a showerhead with a bit more updated appearance, the Speakman S-3021-BN-E2 Kubos does not cut corners with its modern design.
A unique square frame sets this shower head apart visually from the rest and offers a clean understated elegance to the shower head. Even though this shower head was made for a more modern look, it still has the classic Speakman features that make it a showering experience that is second to none.
No matter whether you choose the intense, massage, or combination spray pattern, the 45 full-coverage water sprays and 12 pulsating center massage jets make sure that coverage and strength are not sacrificed. While switching effortlessly between spray patterns, the nozzles with patented plungers help to provide pressure in low water pressure locations.
Similar to the traditional circle shower heads, the Kubos is a quick install using the same tools, and the self-cleaning nozzle design resists hard water build-up. Brushed nickel and polished chrome compliment this minimalistic square design and complement other modern features found in contemporary bathrooms. Depending on the pressure available, the 1.75, 2.0, or 2.5 GPM model can find an ideal fit.
---
8. Speakman SC-1220-AF
Speakman SC-1220-AF Commander...
INDUSTRIAL DESIGN: With an exposed shower and...
PREMIUM QUALITY: The durable 2 handle shower...
2 HANDLES: Shower faucet features vandal...
COORDINATING COLLECTION: This shower faucet...
Some prefer things to be simple, clean, and raw. The Speakman SC-1220-AF is billed as "unapologetically raw," and the exposed shower head, pipe, and handles certainly fit the bill. Harkening back to a more vintage appearance, this shower head is designed to be durable even under heavy use with a simple red handle for hot water and blue handle for cold water.
Although it may be a no-frills design, there was no skimping on the 50 full-coverage individual sprays that have a wide coverage range with power to boot. The shower head and body are made with a corrosion-resistant finish while the shower fixture housing the handles is made from low lead brass. All Speakman products are built to last, but the SC-1220-AF goes the distance by keeping the process of showering as simple as possible with the best commercial option.
For large projects that might require other fixtures, this same Commander line includes a gooseneck lavatory faucet, service sink faucet, double handle laboratory faucet, and single lever kitchen faucet. A sleek industrial appearance with longevity is available for the whole plumbing job backed by Speakman's quality and design.
Comparing Speakman with Other Shower Head Brands
Every shower head brand tries to bill themselves as the best, but there is something that Oxygenics, Waterpik, Kohler, Delta, and Moen simply cannot match Speakman: consistency. Speakman has consistently delivered models that allow for better pressure in most locations thanks to its patented plunger system.
That system is in its wide variety of fixed, handheld, and dual shower head systems and even in the most budget-friendly option. Speakman offers more options than many competitors in terms of water flow rates and has many that fit regulations that require low flow options.
---
Speakman Shower Head Installation
Installing a shower head is quick and painless when using a Speakman shower head as they keep the process throughout their model line.
Remove the old shower head with a wrench if necessary

Apply plumber's tape to the threads of the pipe

Screw on the new shower head by hand

Tighten with a wrench if necessary
For dual systems or handhelds, installation requires the mount to be screwed on in place of the shower head and then screwing in the hose to the mount and shower head, just like screwing on a fixed shower head.
---
People Also Ask (FAQs)
How long should Speakman shower heads last?
Longevity depends on usage and maintenance, but Speakman backs their shower heads with a 5-year warranty.
How do you clean a Speakman shower head?
Similar to other shower heads, use a sponge and cleaner on the shower head or mix a combination of white vinegar and water and soak the shower head with the nozzles submerged.
How to best maintain Speakman shower heads?
Maintain a Speakman shower head by cleaning it regularly or if the build-up is noticed and, in case of leaks, tighten the connection as needed.
How do I remove a flow restrictor from a Speakman shower head?
Although not recommended, some people choose to remove the flow constrictor from their shower heads. For instructions, please consult this article.
What does "Self-Cleaning" mean when used to describe a Speakman shower head?
Speakman defines "self-cleaning" as the process of calcium wiping and removal that happens when the spray adjusting handle is cycled, and the plungers wipe across the faceplate.
Where is the best place to buy Speakman shower heads and replacement parts?
Amazon offers some of the largest variety of Speakman shower heads and replacement parts and can ship almost anywhere.
---
Conclusion
Speakman has had a long history in the shower industry, and they are continuing to improve year after year. With all that experience, the engineers at Speakman delivered a winner in the Speakman S-2005-HB Hotel shower head that offers variety, self-cleaning, and style in one tidy package.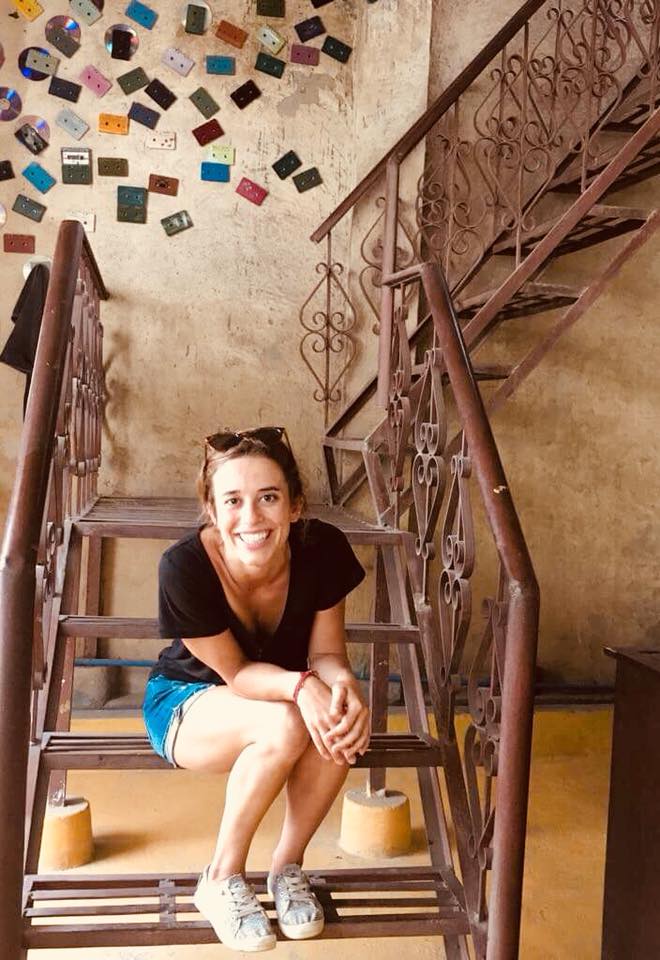 Caitlin Shaffer has been traveling & working as a content writer & SCUBA dive instructor since 2014. Having lived in Central & South America, Southeast Asia, India, & Australia, Caitlin has had many years of experience with a variety of kitchen, bathroom, plumbing systems & common household products. Other than writing about her plumbing experiences & knowledge, her main passions are yoga, ocean conservation, & sustainable development.