The Mansfield company is known for its dedication to the quality and design of its products. Mansfield started manufacturing plumbing fixtures and fittings in 1929 for both residential homes and commercial buildings.
The corporate office is located in Perrysville, Ohio, and all Mansfield products are manufactured in the USA within three separate production plants.
Page Contents (Click Icon To Open/Close)
Mansfield Toilets Compared
| | | | | | | |
| --- | --- | --- | --- | --- | --- | --- |
| | | | | | | |
| | | | | | | |
| | | | | | | |
| | | | | | | |
---
What Makes the Mansfield Brand Popular?
One of the main perks of shopping with Mansfield Plumbing Products is that every one of their toilets is made in the USA.
None of their products are imported from overseas, and you'll get an American-made toilet every time you shop with Mansfield. Here are a few more benefits of choosing Mansfield as your toilet provider:
---
Buyers Guide to Choosing a Mansfield Toilet
Toilet Type
The toilet type you choose (one-piece or two-piece) depends on a few things, like your available bathroom space. If you are limited on space, a one-piece toilet is an ideal option.
However, if space is not an issue, and you would like a toilet that sits higher from the ground, go with a two-piece system. Mansfield has a much more extensive selection of two-piece toilets, but there are still a few one-piecers to choose from.
Bowl Shape
The bowl shape you choose also depends on your available space.
"Elongated toilet bowls measure up to 31" from the wall, while round fixtures max out at 28 inches," says Home and Garden Television network.
A round bowl like the Mansfield toilet show here is better suited for a smaller bathroom space, but if you have space, it is more common to opt for an elongated bowl. There is also the option for a compact elongated, which is perfect if you want ultimate comfort but you're short on space.
Drain Location/Rough-in Measurement
Knowing your drain location and rough-in measurement is essential before you make a purchase. To measure the toilet rough-in, simply find the distance from the wall to the flange (the flange is where the toilet will be bolted to the floor at its base).
The standard rough-in measurement is 12", but yours could also be 10 or 14". Always confirm the rough-in before making your Mansfield toilet purchase.
Toilet Height
Everyone's ideal toilet height is different. If you are installing your new toilet in a bathroom used by the entire family - including the little ones - you'll probably want a standard height toilet rather than a taller comfort one.
However, if this toilet is for someone with limited mobility or a larger adult, comfort height is the way to go. Toilets with standard measurements are about 15" from floor to seat top, and comfort height toilets measure 17 to 19".
Design
The design has a lot to do with shape and type (like elongated vs. round or one-piece vs. two-piece), but it also relates to the materials used and finish of the toilet. Mansfield uses vitreous china - the most common toilet material for its extreme durability - coated in a variety of colors and finishes.
The most common is white, but you can also choose between offwhite, gray, and black (plus more).
Water Saving Technology
Most Mansfield toilets use the standard amount of water set by the EPA for residential toilets. According to EPA regulations, the maximum amount of water allowed per flush is 1.6 gallons. Most Mansfield toilets use this amount per flush, but you can opt for a high-efficiency model that uses 1.28 GPF or even 1.0 GPF.
These products have the WaterSense certification approved by the EPA.
Flushing Mechanism
Flushing mechanism refers to the method of flushing. You can choose the standard flush method with the lever located on the frontal side of the toilet or a dual flush that is often found on the top of the tank. The dual flush is ideal for environmentally conscious consumers.
With this, you'll have two flush options, a full and partial flush, depending on the amount of waste in the bowl.
Price
The cost of a bathroom fixture is a major consideration. Compared to other brands, Mansfield falls in the mid-range price point. Of course the price of your new Mansfield depends on the specific toilet's features, but generally speaking, you can find something that stays within budget.
Warranty
Warranty coverage depends on the toilet company you shop with, and it can range anywhere from a 1-year warranty period to limited lifetime coverage. Mansfield offers a limited lifetime warranty with most of its products and a 1 to 5-year warranty on others.
For this warranty to stay valid though, you should consider hiring a professional plumber for installation and register your product on the Mansfield official website.
---
Special Features of Mansfield Toilets
Magna Flush
Mansfield says that their high-performance MagnaFlush "toilets can flush 1,000 grams MaP (solid waste) and come in three low water consumption options: 1.6 GPF, 1.28 GPF, and a dual flush of 1.1/1.6 GPF."
We love this feature since you can still have a powerful flush with minimal water consumption.
Glazed Trapway
Hunker says that "the trapway is the drain path inside the toilet that water follows to reach the floor's waste outlet."
The glazed trapway of Mansfield toilets means that waste is pushed away as smoothly as possible. There is nothing negative about this feature since it helps to prevent clogging, one of the worst things that can happen to your toilet.
PuraClean
Most toilet manufacturers these days coat their toilets in an easy-to-clean glaze. With Mansfield, this coating is called the PuraClean glaze. This glaze keeps your toilet looking brand new, even years down the road, and it means that cleaning is a breeze.
SmartClose Seat
The SmartClose Mansfield toilet seat doesn't come on every toilet feature, but you can easily upgrade to this slow-closing toilet seat and lid. This seat is a safer option if you have little ones in the house - you won't ever have to worry about pinched fingers.
Pilot-Operated Anti-Siphon Valve
According to current plumbing codes, it is now a requirement for toilet fill valves to have anti-siphoning capabilities.
The Spruce says that "anti-siphon devices are designed to prevent low water pressure in the water supply lines from sucking contaminated water back into the potable fresh water supply."
Mansfield's pilot-operated anti-siphon valve lives up to the same standards as other manufacturers, but it is not necessarily something to rave about.
---
4 Best Mansfield Toilets Reviewed
1. Mansfield Plumbing 705NS Aegean
Mansfield does not have nearly as many one-piece toilets as two-piece options (this seems to be the norm among toilet manufacturers). However, there are two reliable options to choose from: the Aegean ADA-Compliant 708 and the Aegean 705NS model.
Of these two options, the more popular choice is the 705NS. A significant reason for this is the high-performance MagnaFlush technology. The MagnaFlush forcefully pushes waste through the bowl while using 1.6 GPF. The toilet's 3" flush valve means there is virtually no risk of clogging.
The vitreous china is coated with the PuraClean finish that Mansfield is known for. This prevents dirt and grime from getting caked onto your toilet. The SmartClose elongated toilet seat that's included is easy to install; comes with a quick connect fastening system, so tools aren't even necessary for seat installation.
This one-piece toilet comes with a limited lifetime warranty, but the tank trim is only covered for one year. Be sure to read all of the warranty details carefully since not every part is covered under the warranty terms.
All in all, this is an excellent choice if you want an easy-to-clean, easy-to-install one-piece unit. However, if you prefer your toilet to stand a bit taller, you might consider the Aegean ADA 708 model instead.
This one meets ADA standards and stands taller than the 705NS, making it more ideal for anyone with limited mobility.
---
2. Mansfield Plumbing 146.123.WHT Quantum
If you're on the hunt for a Mansfield two-piece toilet, you have tons of options to choose from. The top choice in terms of flushing performance and the overall look is the Quantum Round Front Pressure-Assist Two-Piece Toilet.
The round toilet bowl fits well into small bathroom spaces, like your half-bath on the ground floor or the guest bathroom in the basement.
The floor-mounted system fits on most 12" rough-in toilet flanges. It uses a pressure-assisted flushing system, meaning added pressure is applied to the gravity-fed water as it makes its way through the bowl.
Overall, this is the best two-piece toilet currently produced by the Mansfield company. Just keep in mind that installation is a bit trickier with two-piece toilet bowls than it is with one-piece units. One Amazon reviewer makes a note of this by saying, "inconvenient installation, but awesome product."
---
3. Mansfield 1319 Adriatic
The company doesn't just supply residential toilets; you can also find plenty of Mansfield commercial toilets to choose from. If you're in the market for a commercial-grade, floor-mounted model, the Adriatic elongated toilet bowl in white is our top pick.
It is specially designed for commercial and industrial applications and meets ADA requirements so that anyone can use it safely and comfortably.
Instead of the more traditional gravity flushing system found in residential toilets, this one uses a flushometer valve. It is designed for restrooms with high-water pressure since the water is flushed directly from the pipelines (instead of being stored in a tank first).
The best part of all is the low water consumption - 1.28 GPF - which is ideal for commercial toilets that are regularly being flushed.
Mansfield describes this as "high-performance, high-efficiency," and it makes complete sense why. It has a 1,000-gram MaP rating, meaning it can flush up to 1,000 grams of waste with each flush.
MaP ratings range between 250 to 1,000, so you can't get much better in terms of flush performance with the Mansfield 1319 Adriatic.
The elongated bowl and ADA height offer optimal comfort, which is a must for commercial restrooms. When you purchase this on Amazon, remember that the toilet seat and flush valve is sold separately. You can find all the necessary parts on Amazon or visit the Mansfield replacement parts site.
---
4. Mansfield Plumbing 1301 Erie
Commercial toilets are often mounted to the wall, like this Mansfield 1301 Erie Commercial Spud toilet bowl in white. The beauty of wall-mounting your toilet bowl is that you can choose the height that works best (within reason).
It's also easier to clean a wall-mounted toilet since nothing is actually touching the floor and the underside is less exposed to bathroom unpleasantries. The elongated bowl is ADA compliant as long as you mount it at a height that meets ADA standards.
A high-performance flushing system is a must for commercial toilets, and the Erie 1301 performs just as highly as any other commercial toilet on the market.
However, installation can be tricky since it requires wall-mounting. Unless you have thorough plumbing knowledge, you'll need a professional contractor or plumber for installation.
Just like the last Mansfield commercial toilet reviewed previously, this one has low water consumption, using just 1.28 GPF.
You can feel good about purchasing a toilet with the EPA WaterSense label. The only drawback is the difficult installation, but since this is for a commercial setting, you were likely planning on contracting the installation out already.
---
Toilet Tank Only
Mansfield 160WHT Alto Toilet Tank
Mansfield gives you the option to purchase a toilet tank only if that's all you need. This is more common than you'd think since problems with the toilet tank are more common than with the toilet bowl itself.
Consumer Reports loves the Mansfield Alto line, ranking these models high in terms of waste removal, flush noise, and bowl cleaning.
Consumer Reports is referring to the entire toilet with these rankings, but the Alto tank plays a significant role in the toilet's overall performance. This tank flushes water at a rate of 1.6 GPF and comes with all the necessary parts. It fits on any Mansfield Alto toilet, including 117, 130, 131, 135, 137, 138 and 139NS.
---
Toilet Bowl Only
Mansfield 135WHT 135010007
Just as some people require a tank-only, the same goes for toilet bowls. This Mansfield elongated bowl is sold separately from the tanks. It is made from vitreous china and comes in white.
The water consumption depends on the tank you choose to purchase, but generally, it uses 1.6 GPF. The standard rough-in size and floor-mount design make installation an easy DIY project.
---
Mansfield Toilet Types
One-Piece or Two-Piece
A one-piece toilet is just that; it is constructed out of one large piece of porcelain.
This makes it easier to install, and also easier to clean since there are no nooks and crannies for bathroom grime and germs to hide. A two-piece toilet has its perks as well.
Fixr says that "two-piece toilets can be found in both standard and comfort height," making it better for taller individuals.
They can also be easier to replace when problems arise as single sections can easily be removed.
Wall-Hung or Floor-Mounted
The more traditional mounting style for a toilet is floor-mounted, which means the toilet base is situated on the bathroom floor. Floor-mount installation is more straightforward than mounting a toilet to the wall, and you'll have more options for Mansfield toilets if you opt for floor-mounting.
Wall-mounted toilets are beautiful to look at with their sleek lines and minimalist design, but installation requires professional plumbing knowledge.
Commercial Toilets
Most commercial toilets use what's called a flushometer valve instead of a traditional tank system. The water for each flush comes directly from the plumbing lines, so higher water pressure is needed for a commercial-grade toilet.
---
Mansfield Flushing Systems Explained
The two main flushing systems used by Mansfield are the single flush and dual flush. With the single flush, you only have one flushing option that delivers the same amount of water each time you flush.
Mansfield offers single flush toilets with three different water consumption options, including 1.6 GPF, 1.28 GPF, and 1.0 GPF. These have a Mansfield toilet handle on the front of the tank or a single button on top.
The dual flushing system is becoming a more popular option since it allows you to choose the amount of water that is used each time you flush. A two-part button activates Dual-flushing on top of the tank. You have a partial flush option that uses only 1.1 GPF or a full flush that uses the standard 1.6 GPF.
---
Comparisons with Other Brands
Mansfield is a well-respected name among toilet manufacturers, but that doesn't mean it's the only choice. You might also be considering brands like TOTO, American Standard, or Kohler.
In terms of performance and overall value for the price, you really can't go wrong with a Mansfield. Mansfield toilet reviews and ratings show that this brand meets - if not exceeds - the same standards as more well-known companies.
---
Installation of Mansfield Toilets
Installation of your new Mansfield toilet depends on the specific model you have purchased, like whether it is one-piece or two-piece and if installation requires floor-mounting or wall-mounting.
DIY installation is most straightforward with floor-mounted, one-piece units. Unless you are experienced at home DIY, we recommend that you hire a professional plumber for other jobs.
Hiring a plumber won't set you back too much in terms of cost, and often the warranty is more likely to stay valid if you hire a pro. The average price of toilet installation is about $370, but this number varies depending on a few factors, like your geographic location and the plumbing company you hire.
---
Toilet Maintenance Tips
The PuraClean coating on each Mansfield fixture makes cleaning the toilet easier than ever. Be sure to use mild, nonabrasive cleaning agents to avoid unnecessary wear and tear. For residential toilets, cleaning once a week should suffice. However, toilets in high-traffic commercial bathrooms should be cleaned daily.
Maintaining a toilet's function is just as important as keeping the way it looks. Something used as frequently as the bathroom toilet needs to be working at its full potential. Here's how you can make this happen:
For a more serious Mansfield toilet repair, calling a professional plumber is a good idea.
---
People also Ask (FAQs)
How do I know if I need replacement parts for my Mansfield toilet?
Your toilet can last a lifetime, but there are parts within it that often need to be replaced over time, like the fill valve and the flush valve. Your tank that is not filling after each flush might need a replacement Mansfield toilet fill valve. If water is not released into the bowl when you hit the flush mechanism, you likely need to replace it for a new Mansfield toilet flush valve.
What is the importance of Toilet Trapways?
Considering trapways is an essential step in choosing the right toilet since it can play a huge factor in flush performance. Mansfield toilets typically have trapway systems that are glazed and 2 inches wide. This feature significantly decreases the likelihood of clogging.
What is the price range of the toilets on our list?
Toilet cost depends on what you're looking for, like residential vs. commercial or floor-mounted vs. wall-mounted. The Mansfield toilets reviewed above vary in price depending on their features, ranging from around $100 to $450 plus.
Where is a good place to buy a new Mansfield toilet?
Shopping for your Mansfield toilet on Amazon or Build.com is the best choice since you'll find a variety of Mansfield products at the best price point. You can even find all of your Mansfield toilet replacement parts on the Amazon site.
---
Conclusion
Our #1 pick for your brand new Mansfield toilet is the Aegean 705NS. This one-piece model meets the highest standards when it comes to durability, ease of installation, flushing performance, and overall look. Even if you've only used two-piece toilets, now is the time to try out this Mansfield. It is our pleasure to review the top-rated toilets on the market today for your home purchase.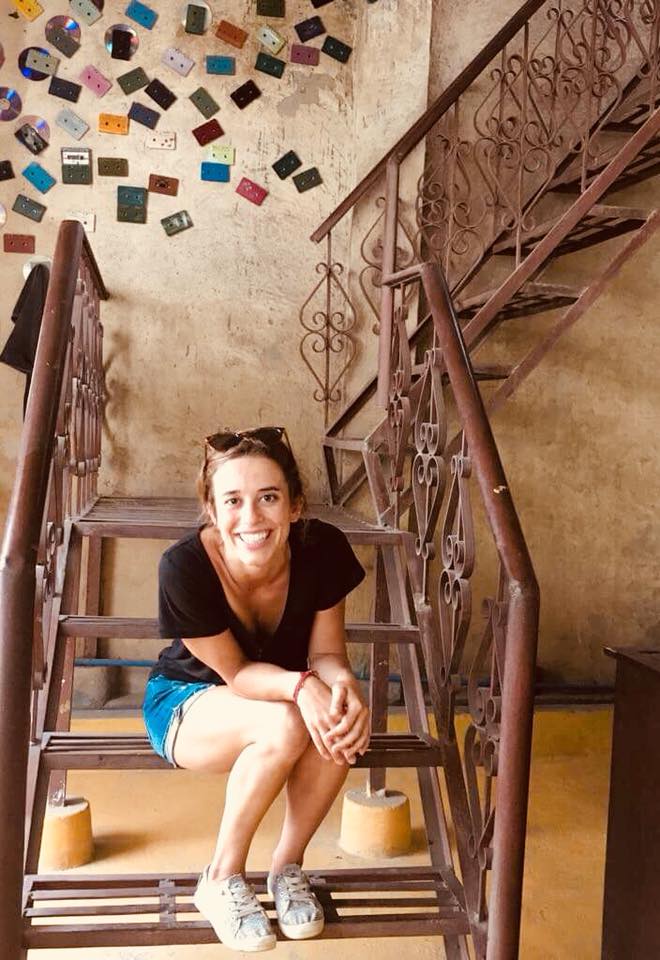 Caitlin Shaffer has been traveling & working as a content writer & SCUBA dive instructor since 2014. Having lived in Central & South America, Southeast Asia, India, & Australia, Caitlin has had many years of experience with a variety of kitchen, bathroom, plumbing systems & common household products. Other than writing about her plumbing experiences & knowledge, her main passions are yoga, ocean conservation, & sustainable development.