A garbage disposal is a quick and convenient way to remove food scraps. These handy kitchen gadgets can save a lot of time by cutting up food waste into tiny particles to allow a clog-free passage through the drain.
So, whether you're setting up a new unit or replacing an old one, the question that matters most is: "what size garbage disposal do I need?"
Selecting the proper sized garbage disposal for your kitchen sink is a crucial decision; it becomes more so as the market is full of different options that can get you overwhelmed.
It would help if you struck a balance; a small unit may lead to frequent jams or clogs, whereas a larger than required unit may suffice but would burn a hole in your wallet.
Want to know how to pick the right-sized garbage disposals? Read on!
Page Contents (Click Icon To Open/Close)
Different Sizes

Of

Garbage Disposals (Motor Horsepower Explained)
One of the most crucial things you need to consider when choosing between garbage disposals – and one which makes all the difference in cost – is the motor's horsepower (Hp). For residential disposers, the electric motors usually vary between 1/3 Hp to 2 Hp.
So, without further ado, here are the different sizes of garbage disposals:
1/3 horsepower (Hp) garbage disposals are the lowest among all available units in the market. Though they're an affordable option, their usage level is limited. These units get jammed or clogged easily and typically have cheaper internal parts that may get rusted rather quickly.
The 1/3 horsepower unit should be considered only for temporary or limited use, like in a holiday home used occasionally. These types of garbage disposers usually range between $52 to $102.
For any typical home usage, a ½ horsepower garbage disposal is the minimum recommended unit. You can easily buy them for under $100, meaning they're still a cost-effective garbage disposal option. Nevertheless, most of these units retail anywhere between $65 to $120.
They're relatively smaller than both 1 Hp and ¾ Hp garbage disposals, making them perfect for closed spaces. If you're planning to use it now and then, a ½ horsepower garbage disposer is right up your alley.
Furthermore, when it comes to noise levels, these units can be pretty loud. Additionally, it would be best to run plenty of water while breaking down food scraps to avoid potential clogs.
Whenever possible, make sure to choose a ½ Hp unit with stainless-steel parts — because better parts lead to durability and longevity.
¾ horsepower garbage disposals are perfect units that will benefit most kitchens. With this size, garbage disposers have enough strength to power through all leftover food and more. Most of these appliances, such as InSinkErator Compact, can seamlessly grind even problematic waste like celery and potato peels.
Such sheer power also ensures that clogs and jams will be the least of your concerns, and you'll find many other features as well. For example, stainless-steel grind parts provide a relatively long shelf life. This is why you should always seek a ¾ Hp unit whenever possible.
In addition, many disposers with this much power and size tend to have better noise protection, meaning they are relatively quieter than many other units on the market.
However, you should keep in mind that these units have a bigger form factor, so ensure that you've enough space for easy installation.
Lastly, the typical cost for a ¾ garbage disposal ranges from $120 to $220 plus.
A 5/8 garbage disposal is powerful enough to crush most food scraps, even tougher ingredients. In addition, many of these appliances have a robust sound-seal that keeps the sound level at its lowest.
But since these units are comparatively larger than other garbage disposals, you've to make sure that they pair well with your kitchen sink.
If you're planning to grind fruit rinds, chicken bones, coffee grounds, etc., you should purchase a 1 Hp garbage disposal. Many 1-Hp disposals rank among the best units on the market, and popular mentions include the InSinkErator Evolution.
Thanks to the better insulation, they emit lesser sound than other units. Every disposal has a stainless-steel grinding chamber and greater capacity, making the model impossible to get clogged.
These units can be relatively large, and you'll need enough room below the sink to get them installed. If you've got the space and money, then these appliances are the best at what they do.
You can find these garbage disposals anywhere between $150 to $300 — price varies based on available features.
If you have a big family or a commercial property, it's best to buy a 2 horsepower garbage disposal. This is the most potent option and can seamlessly grind any leftovers or more!
---
What Size Garbage Disposal Do I Need? (Tips For Deciding)
Consider the following when narrowing down to what may be an ideal size of garbage disposal for you.
Kitchen Space

And

Garbage Disposal Dimensions
One of the first things you need to consider is the available room beneath the kitchen sink before purchasing and installing a garbage disposer. Measure the width, length, and height.
The physical dimension is vital because garbage disposers can take up a lot of space. Typically, the more powerful the unit is, the larger it will be.
Nevertheless, if you've got limited space, make sure to check the unit's dimension before buying. In other words, this may mean purchasing a garbage disposal with lesser horsepower. However, if space constraints aren't there, you can go for units with higher horsepower, such as 1 Hp or 2 Hp.
Another thing that needs consideration is the garbage disposal's connection size. First, make sure it fits the sink drain. If you think the connection size won't fit in, choose another unit or use an adapter for proper alignment. Though most garbage disposals claim they're universal, it's always better to check before purchasing.
It's where the leftover food goes for grinding before being sent away to the drain. When buying a unit, check the grind chamber's capacity — It's measured in fl oz (ounces).
Some units offer a chamber of up to 42 oz of food, while regular or smaller units provide 26 oz capacity. No matter the capacity, make sure to stay within the limit to avoid damage.
Other Factors – Brand, Warranty, Noise, Septic

Tanks
Though the size of the motor is critical when selecting a garbage disposer, many other factors are also involved:
---
People Also Ask (FAQs)
Are garbage disposals one size fits all?
No, they're not! Garbage disposals aren't a one size fits all appliance. This means you can't just purchase any garbage disposer and set it up under the kitchen sink. If you're replacing your unit, make sure to go for disposals that fit your current attachment.
Which is better: 1/2 horsepower or 1/3 HP?
1/3 horsepower garbage disposals are the lowest powerful units among all available appliances. These units are smaller and ideal for closed spaces. In contrast, a ½ horsepower garbage disposal is more potent than a 1/3 Hp unit and is the best option for your kitchen sink if you utilize it from time to time.
Can you insulate

a

garbage disposal for all sizes?
Yes, you can! For garbage disposers, noise reduction is obtained by covering the grinding and motor chamber with insulation materials. Therefore, if you intend to make garbage disposal quieter, cover the unit's body with extra sound-proof materials.
---
Conclusion
Garbage disposal units are available in different brands, sizes, and features, making the process of choosing the right one quite overwhelming. However, you can cut up food scraps quickly and drain them easily with the right size unit. Hopefully, this guide has given you enough knowledge to buy your next garbage disposal effortlessly.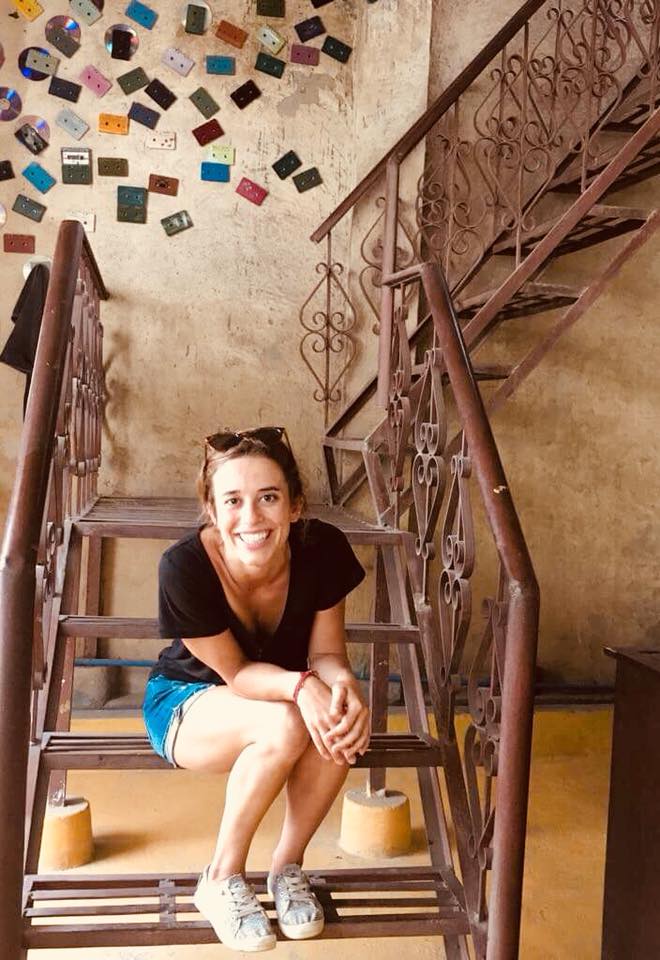 Caitlin Shaffer has been traveling & working as a content writer & SCUBA dive instructor since 2014. Having lived in Central & South America, Southeast Asia, India, & Australia, Caitlin has had many years of experience with a variety of kitchen, bathroom, plumbing systems & common household products. Other than writing about her plumbing experiences & knowledge, her main passions are yoga, ocean conservation, & sustainable development.